Hello Friends,
Spring harvest has officially begun!  We have placed our first orders for 2022's brand new teas, harvested just within the last couple of weeks.  It really doesn't get any fresher than this!  We're anticipating these delicious new teas will start to be included in your boxes as early as next month, so get ready to take in the delightful sensation of opening a fresh bag of this harvest's best.
New teas arriving in our warehouse also means it's time to make some room! Keep a lookout for an email in your inbox, as we'll be announcing our Easter sale soon. 
And don't forget Mother's Day is coming up!  Tea Runners subscriptions are always a hit, and shopping for a subscription for your loved ones couldn't be easier.  Watch your inbox for our Mother's Day gifts! 
Happy sipping!
~ Tea Runners
---
Customize Your April Box
Get more of the kinds of teas you love in your box by requesting customizations.
(Customization is not available to Amazon subscribers.)
Customization now closed for renewals. All new members can customize their first box within 24 hours of placing their orders. 
---
Switch Boxes
If you would like to switch from one box to another - for next month only or for all remaining boxes - please click the button below.
All switch requests must be received before the 1st of the month.
---
Blue Mountain Black
English Breakfast
Tangerine Pear Green
Pacific Peppermint
Blue Mountain Black
English Breakfast
Zheng Shan Xiao Zhong
Creme Brulee Black
Turmeric Tonic
Ginger Lime Rooibos
Pacific Peppermint
Sweet Cinnamon Orange
Black Dragon
Spring Blossom Pekoe
Zheng Shan Xiao Zhong
Bao Zhong Royale
English Breakfast

Tea Championship Winner
3rd Place, Breakfast Blend


Nothing starts a day off on a brighter foot like a hearty and strong cup of English Breakfast.
This English Breakfast is produced from the most awarded tea company in the world. It is a blend of high grade Assam (India), Ceylon (Sri Lanka), and keemun (China) black teas.
It brews a strong and flavorful cup with notes of decadent caramel.
This tea is smooth enough to stand beautifully on its own, or add a touch of milk and sugar for an old-school and delicious tradition.
One of our most popular teas!
Ingredients: Black teas.
Origin: China, Sri Lanka, and India
Caffeine: HIGH
---
Creme Brulee Black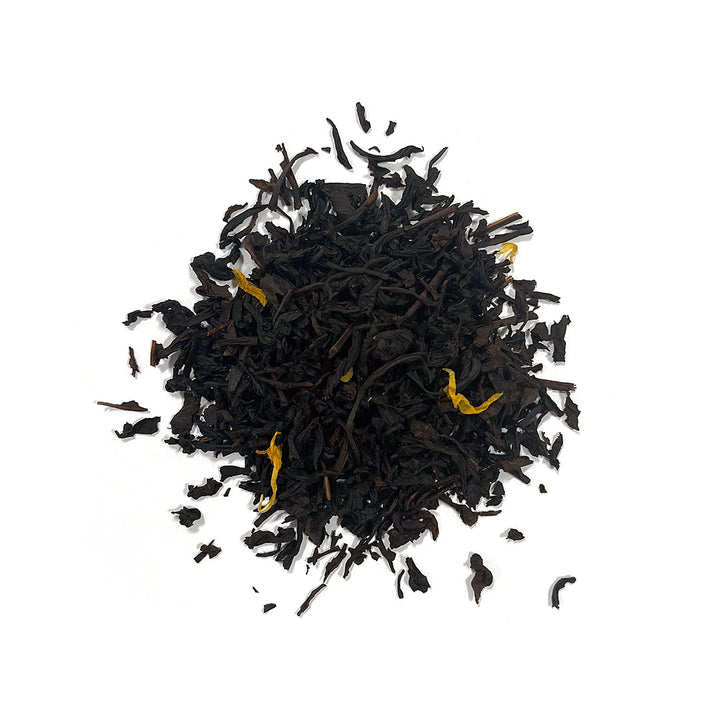 This lovely flavored black tea has all the taste and aroma of the indulgent dessert itself. Buttery, creamy, and a lingering aftertaste of caramelized brown sugar.
Dessert in a cup!
Ingredients: Black tea, creme brulee flavoring, and marigold petals.
Origin: Multiple Origin Blend
Caffeine: HIGH
---
Pacific Peppermint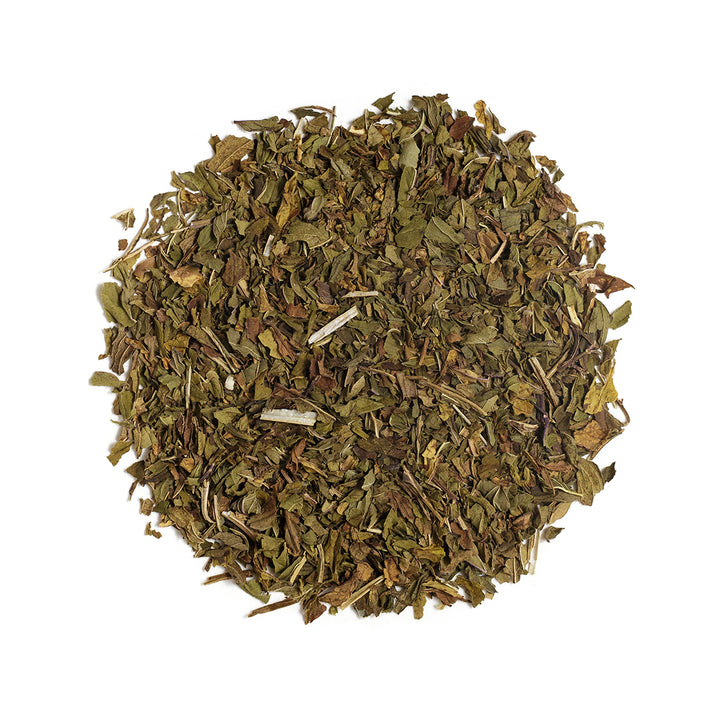 The hot and dry summers of the Pacific Northwest produce some of the world's most aromatic and flavorful peppermint. Believed to calm the body and soothe the digestive system, Pacific Peppermint has a bright candy cane flavor with chocolate notes that give your taste buds a reason to sing.
Ingredients:
Peppermint.
Origin: Washington State, USA

Caffeine:
CAFFEINE-FREE
---
Blue Mountain Black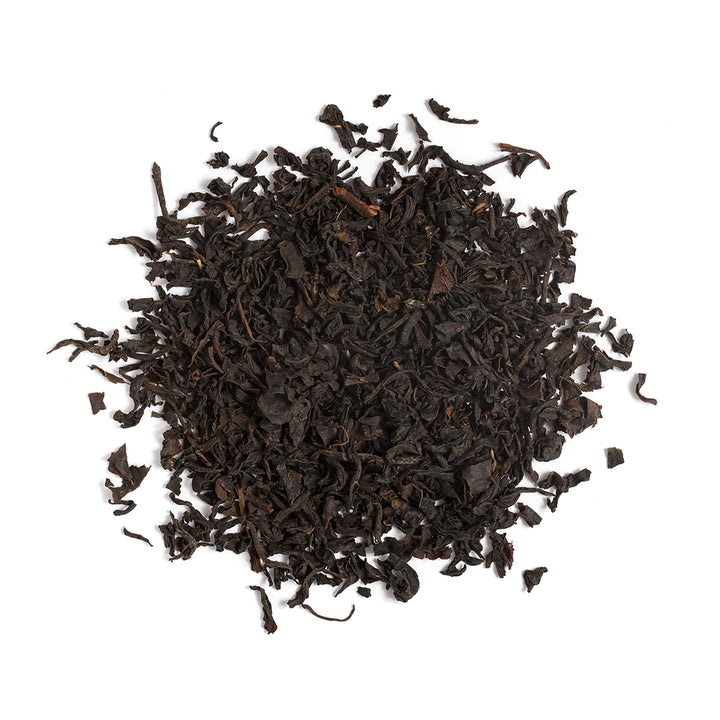 The Nilgiri tea-growing region in southern India is mostly known for producing strong, bold black teas, similar to the Ceylon black teas of neighboring Sri Lanka, but with their own unique flavors. At up to 8000 ft above sea level, it is one of the highest-elevation tea growing regions in the world, and one of the most beautiful.

Blue Mountain Black is an exquisite treat with a unique and worldly flavor profile, sure to become a favorite.
Ingredients: Black tea
Origin: Nilgiri, India
Caffeine: HIGH
---
Ginger Lime Rooibos
This delightful caffeine-free blend of ginger and lime is perfect for evening sipping.
Fragrant lemongrass and Australian lemon myrtle lend citrusy complexity to this spirited rooibos blend.
One of our favs!
Ingredients: Green rooibos, ginger, lemongrass, lemon myrtle, licorice root, essential lime and tangerine oils.
Origin: Multiple Origin Blend
Caffeine: CAFFEINE-FREE

---
Black Dragon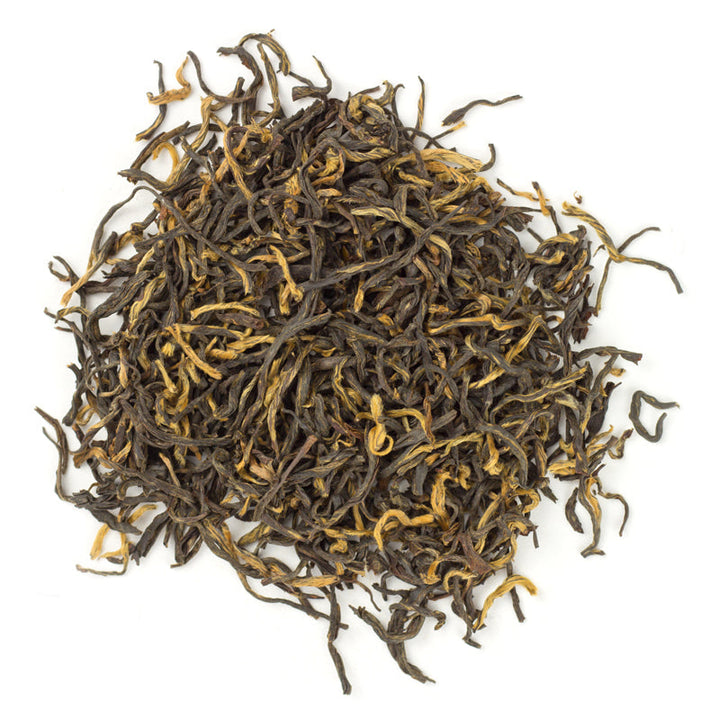 Black Dragon is a high-grade tea in the classic style of Fujian Province blacks. It's is a "congou", a name used in the tea trade meaning skill and patience.

This tea is multi-layered in taste, ranging from sweet cocoa, to hints of malt and fresh fruit. Its leaves are large and rich in flavor, so it will steep well multiple times.

A great tea for first thing in the morning or a refreshing boost in the day.

Ingredients: Black tea.
Origin: Fujian, China
Caffeine: HIGH
---
Sweet Cinnamon Orange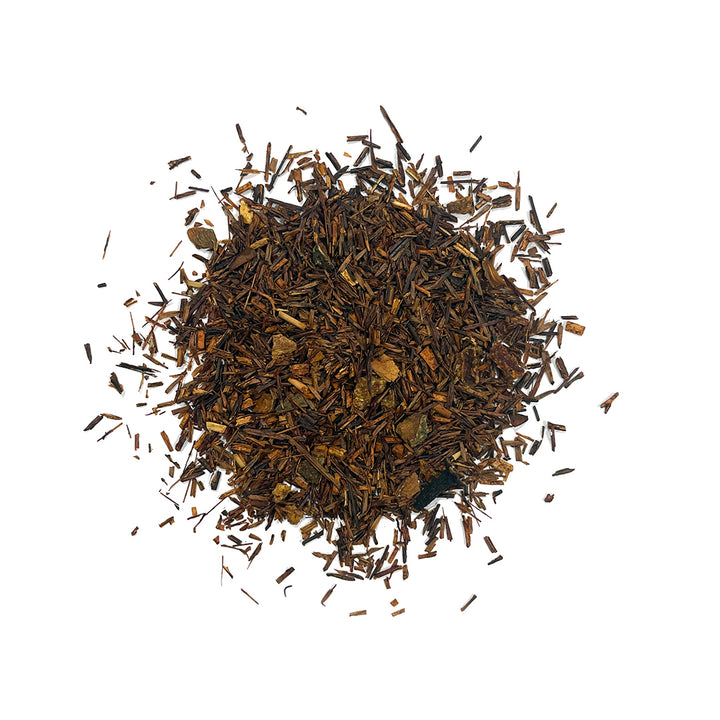 This flavored herbal blend is a delightful caffeine-free treat. It has a perfect balance of spicy and sweet, provided by the cinnamon, cloves, and natural sweet orange flavor.
A perfect sipper for any time of the day!
Ingredients: Rooibos, orange peel, cinnamon, natural flavor, clove
Origin: Multiple origin blend.
Caffeine: CAFFEINE-FREE
---
Zheng Shan Xiao Zhong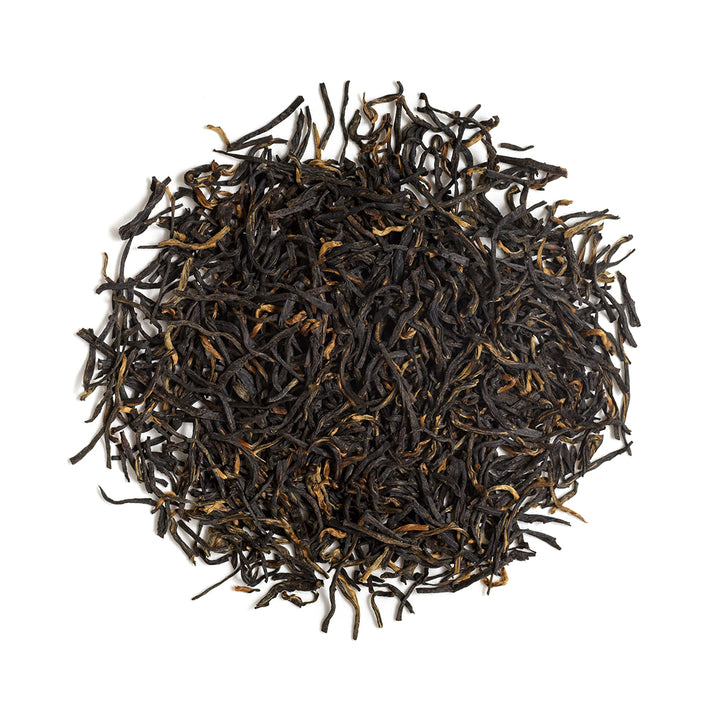 Although often heavily smoked and used to make Lapsang Souchong, this Zheng Shan Xiao Zhong ("Wu Yi Mountain Small Tea Plant") is processed in the traditional style of black tea and has notes of dark chocolate with a surprisingly sweet finish.
Great black teas like this one don't require additives like milk and sugar to enhance their deliciousness, as their sophisticated and enigmatic personalities sing harmoniously on their own.
Spring 2023 Harvest.
Ingredients: Black tea.
Origin: Fujian, China
Caffeine: MED-HIGH
---
Tangerine Pear Green
This bright and citrusy green tea cheers up the palate with the pungent tang of mandarin peel, while dried pear evens out its tartness with a sweet and juicy finish. We love how opposites attract with its sweet and sour notes expertly smoothed out with a grassy high-quality green.
Also goes great iced!
Ingredients: Yunnan green tea, mandarin peel, pear bits, and natural flavoring.
Origin: Multiple Origin Blend
Caffeine: LOW-MED
---
Turmeric Tonic
Global Tea Championship Winner
3rd Place, Detox Blend
Global Tea Championship Winner
2018 People's Choice Winners' Tasting Circle, Best Hot Herbal Tea
Nurture your body with this healing and comforting blend of cleansing herbs and spices. Not only was it an award-winner with the Tea Championship judges in 2017, but it was the People's Choice winner for best hot herbal tea of 2018.


Ingredients: Ginger root, cinnamon, fennel, sarsaparilla root, peppercorn, turmeric, nettle, natural chai flavoring.
Origin: Multiple Origin Blend
Caffeine: CAFFEINE-FREE

---
Bao Zhong Royale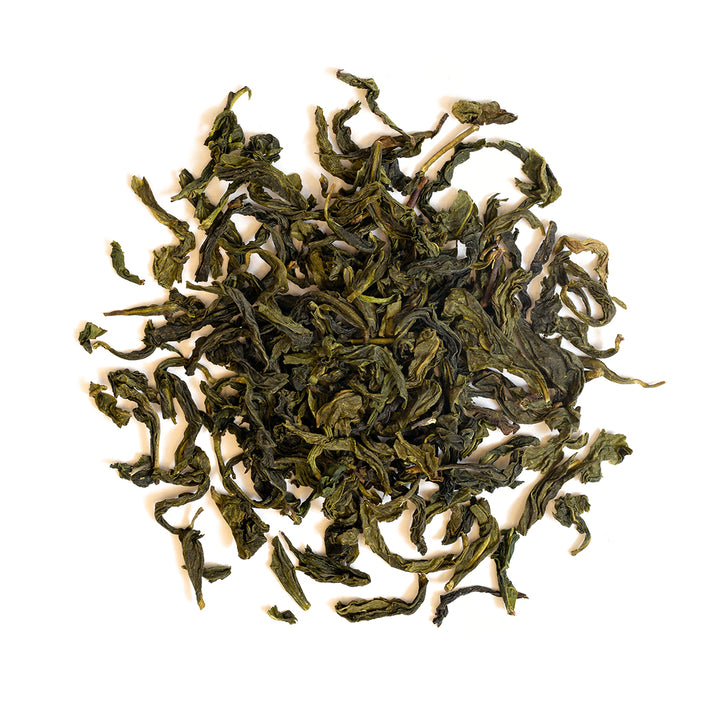 One of our favorite oolongs, this spectacular tea is lightly oxidized but still hefty on floral complexity with little to no astringency.
We love its complicated combination of roasted stone fruit, unsweetened coconut, and firewood, with a deliciously rich and buttery, creamy aftertaste.
It also withstands multiple infusions.
Ingredients: Oolong tea.
Origin: Mingjian Village, Taiwan
Caffeine: MED
---
---
Additional Customization Options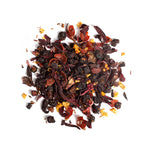 Scarlet
An herbal tea with berries that brews to a deep red liquor and bursts with flavor.
Lavender Lemongrass Mint
Calming lavender, soothing lemongrass and refreshing peppermint make for one delicious herbal tea!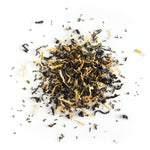 Citron Mint Black
An award-winning flavored black tea with mint and lemon. One of our favs!
High Mountain Red
Pure black tea from Yunnan with notes of caramel, honey, sweet potatoes, and malt. (2022 harvest)
Classic Laoshan Green
A thick a luscious green tea notes of green grass and toasted nuts!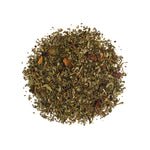 Mistletoe
Delicate white tea gets the holiday treatment with the bright punch of peppermint.
---