Hello Tea Lovers!
This month we've got more fresh 2022 harvests of some of our very popular  pure teas, including Black Gold Biluochun, Imperial Gold Needle, and Long Mei Yunnan Green Tea.  
We're also offering fresh blends that go great in the summer, including Orange Jasmine Blossom, Raspberry Green Tea, Savannah Sunrise, Lavenderberry, and more. 
Although pretty much any tea you like hot will make a good iced tea, we try to include ones in the summer that we feel go especially good on ice. 
Watch for an upcoming teaware sale throughout the month of August! 
Happy sipping and stay cool! 
~Tea Runners

  
---
Customize Your August Box
Get more of the kinds of teas you love in your box by requesting customizations.
(Customization is not available to Amazon subscribers.)
Customization now closed for renewals. All new members can customize their first box within 24 hours of placing their orders. 
---
Switch Boxes
If you would like to switch from one box to another - for next month only or for all remaining boxes - please click the button below.
All switch requests must be received before the 1st of the month.
---
Black Gold Biluochun
Orange Jasmine Blossom
Raspberry Green Tea
Valerian Dream
Black Gold Biluochun
Savannah Sunrise
Royal Bengal Tiger Darjeeling
Russian Caravan
Cape Town Herbal Sunrise
Apple Pie Chai
Lavenderberry
Valerian Dream
Black Gold Biluochun
Long Mei Yunnan Green Tea
Imperial Gold Needle
Big Red Robe
Black Gold Biluochun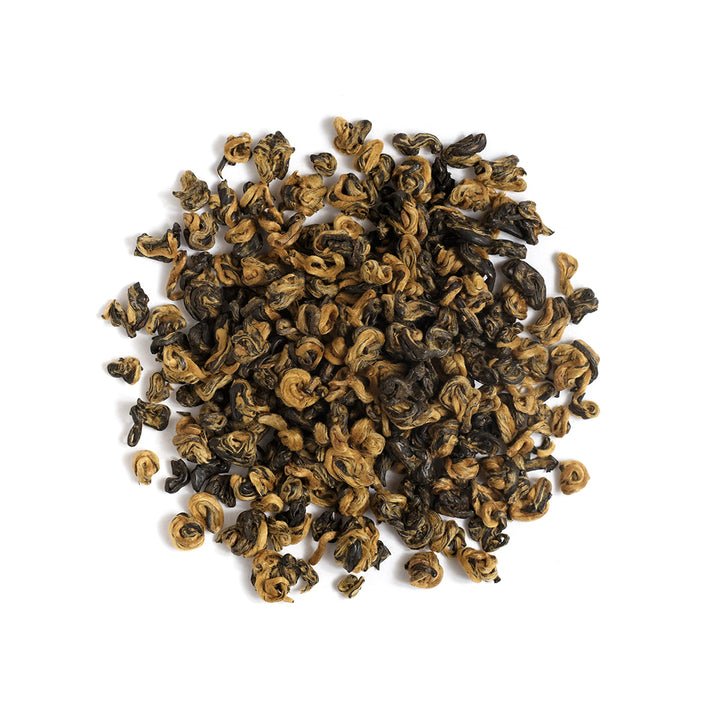 These little pellets benefit from short-term aging to make a smooth but sturdy cup that waken the senses and boost energy levels, while the palate is left with hints of chocolate and flowers.
Enjoy multiple steeps to get the most out of your leaves, or try it iced as a refreshing summer sip.
Spring 2023 Harvest.
Ingredients: Black tea.
Origin: Yunnan, China
Caffeine: MED-HIGH
---
Savannah Sunrise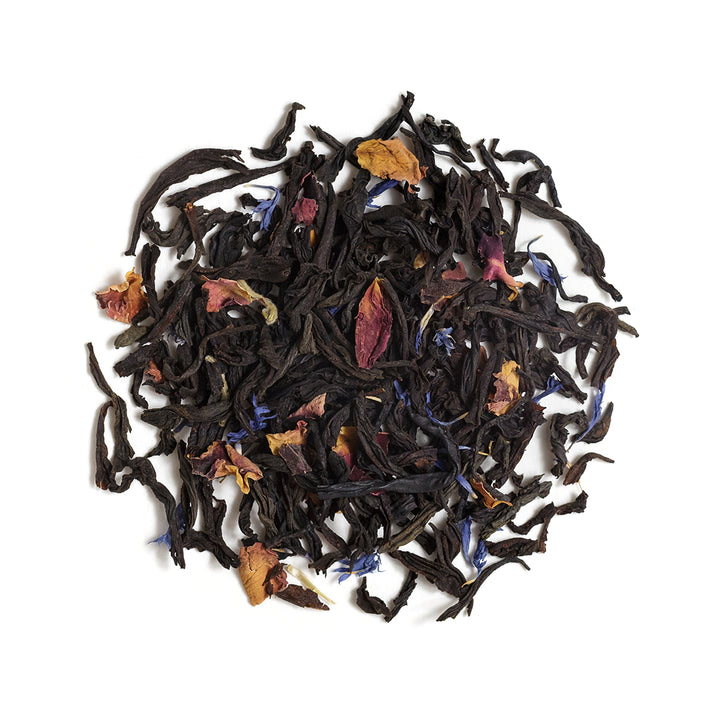 A juicy tea packing a caffeine kick, this Ceylon black tea blend is deliciously quenching, hot or iced.

The sweetness of fresh peach is nicely balanced with the tartness of cranberry and a slight citrus acidity. Rose adds elegance and a smoothness to the finish.
Ingredients: Ceylon black tea, cornflowers, red rose petals, orange sweet essential oil, cranberry and peach flavor.
Origin: Multiple Origin Blend
Caffeine: HIGH

---
Valerian Dream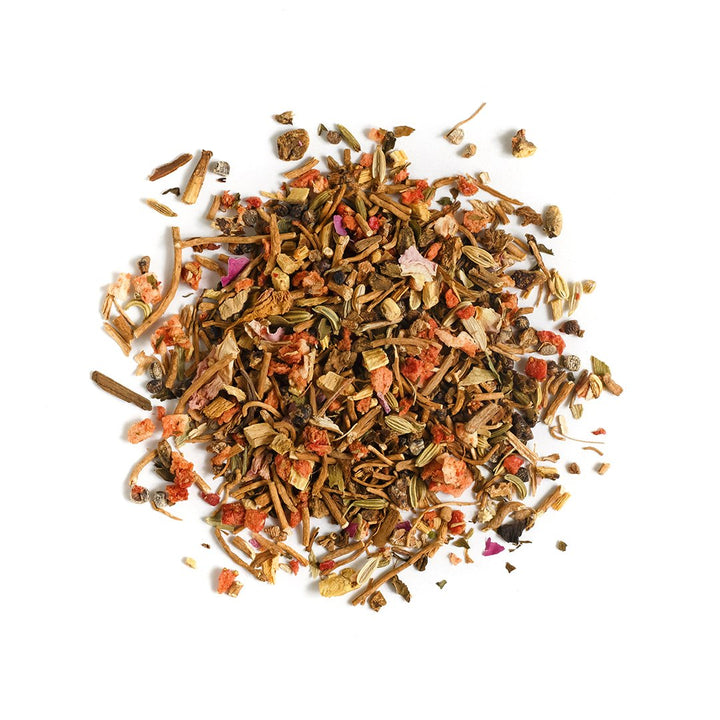 Valerian Dream is a masterful blend of exotic spices and fruit from all over the world. This is a calming tea with nervine tonic herbs like cardamom and fennel to aid relax the body and mind.
Valerian root has been used by Europeans for centuries as a bedtime tea. Unwind with this caffeine-free delectable treat. Sweet dreams!
Ingredients: Valerian root, cardamom, fennel, licorice root, strawberries, spearmint, natural rose extract, rose petals, essential orange oil.
Origin: Multiple Origin Blend
Caffeine: CAFFEINE-FREE

---
Russian Caravan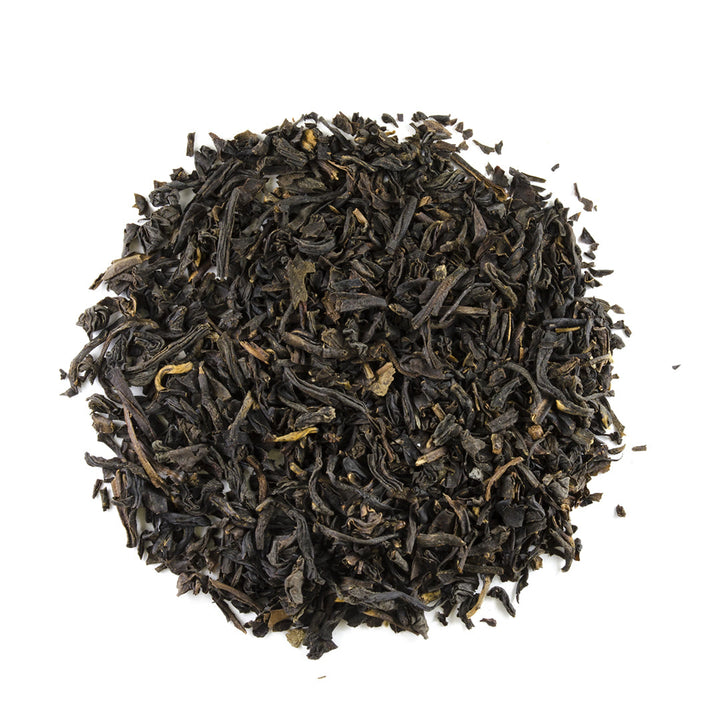 Named after the historic practice of teas from China reaching Russia via caravans of camels, this strong black tea is a forward and bold worldly blend. Assam packs a punch while dark oolong creates a smooth refinement. Puerh loads it with further depth and body while a dash of lapsang souchong adds a kiss of smoke.
A delicious cup for those who like a smoked tea!
Ingredients: Smoked black tea, oolong tea, pu-erh tea.
Origin: China and India
Caffeine: HIGH
---
Apple Pie Chai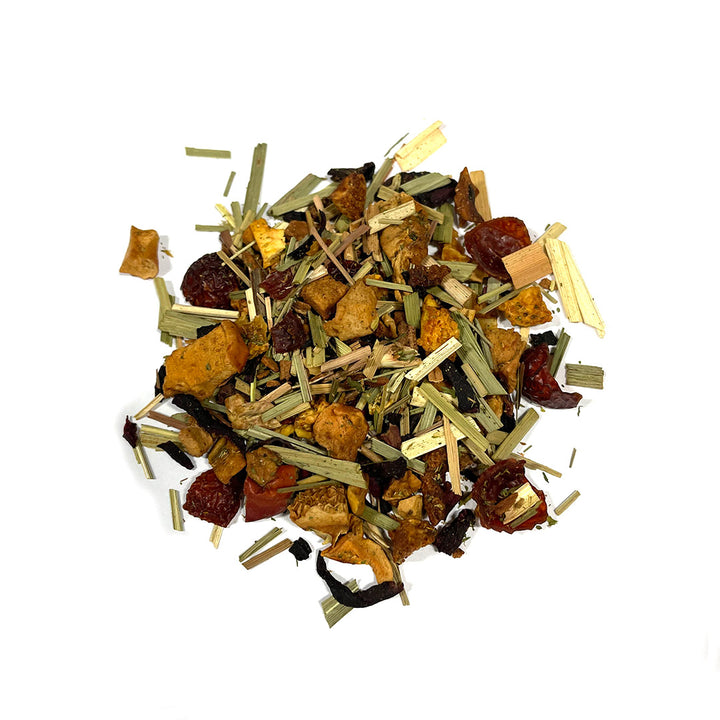 This herbal tea is perfect for the chai lovers who are caffeine-sensitive. A delightful and seasonal blend of apples, orange peel, cinnamon, and nutmeg, its flavors are livened up beautifully with tart lemongrass and ginger. It's a tea that seems to hit every part of the palate, and the ideal tea to serve during the fall months.


Ingredients: Apple pieces, orange peel, organic lemon grass, organic cinnamon chips, hibiscus flowers, rosehips, organic alfalfa leaf, natural cinnamon flavor, natural nutmeg flavor, natural ginger flavor, and natural clove flavor.
Origin: Multiple Origin Blend
Caffeine: CAFFEINE-FREE
---
Raspberry Green Tea
Bright and lively steamed green tea gets a pungent punch from juicy raspberry, making this one equally delicious hot or iced. Tart hibiscus rounds out its sweetness with a welcome citrusy bite.

Great on its own, or with a squeeze of lemon, or, for an especially refreshing treat, try it with a splash of pomegranate juice over ice.
Ingredients: Green tea, raspberry, hibiscus flowers, natural raspberry flavor.
Origin: Multiple Origin Blend
Caffeine: LOW

---
Orange Jasmine Blossom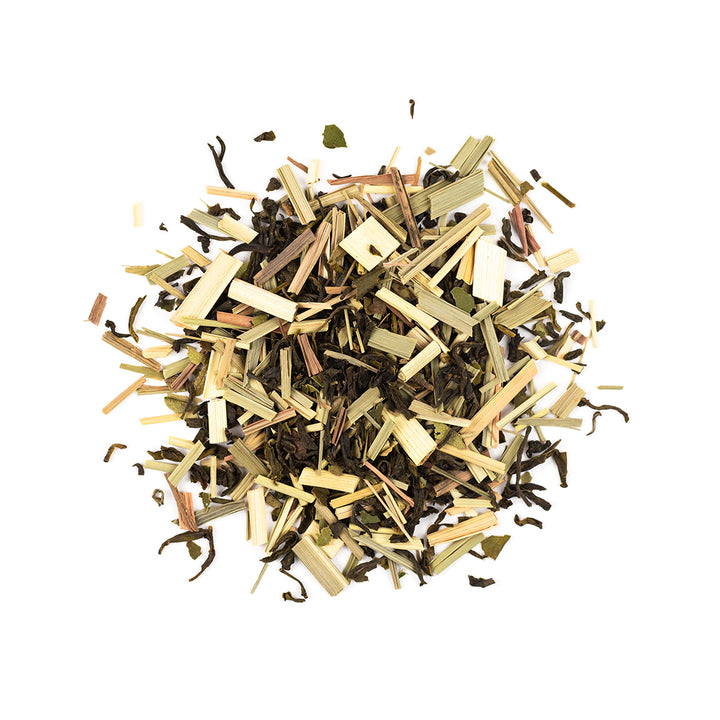 This lovely green tea blend is smooth on the palate with luscious and juicy notes of sweet orange blossom, peppered with the brightness of fresh lemongrass. Rose petals make for a delicate floral aroma while lime and tangerine give it some extra tang in its finish. A refreshing and uplifting cup of tea, whether served hot or on ice.
Ingredients: Green tea with jasmine, lemongrass, lemon myrtle, essential orange oil, natural rose extract, essential lime and tangerine oils.
Origin: Multiple Origin Blend
Caffeine: LOW-MED

---
Cape Town Herbal Sunrise
This tea steeps to a pale and delicate pink liquor but warms the palate with a full-bodied and flowery taste.

The addition of blueberries and raspberries with tropical papaya and hibiscus slightly sweeten this tea, creating a perfect and well-rounded balance.
Ingredients: Green rooibos, blueberries, papaya, orange peel, hibiscus, raspberries, mallow blossoms, sugar, marigold petals, and flavoring.
Origin: Multiple Origin Blend
Caffeine: CAFFEINE-FREE

---
Lavenderberry
Like a rich and silky dessert in a cup, this luscious rooibos is a full-bodied and soothing blend of fresh lavender flowers and dried raspberries. Strawberry undertones sweeten the deal while aromatic vanilla lends notes of warm pound cake.
Rooibos tea comes from South Africa, and its digestive properties and caffeine-free nature make it an excellent choice in lieu of dessert for tea lovers of all ages.
Ingredients: Rooibos, lavender flowers, freeze dried raspberries, and flavoring.
Origin: Multiple Origin Blend
Caffeine: CAFFEINE-FREE
---
Royal Bengal Tiger Darjeeling Black Tea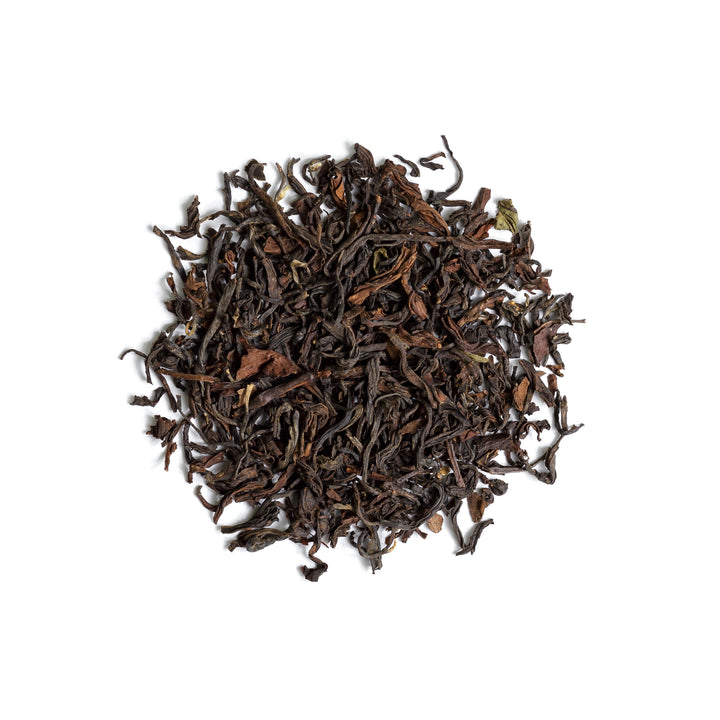 Darjeelings are known as the champagne of teas due to their smooth mouth feel and delicate flavor profile. This second flush Darjeeling has that and much more, deepening to a woodsy and full-bodied cup with notes of sweet chocolate and dark fruit.
A really great everyday tea with a touch of elegance.


Ingredients: Black tea
Origin: Darjeeling, India
Caffeine: HIGH
---
Long Mei Yunnan Green Tea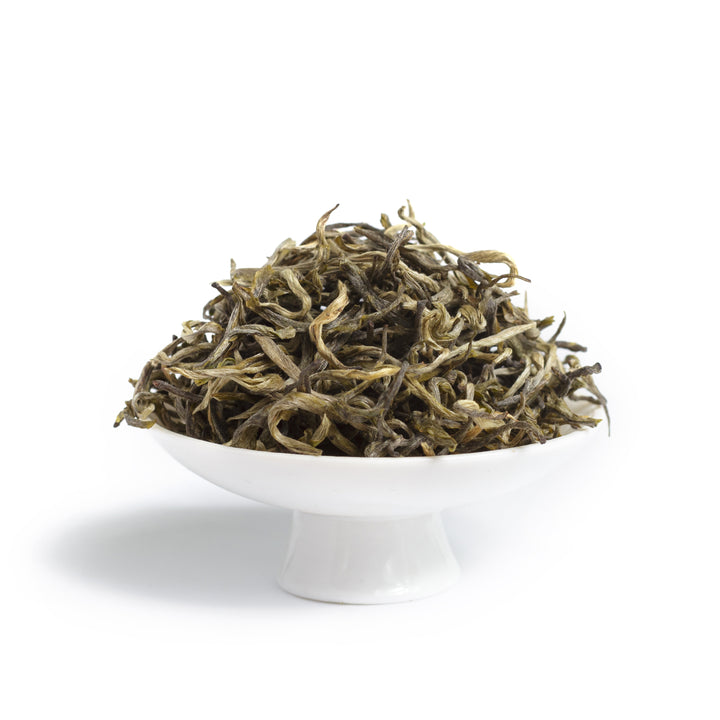 This high-quality green tea comes from the high-altitude area of Simao. This tea is only picked twice a year when its buds are small, resulting in a light and delicate tea with deliciously nutty notes.

Be sure not to over steep, as this tea is best enjoyed in its prime.

Spring 2022 Harvest.
Ingredients: Green tea.
Origin: Yunnan, China
Caffeine: LOW-MED
---
Big Red Robe
This is a traditional roasted Yancha tea, also known by its Chinese name Da Hong Pao. Proper Yancha should be a perfect harmony of minerality with a honey sweetness, a roasted nuttiness, and finished with a floral elegance.
This one doesn't disappoint. An earthy tea with a great balance.
Ingredients: Oolong tea.
Origin: Fujian, China
Caffeine: MED

---
Imperial Gold Needle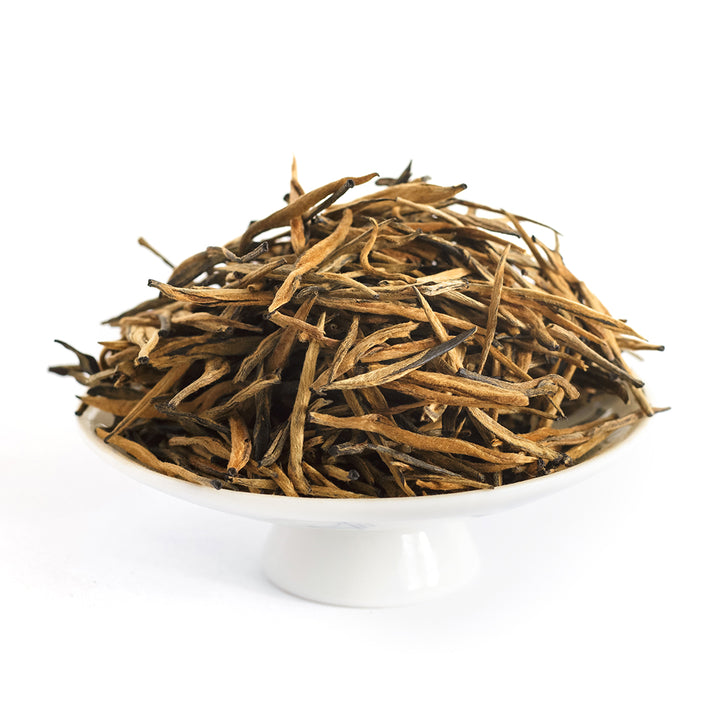 This sensational black tea is a pure bud pick from the spring harvest in Yunnan, China.
The bud shoots are lightly wilted and processed to keep the delicate taste and appearance intact.
An aroma that is thick and luscious, this incredibly fresh tea will leave you with smooth notes of dark malt and sweet honey.
Spring 2023 Harvest.
Ingredients: Black tea.
Origin: Yunnan, China
Caffeine: MED-HIGH

---
---
Additional Customization Options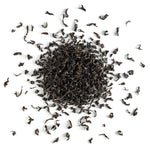 English Breakfast
A blend of high-grade assam, ceylon, and keemun black teas makes this a beloved English Breakfast.
Nile River Valley Chamomile
Egyptian chamomile blossoms, regarded as the best quality on the market.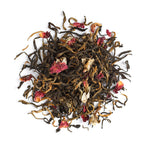 Black Rose
Yunnan black tea enhanced with the sweetness of vanilla bean and a gentle touch of rose.
Maghreb Mint
A traditional Moroccan blend of roasted green tea, peppermint, ginger, and cardamom.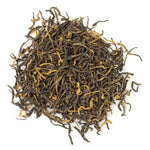 Black Dragon
A high-grade Chinese "congou" black tea with notes of sweet cocoa, malt and fresh fruit.
Yogi's Tonic
Anise, mint, lemongrass, wintergreen, lavender and chamomile make for a refreshing caffeine-free treat.
---