Happy February, tea lovers!
Whether you're a fan of Valentine's Day or not, we like to think of February as a great time to celebrate the people- and teas- that we love! We've got some  new decadent treats coming your way this month, as well as some old favorites we just can't get enough of. Don't forget that you can always order your own personal favorites ala carte from our online store. We've got loads of selections for every palate, and are adding new ones frequently.
Also, the 2022 tea harvest starts this month! Every year, each harvest is totally unique, and we can't wait to sample teas from some of our favorite farms and providers, and then bring them to you. Expect the freshest teas on the planet to reach your subscription boxes in the very near future.

Happy sipping!

~ Tea Runners
PLEASE NOTE: Some of our customization options this month are no longer available. 
Due to shipping and delivery issues, we switched Blueberry Cinnamon Crumble for Mystic Mint. 
---
Customize Your February Box
Get more of the kinds of teas you love in your box by requesting customizations.
(Customization is not available to Amazon subscribers.)
Customization now closed for renewals. All new members can customize their first box within 24 hours of placing their orders. 
---
Switch Boxes
If you would like to switch from one box to another - for next month only or for all remaining boxes - please click the button below.
All switch requests must be received before the 1st of the month.
---
Valentine Blend
Nepali Breakfast
Maghreb Mint
Mystic Mint
Black Dragon Pearls
Valentine Blend
Ceylon Orange Pekoe
Gong Fu Black
Cinnamon Orange Red
Mystic Mint
Hibiscus Berry
Scarlet
Black Dragon Pearls
Gong Fu Black
Jade Cloud
Sticky Rice Tuo Cha
Valentine Blend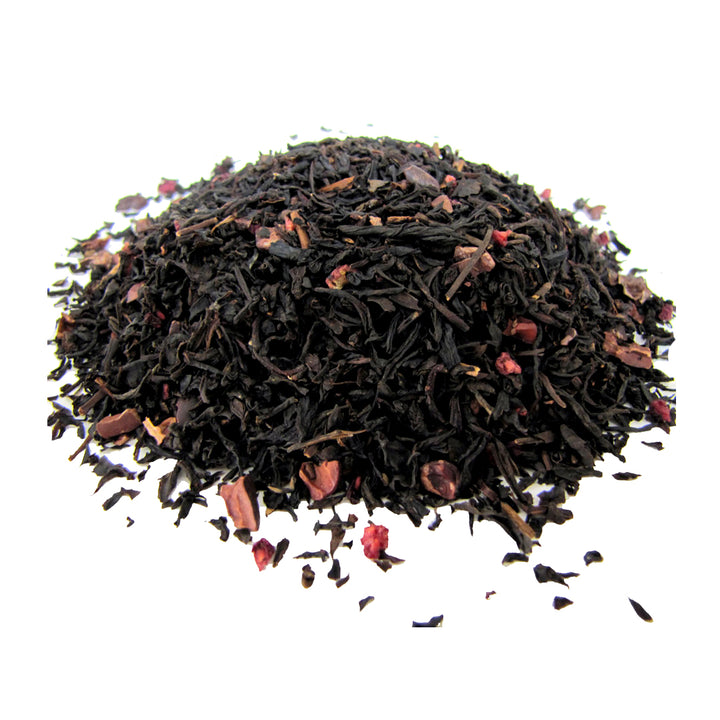 This luscious black tea fills the air with the aroma of chocolate as it steeps, thanks to the addition of cacao nibs. Tart raspberry and pomegranate balance its sweetness, creating a well-rounded and enjoyable cup. It's great for Valentine's Day, but we trust that you'll enjoy steeping it throughout the year.
Ingredients: Black teas, cacao nibs, hibiscus flowers, chocolate flavor, raspberry pieces, and natural pomegranate flavor.
Origin: Multiple Origin Blend
Caffeine: HIGH
---
Sticky Rice Tuo Cha
These mini tea cakes are infused with an herb called Nuo Mi Xiang, imparting the flavor of roasted rice into this pu'erh. We love pu'erh for a healthy caffeine kick, as well as after a heavy meal to help with digestion, and this one is delightfully smooth, herbaceous, and savory.
Enjoy it steeped many times over.
Ingredients: Pu-erh tea.
Origin: Yunnan, China.
Caffeine: MED
---
Black Dragon Pearls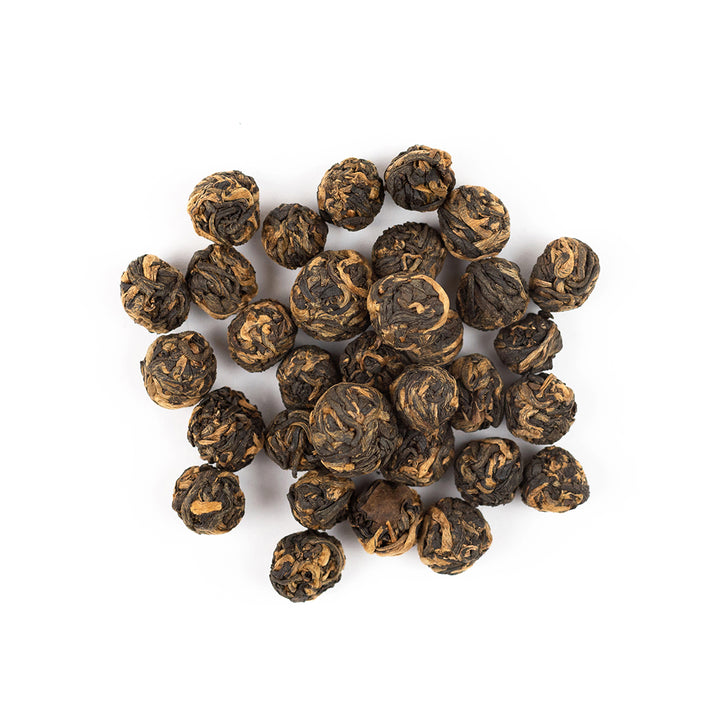 Multiple Award-Winning Tea


These dark tea leaves have been painstakingly hand-rolled into perfect pearls, slowly unfurling as they steep into a honeyed hue.
Black Dragon Pearls have a lovely earthiness that is partnered with the slight pungency of stone fruit, and notes of powdered chocolate.
Ingredients: Black tea.
Origin: Yunnan, China
Caffeine: HIGH

---
Hibiscus Berry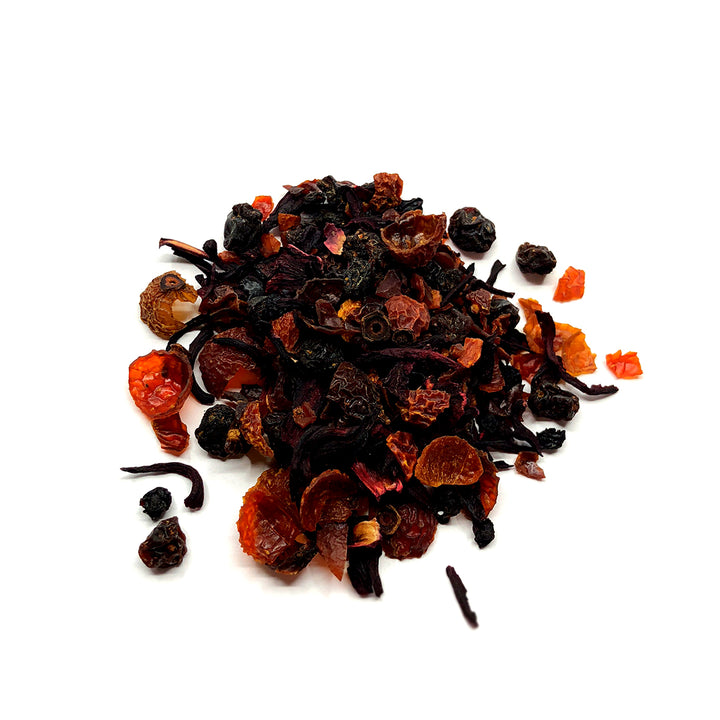 A caffeine-free blend of floral and fruity notes with the tartness of hibiscus and elderberries to balance its sweetness, this herbal infusion lusciously quenches the palate.
Rosehips and essential orange oil complement the piquancy of tangy current and crisp apple.
Have it hot, or serve it over ice for a sugar-free fruit punch.
Ingredients: Rosehips, hibiscus flowers, currants, apples, elderberries, natural blueberry flavor, essential orange oil, natural mango flavor.
Origin: Multiple Origin Blend
Caffeine: CAFFEINE-FREE

---
Gong Fu Black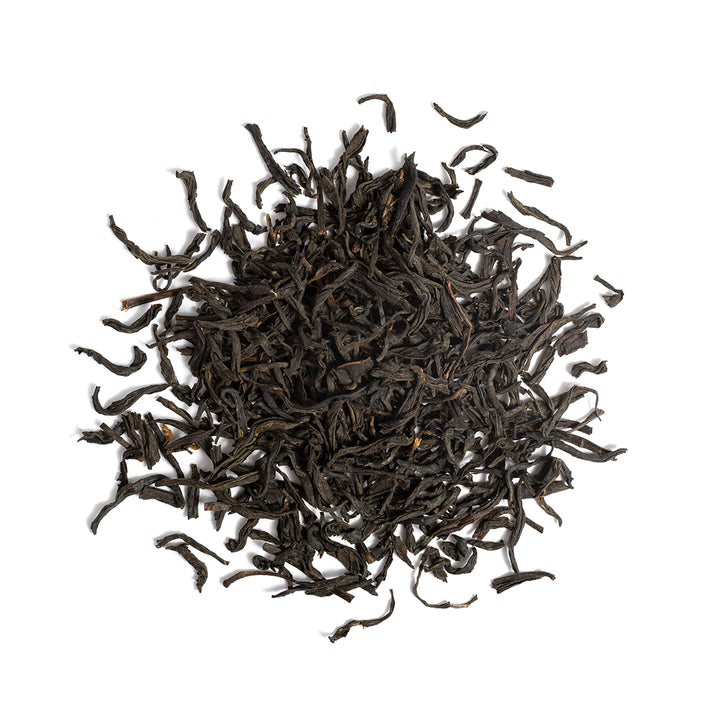 Harvested in the spring in the WuYi Mountains, this elegant black tea is a great choice for first thing in the morning, or for any time of day when your mind needs refreshing. Its initial taste is soft and sweet, with a cloying pungency sneaking up in its finish.
We love its fruity liveliness, with the richness of molasses and caramel to round out its body.
Enjoy this one over several steeps, noting its different complexities each time.
Ingredients: Black tea.
Origin: Fujian, China
Caffeine: MED-HIGH

---
Cinnamon Orange Red
This herbal and caffeine-free South African honeybush blend is similar to a rooibos but sweeter with a fuller mouth feel.
Cinnamon Orange Red brilliantly offsets its natural sweetness with the zest of orange peel and cinnamon spiciness. The bonus is the gorgeous smell that wafts through the house while it brews.
Ingredients: Honeybush, cinnamon, orange peels, natural flavoring.
Origin: Multiple origin blend.
Caffeine: CAFFEINE-FREE
---
Nepali Breakfast
This breakfast tea is a truly unique and exotic way to start the day. Steeping to a deep ruby red hue due to the addition of CTC leaves, it also sings with the bright and complex flavors of Orthodox tea.

What really makes it a standout is its gorgeous layer of masala spice mix, leaving the palate awakened with notes of clove, cinnamon, ginger, and black pepper.

Try it with some warm milk, or as a sweet treat, a touch of sugar.
Ingredients: Black tea, cinnamon, clove, ginger, black pepper.
Origin: Eastern Nepal
Caffeine: HIGH
---
Maghreb Mint
Take a trip to North Africa with this worldly and spicy tea, an exotic and intoxicating blend of roasted green tea, peppermint, ginger, and cardamom.

The warm nutty notes are pleasantly offset with aromatic clove and woody fennel, creating a unique and lively, unforgettable cup.
Try this tea with a touch of sugar!
Ingredients: Green tea, ginger root, cardamom, peppermint, licorice root, fennel, cloves, black pepper.
Origin: Multiple Origin Blend
Caffeine: MED

---
Jade Cloud
This highly unique green tea is a blend of three different styles- roasted, baked, and steamed. The combination of these styles creates a lively but beautifully smooth everyday tea.
Savory as well as sweetly floral, it finishes to a toasted nuttiness. Be sure not to steep it over the suggested time to preserve its delicate complexities.
Ingredients: Green tea.
Origin: Fujian, China
Caffeine: LOW-MED
---
Ceylon Orange Pekoe
This beautiful black tea is grown in the fresh mountain air, brilliant sunshine and abundant rainfalls of the southern Sri Lanka.
It has a strong, fresh black tea aroma and brews a full-bodied cup. We love its classic and bold personality with an elegant smoothness that lingers on the palate.
An outstanding orange pekoe that is at once traditional and refreshingly modern.
Ingredients: Black tea.
Origin: Sri Lanka
Caffeine: HIGH

---
Scarlet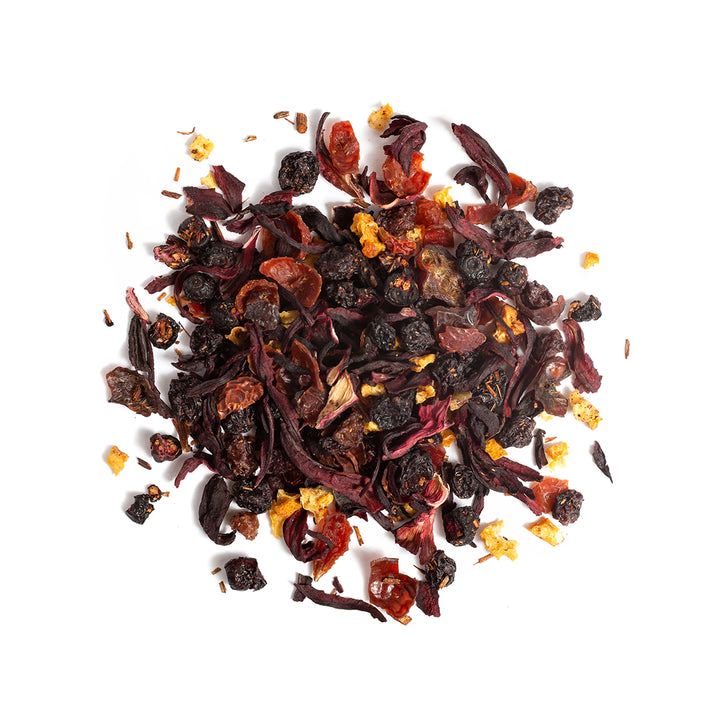 This tea brews to a deep red liquor bursting with tart thirst-quenching goodness, a great caffeine-free tea to sip in the cold months. Currants, cranberries, blueberries, and orange peel sing with festive sweetness while the nuttiness of rooibos rounds out the finish, creating balance. Mango and passion fruit further excite the palate, making this tea a juicy punch of flavor.


Ingredients: Currants, hibiscus flowers, rosehips, rooibos, blueberries, orange peel, cranberries, natural blueberry, passionfruit and mango flavors.
Origin: Multiple Origin Blend
Caffeine: CAFFEINE-FREE

---
Mystic Mint
This seemingly simple blend of peppermint, cardamom, and licorice root combine to form a deep and uplifting complexity to refresh your spirits.
Savor the sweet notes of basil with a slight hint of clove as you relax and digest after a meal, or as an uncaffeinated night cap to settle the body for sleep.
If you think you don't like caffeine-free teas, mystic mint may change your tune.
Ingredients: Peppermint, cardamom, licorice root, essential basil and clove leaf oils.
Origin: Multiple Origin Blend
Caffeine: CAFFEINE-FREE

---
Sweet Cinnamon Orange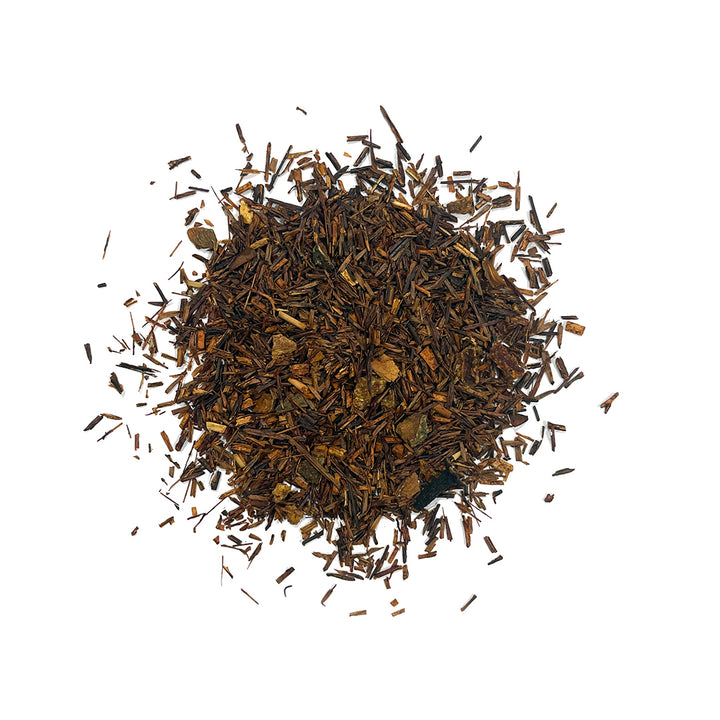 This flavored herbal blend is a delightful caffeine-free treat. It has a perfect balance of spicy and sweet, provided by the cinnamon, cloves, and natural sweet orange flavor.
A perfect sipper for any time of the day!
Ingredients: Rooibos, orange peel, cinnamon, natural flavor, clove
Origin: Multiple origin blend.
Caffeine: CAFFEINE-FREE
---
---
Additional Customization Options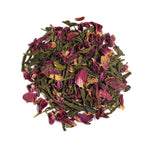 Imperial Sencha Rose
The perfect marriage of green tea and rose petals. Soothing, aromatic, and elegant.
Early Spring Snow Buds White Tea
2021 harvest white tea from Yunnan. Deliciously soft and sweet!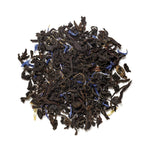 Earl Grey Creme
An award-winning Earl Grey. Creamy and smooth. Very popular!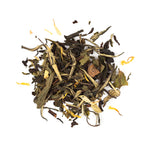 Peach Ginger Detox Gold
A 1st place award-winning flavored green tea, bright and summery. Very popular!
---