Happy February, tea lovers!

Whether you're a fan of Valentine's Day or not, we can guarantee you that we've got some delicious Valentine-themed teas that will steal your heart.
Valentine Blend, featured this month, has become such a popular tea of ours year-round, we just had to include it once again for the month of love.
We're also offering a brand new tea, White Cherry, that has a more refined and sophisticated profile with notes of jasmine, tart cherry, and of course rose buds.

The thing we love the most about February is that it marks the beginning of the 2023 fresh harvest of teas. Some of the earliest picks of the year will begin this month, and will continue on as the weather warms in March and April. It's always an exciting time for tea aficionados who enjoy the freshest tea the planet can provide.

Keep an eye on your email, as in late Feb/early March, we should have some available in our store for purchase!
~Tea Runners
Please note: Big Red Robe, Honey Aroma Shui Xian Oolong, Imperial Grade Silver Needles are only available as customization options to Pure Tea Box members.
---
Customize Your February Box
Customization now closed for renewals. All new members can customize their first box on checkout.
---
Switch Boxes
If you would like to switch from one box to another - for next month only or for all remaining boxes - please click the button below.
All switch requests must be received before the 1st of the month.
---
Fancy Darjeeling Black
Lavender Raspberry Honeybush
White Cherry
Valentine Blend
Fancy Darjeeling Black
Tanzania Luponde Black
Almond Coconut Black
Valentine Blend
Lavender Raspberry Honeybush
Sweet Cinnamon Orange
Scarlet
Lemongrass Vanilla
Jalinga Estate Assam
Tanzania Luponde
Classic Ancient Pu-erh
Houjicha
Almond Coconut Black

Global Tea Championship Winner
1st Place, Flavored Black Tea


This strong blend of black teas is sweetened with the delicious combination of coconut and almond. A wonderful treat for after dinner when you are wanting something sweet.
Try it on its own or add warm milk to further enhance its decadence.
*Contains almonds and coconut.*
Ingredients: Black teas, coconut, almond flakes, flavor.
Origin: Multiple Origin Blend
Caffeine: HIGH

---
Classic Ancient Pu-erh
A vintage style Pu-erh that combines the very best that Pu-erh teas have to offer with a welcoming earthy sweetness.
We love its smooth, rich body with mild notes of cocoa that rounds out into a woodsy and heady finish.
This tea brews to a deep and strong cup with truly elegant complexities.
Ingredients: Pu'erh tea.
Origin: Yunnan, China
Caffeine: MED

---
Fancy Darjeeling Black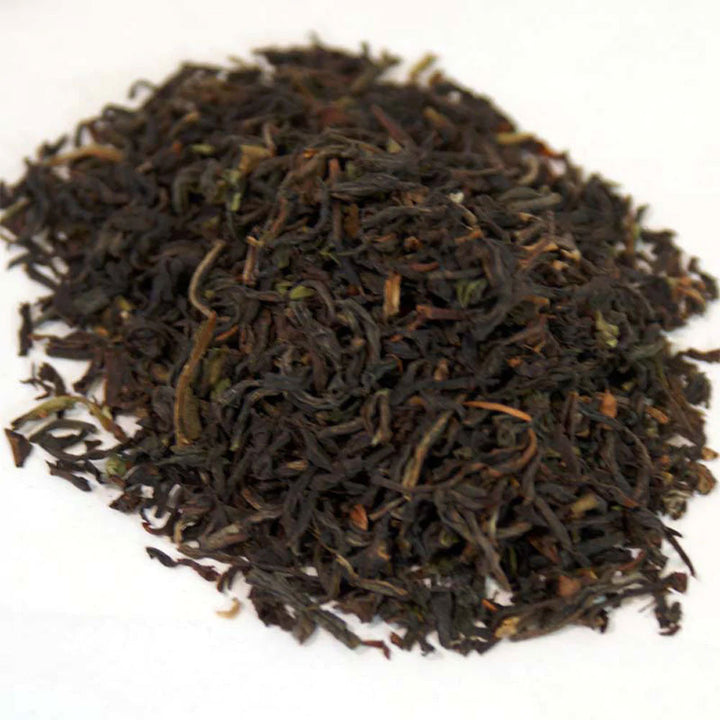 Fancy Darjeeling Black will make a great addition to your tea collection. It is a unique blend of three high quality Darjeeling black teas that produces a distinctive cup.
It is smooth and light, yet flavorful and complex.
Ingredients: Black teas
Origin: Darjeeling, India
Caffeine: HIGH

---
Houjicha
Although this tea brews to a dark and lovely amber hue, Houjicha is a green tea by nature.
Traditional Bancha Japanese green tea is taken through an extra roasting step to transform it into this chocolaty smooth treasure with milder levels of caffeine, which means it can also be enjoyed into the evening.
A bonus for coffee lovers will be the savory coffee bean notes on the finish.
Ingredients: Green tea.
Origin: Kagoshima prefecture, Japan
Caffeine: LOW

---
Jalinga Estate Assam
From the one and only carbon-neutral tea farm in the world comes this brisk and malty black tea sure to brighten and invigorate your mornings.
Assam tea is consumed in India as a traditional type breakfast tea, and its strong and pungent flavor has become well-loved around the globe, proven by the leaves being used in sturdy Irish breakfast teas.
Ingredients: Black tea.
Origin: Assam, India
Caffeine: HIGH

---
Lavender Raspberry Honeybush

Global Tea Championship Winner
3rd Place, Blended Herbal


This delightful caffeine-free treat is rich in good-for-you antioxidants. Its sweetness is pleasantly cut with tart raspberry, creating a perfect balance on the palate.
Fragrant and calming lavender adds a sophistication to this tea, further enhancing its place as part of the ideal bed time ritual.
Ingredients: Honeybush, lavender petals, & natural flavoring.
Origin: Multiple Origin Blend
Caffeine: CAFFEINE-FREE

---
Lemongrass Vanilla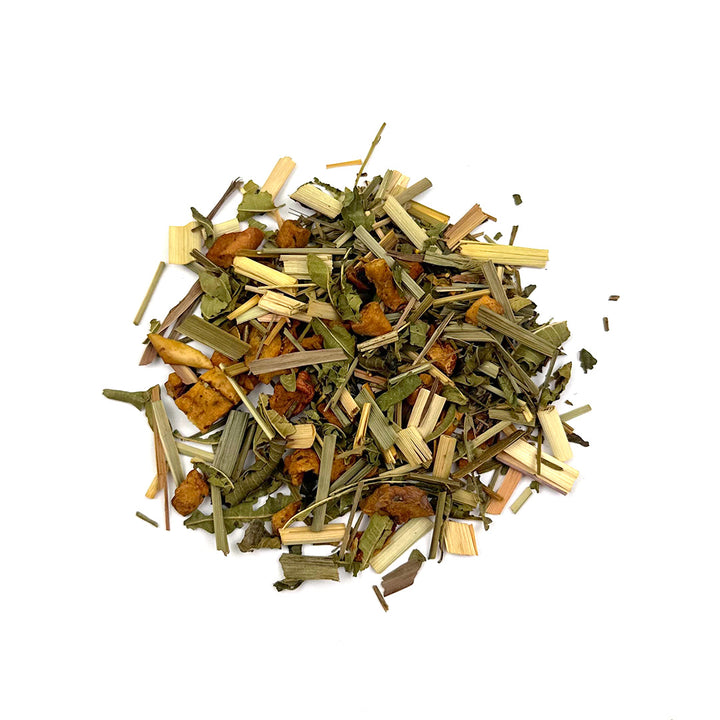 Global Tea Championship Winner
2nd Place, Flavored Herbal Blends


Lemongrass Vanilla is a caffeine-free tea treat that is delightful to sip on after a long day. This gorgeous tea has lemongrass, apple and orange pieces that offer a bright citrus zest followed by a smooth, relaxing vanilla finish. This blend offers a harmonious taste experience.
Ingredients: Apple pieces (apple, acidifier: citric acid), lemongrass, green rooibos, orange pieces, vervain, flavor, vanilla pieces.
Origin: Multiple Origin Blend
Caffeine: CAFFEINE-FREE

---
Scarlet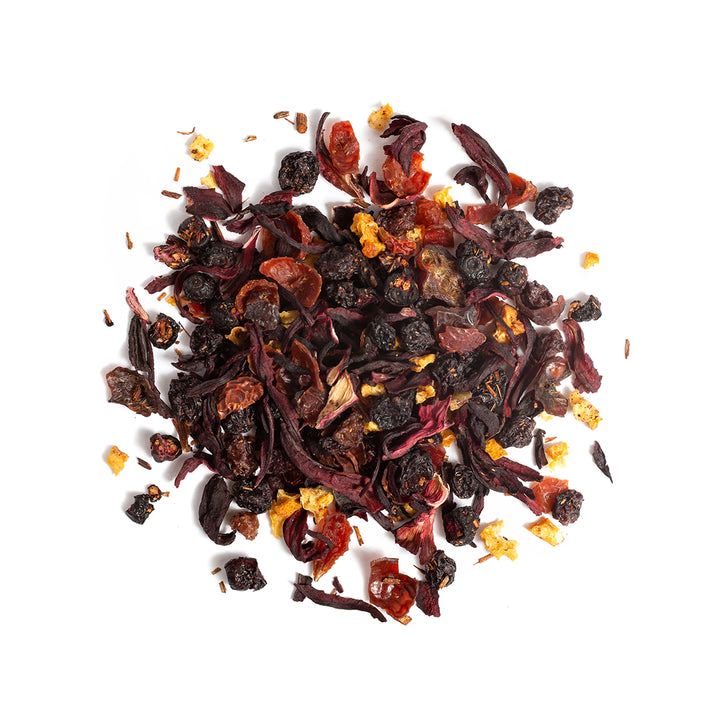 This tea brews to a deep red liquor bursting with tart thirst-quenching goodness, a great caffeine-free tea to sip in the cold months. Currants, cranberries, blueberries, and orange peel sing with festive sweetness while the nuttiness of rooibos rounds out the finish, creating balance. Mango and passion fruit further excite the palate, making this tea a juicy punch of flavor.


Ingredients: Currants, hibiscus flowers, rosehips, rooibos, blueberries, orange peel, cranberries, natural blueberry, passionfruit and mango flavors.
Origin: Multiple Origin Blend
Caffeine: CAFFEINE-FREE

---
Sweet Cinnamon Orange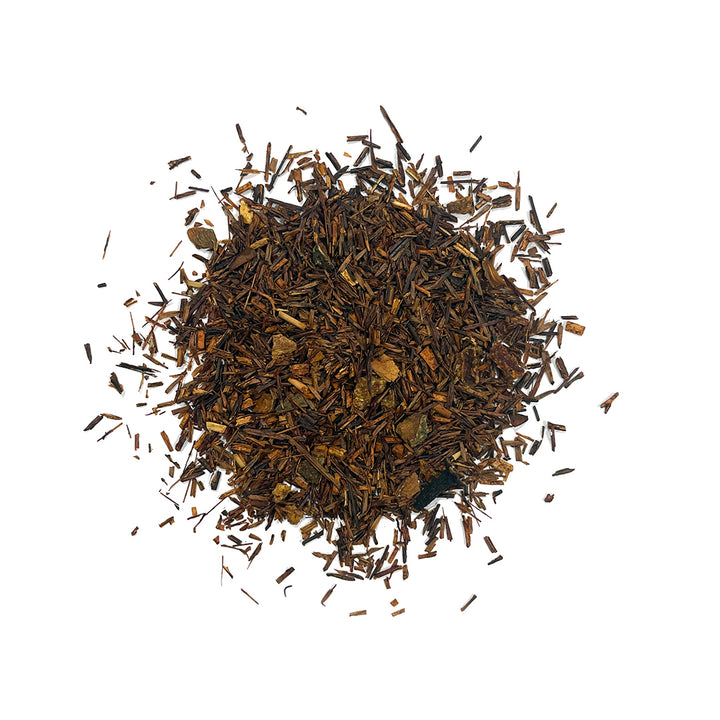 This flavored herbal blend is a delightful caffeine-free treat. It has a perfect balance of spicy and sweet, provided by the cinnamon, cloves, and natural sweet orange flavor.
A perfect sipper for any time of the day!
Ingredients: Rooibos, orange peel, cinnamon, natural flavor, clove
Origin: Multiple origin blend.
Caffeine: CAFFEINE-FREE
---
Tanzania Luponde Black
This lovely tea comes from an estate at an elevation of 7000 feet in southern Tanzania. It is one of the first certified organic estates in the country and also Fairtrade certified and Rainforest Alliance certified. 
These black leaves open into large beautiful brown leaves when brewed with a slight cinnamon spice aroma. The amber cup has a bright taste with a good body and a subtle tobacco flavor. This is a great tea to get your day started.

Ingredients: Black tea.
Origin: Tanzania
Caffeine: MED-HIGH
---
Valentine Blend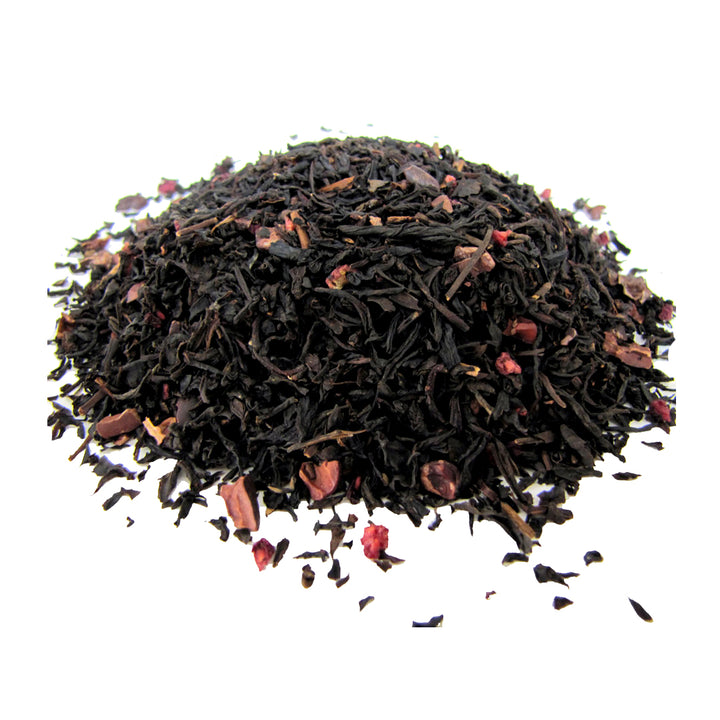 This luscious black tea fills the air with the aroma of chocolate as it steeps, thanks to the addition of cacao nibs. Tart raspberry and pomegranate balance its sweetness, creating a well-rounded and enjoyable cup. It's great for Valentine's Day, but we trust that you'll enjoy steeping it throughout the year.
Ingredients: Black teas, cacao nibs, hibiscus flowers, chocolate flavor, raspberry pieces, and natural pomegranate flavor.
Origin: Multiple Origin Blend
Caffeine: HIGH
---
White Cherry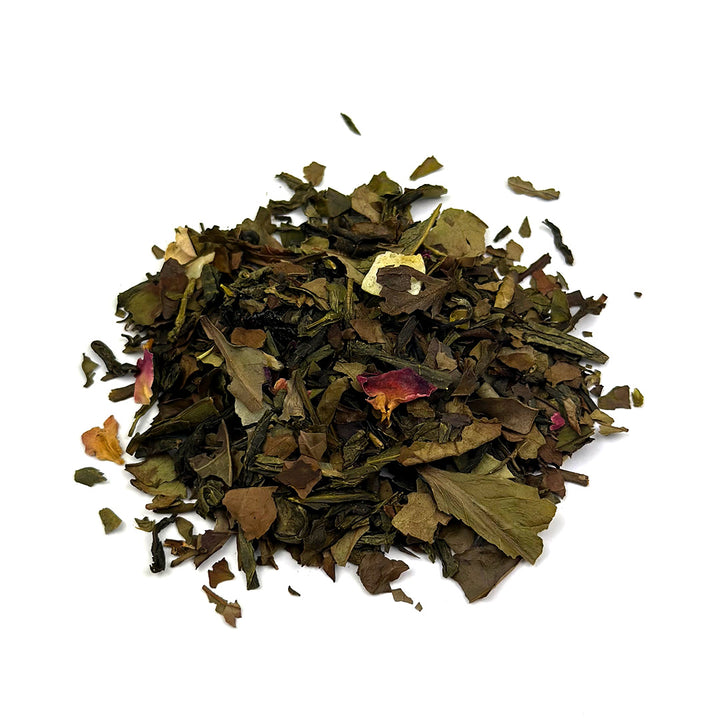 Global Tea Championship Winner
1st Place, Flavored White Tea

This luscious blend of smooth green tea and mild white tea creates a refreshing harmony of flavors that will entice your taste buds. Light floral notes and a subtle hint of cherry will tickle your palate and complete this incredible tea that can be enjoyed anytime.

Ingredients: White tea, green teas, jasmine jade pearls, cherries, coconut chips (coconut, sugar), flavor, rose buds.
Origin: Multiple Origin Blend
Caffeine: LOW-MED

---
---
Additional Customization Options
Big Red Robe
An oolong with a perfect harmony of minerality with a honey sweetness, a roasted nuttiness, and finished with a floral elegance.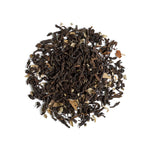 Caramel Toffee Pu-erh
This delicious desert-like pu-erh blend is rich and velvety, with notes of toasted pistachio, hazelnut, creamy caramel and buttered toffee.
Cinnamon Plum
A juicy and full-bodied herbal blend that's like biting into a roasted and caramelized plum.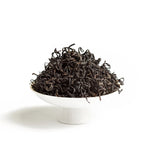 Classic Laoshan Black
One of our absolute favorite teas. A unique black tea with a distinct dark chocolate bite. 2022 Harvest.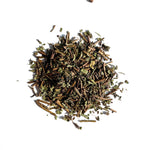 Green Tea Mint
A very refreshing blend of roasted green teas and peppermint! Will remind you of chocolate :)
Honey Aroma Shui Xian Oolong
This lovely Shui Xian "Water Sprite" Oolong is grown from 60-year-old tea plants and has a wonderful array of flavors, including honey, hay, brown sugar, and minerals.
Imperial Grade Silver Needles
A very pure form of tea with little to no oxidation and a gorgeous array of sweet and subtle flavors. (2022 harvest)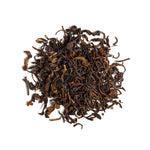 Kanchanjangha Black
Pure Nepalese black tea with notes of dark chocolate, raisins, caramel, and wild grass.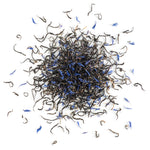 Majestic Earl Grey
Majestic Earl Grey is an exceptional Earl Grey tea, crafted from top quality organic Yunnan black tea and cold-pressed bergamot oil from Italy. It is the most awarded Earl Grey tea in the world.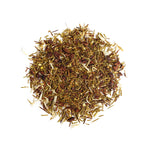 White Chocolate Peppermint
A seasonal treat with organic cacao nibs and a kiss of peppermint, beautifully balanced and rich.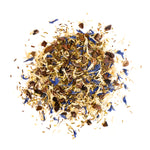 Winter Wonderland Rooibos
A Tea Runners caffeine-free favorite! Like birthday cake in a cup.
---