Merry Christmas, tea lovers! Tis the season to curl up away from the cold with a good cup of something warm and comforting.
If you are new to Tea Runners, it's time to customize your January box. On the 25th of every month, we announce next month's teas (see below) and allow you to customize your box.  Customization is done directly from the link provided and you do not need to log in to any account. Be sure to get your submissions in by January 1st!  The January boxes will ship between January 3rd-5th. 
We look forward to bringing you many unique and great-tasting teas in 2022, along with a big software update that will simplify our customization process, track your tea history, store your favorites, and more. 


~ Happy Holidays and many warm wishes for a safe and prosperous 2022.


Note: Some tea selections were changed on Jan 17 due to availability.  
---
Customize Your January Box
Get more of the kinds of teas you love in your box by requesting customizations.
(Customization is not available to Amazon subscribers.)
Customization now closed for renewals. All new members can customize their first box within 24 hours of placing their orders. 
---
Switch Boxes
If you would like to switch from one box to another - for next month only or for all remaining boxes - please click the button below.
All switch requests must be received before the 1st of the month.
---
Majestic Earl Grey
Citron Mint Black
Juniper Tonic
Apple Cider Rooibos
Majestic Earl Grey
Citron Mint Black
Almond Sugar Cookie Dessert
Keemun 1st Grade
Apple Cider Rooibos
Lavender Raspberry Honeybush
Winter Chai
Red Berries
Keemun 1st Grade
Emerald Green
Big Red Robe
White Pearls 
Majestic Earl Grey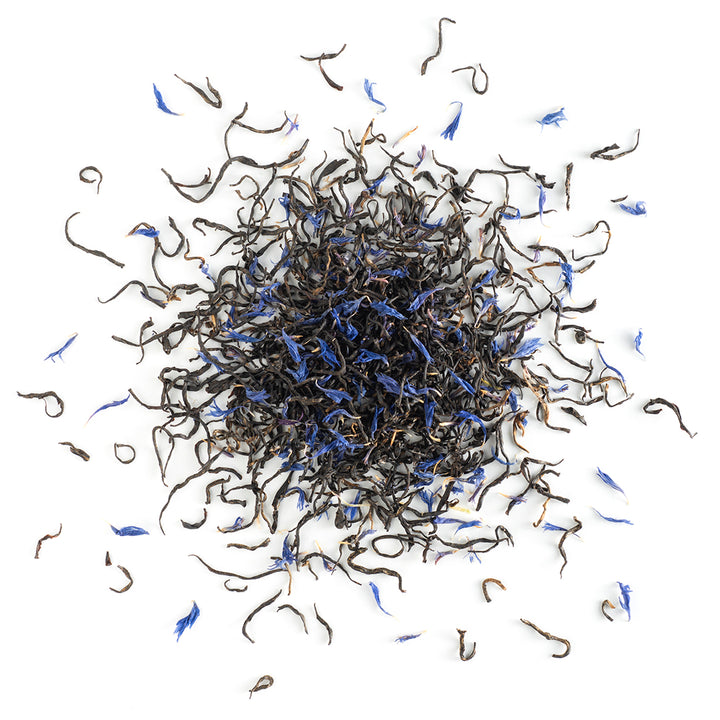 Global Tea Championship Winner
1st Place, Earl Grey Black


Majestic Earl Grey is one of the most awarded Earl Grey teas in the world.
This elegant and classic Earl Grey has been the top place finisher in the 'Earl Grey Black' category at the Global Tea Championship Awards every time it has been entered since 2014 (with the exception of 2018 where it came 2nd place).
Made from the highest quality Yunnan black tea and cold-pressed bergamot oil from Italy, this Earl Grey is one of the finest. It is a masterful balance of high grade black tea and the highest quality bergamot oil. Loose Leaf Earl Grey Tea,
We recommend enjoying this tea in its natural state without the addition of milk or sugar.
Ingredients: Black tea, bergamot oil, blue cornflowers.
Origin: Multiple origin blend.
Caffeine: MED-HIGH

---
Citron Mint Black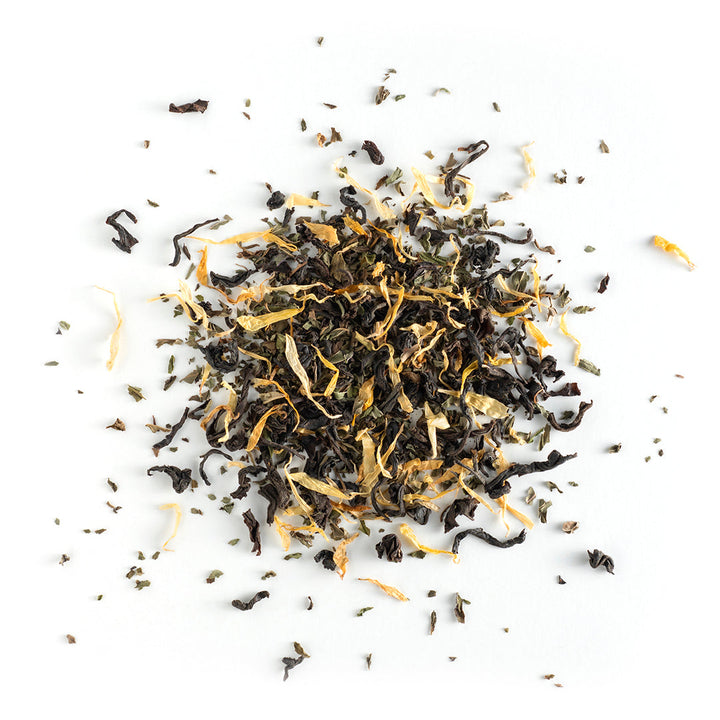 Global Tea Championship Winner
2nd Place, Flavored Black
A perfectly revitalizing and vibrant tea to brighten up a sluggish day, this high quality Yunnan black tea is infused with a refreshing dose of mint and tangy citrus.
Waken up the palate with lemon verbena and peppery calendula, this tea packs a caffeine punch ideal for tackling your to-do list.
Enjoyable both hot or iced!
Ingredients: Black tea, mint, calendula, lemon verbena, and natural flavoring.
Origin: Multiple origin blend.
Caffeine: HIGH
---
Keemun 1st Grade
One of our favorite ways to start the day is with a strong cup of Keemun, and this first grade tea is a cut above the rest. It's nutty, it's strong, and it's earthy, but everything is balanced beautifully with a sweet and floral finish. A perfect breakfast tea.

Ingredients: Black tea
Origin: Fujian, China
Caffeine: HIGH

---
Lavender Raspberry Honeybush

Global Tea Championship Winner
3rd Place, Blended Herbal


This delightful caffeine-free treat is rich in good-for-you antioxidants. Its sweetness is pleasantly cut with tart raspberry, creating a perfect balance on the palate.
Fragrant and calming lavender adds a sophistication to this tea, further enhancing its place as part of the ideal bed time ritual.
Ingredients: Honeybush, lavender petals, & natural flavoring.
Origin: Multiple Origin Blend
Caffeine: CAFFEINE-FREE

---
Emerald Green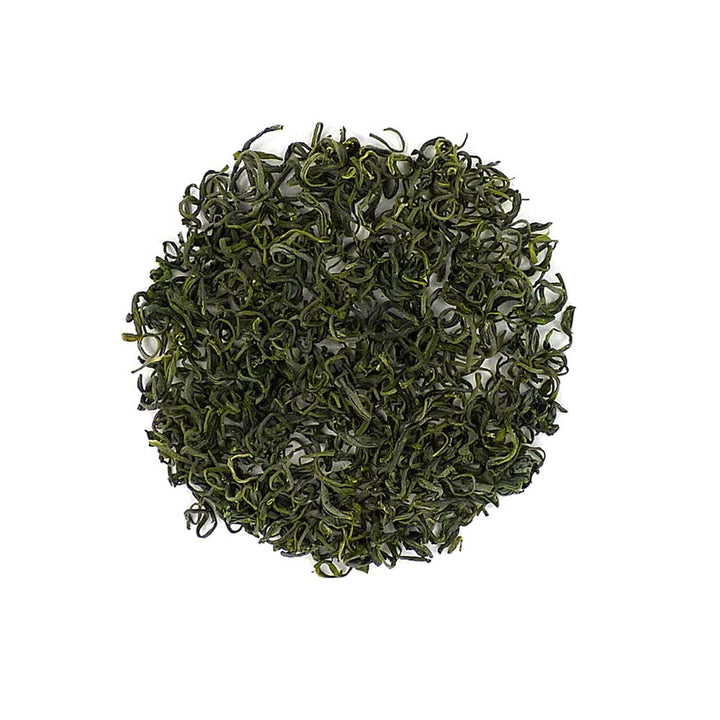 This unique beauty is definitely different, standing out with an offbeat and delicious flavor profile. Fresh melon notes are enhanced with sweet pine and finished with unexpected notes of butter, making this an unforgettable green tea.


Ingredients: Green tea.
Origin: Fujian, China
Caffeine: LOW-MED

---
White Pearls
White teas are picked in early spring from the youngest shoots of the plant where the mild natural sweetness of new growth is most concentrated.

These first flush peony silver needles are delicately handcrafted into the shape of tiny pearls. White pearls of this exquisite quality are in high demand and becoming exceedingly rare.

With its soft mouth feel and cotton candy sweetness, white teas reflect all of nature's goodness. A perfect daytime tea.
2023 Spring Harvest.
Ingredients: White tea
Origin: Fujian, China
Caffeine: MED
---
Big Red Robe
This is a traditional roasted Yancha tea, also known by its Chinese name Da Hong Pao. Proper Yancha should be a perfect harmony of minerality with a honey sweetness, a roasted nuttiness, and finished with a floral elegance.
This one doesn't disappoint. An earthy tea with a great balance.
Ingredients: Oolong tea.
Origin: Fujian, China
Caffeine: MED

---
Apple Cider Rooibos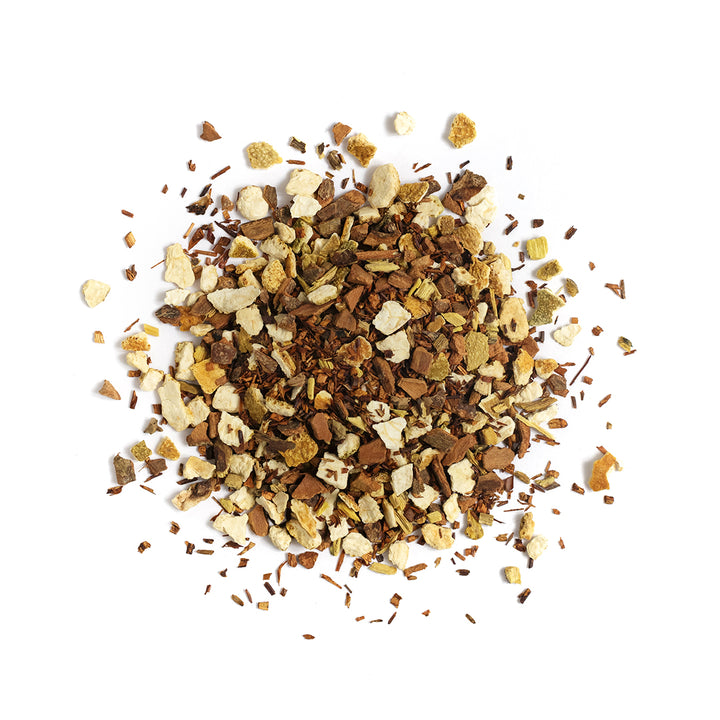 Before even steeping the leaves, the aroma of this beautiful blend will make your mouth water. A gorgeous concoction of sweet and savory cinnamon, tart orange peel and licorice, this tummy-pleasing rooibos has comforting buttery notes of French toast and an addictively decadent taste that will make it a real caffeine-free crowd-pleaser.


Ingredients: Rooibos, cinnamon, orange peel, licorice root, apple cinnamon French toast flavoring.
Origin: Multiple Origin Blend
Caffeine: CAFFEINE-FREE
---
Almond Sugar Cookie Dessert Black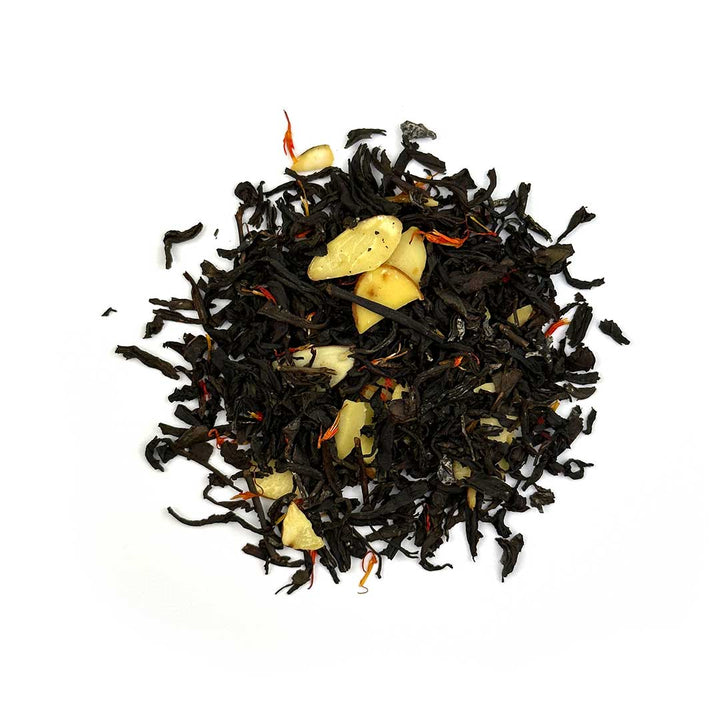 This gorgeous tea is the perfect caffeinated indulgence. Strong black tea gets the sweet treatment with toasted almonds and almond sugar cookie, while the chocolatey and slightly smoky flavor of safflower balances everything out. Try it on its own, or add warm milk to further its decadence.
Ingredients: Black teas, almonds, almond sugar cookie flavoring and safflower blossoms.
Origin: Multiple Origin Blend
Caffeine: HIGH

---
Red Berries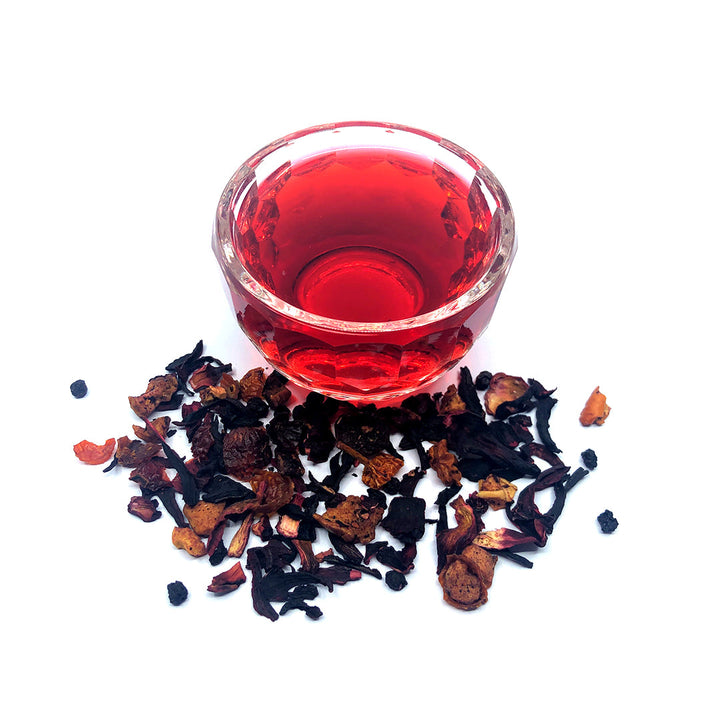 This tea has two personalities, depending on whether you're going to be steeping it hot or cold. Apples, currants, elderberries, and sour cherry make this a bracing hot beverage that's at once tart and soothing, while serving it over ice brings out its natural sweetness from hibiscus and raspberry.
Ingredients: Apple, elderberries, currants, rosehip peels, blackberries, raspberry, flavor, hibiscus, sour cherry.
Origin: Multiple Origin Blend
Caffeine: CAFFEINE-FREE

---
Coconut Crush Chai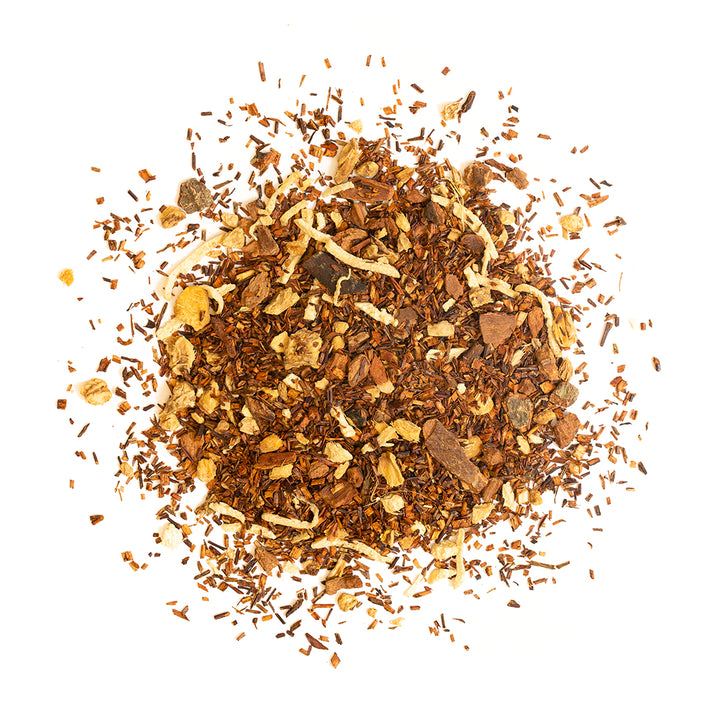 A tropical twist on a traditional chai, this spicy and tummy warming tea is infused with shredded coconut and soothing ginger root. The swirling aromas of sweet Indian spices entice the palate while the calming properties of South African rooibos make this caffeine-free blend a treat sure to end the day on a high note.
Ingredients: Rooibos, ginger root, cinnamon, shredded coconut, ginger coconut and vanilla flavoring.
Origin: Multiple Origin Blend
Caffeine: CAFFEINE-FREE
---
---
Additional Customization Options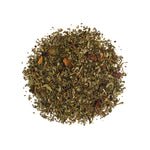 Mistletoe
Delicate white tea gets the holiday treatment with the bright punch of peppermint.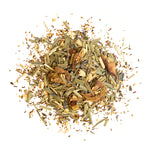 Little Bear Lemon
Fresh lemongrass, the zing of ginger, pear and Madagascar vanilla bean makes one tasty herbal tea.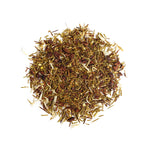 White Chocolate Peppermint
A seasonal treat with organic cacao nibs and a kiss of peppermint, beautifully balanced and rich.
Apple Pie Chai
The perfect caffeine-free treat for chai lovers!
Imperial Grade Green Snails
First flush green tea rolled into into little green snails. Slightly astringent, slightly sweet. Depth and complex.
High Mountain Red
Pure black tea from Yunnan with notes of caramel, honey, sweet potatoes, and malt. (2022 harvest)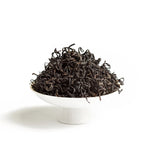 Classic Laoshan Black
One of our absolute favorite teas. A unique black tea with a distinct dark chocolate bite. 2022 Harvest.
---