Happy New Year, sippers!
We hope you had a beautiful, restful holiday season and that you are ready to take on 2023.

We are very proud to report that in the last few weeks of the year, Tea Runners was named "2022 Best Overall Tea Subscription" by The Food Network, Good Housekeeping, and ZDnet. What a wonderful way to end the year!

If you are new to Tea Runners, please visit these handy links to learn ho
Our resolution for the new year is to continue bringing you the most enjoyable, customizable tea discovery experience you'll find anywhere, and to expand our product lineup based on popular demand.

Happy sipping!

~Tea Runners
---
Customize Your January Box
Get more of the kinds of teas you love in your box by requesting customizations.
(Customization is not available to Amazon subscribers.)
Customization now closed for renewals. All new members can customize their first box on checkout.
---
Switch Boxes
If you would like to switch from one box to another - for next month only or for all remaining boxes - please click the button below.
All switch requests must be received before the 1st of the month.
---
Majestic Earl Grey
Classic Laoshan Black
Winter Wonderland Rooibos
Spiced Elderberry Orange Oolong
Majestic Earl Grey
Classic Laoshan Black
Kanchanjangha Black
Citron Mint Black
Winter Wonderland Rooibos
Lavender Lemongrass Mint
Tangerine Ginger
Hibiscus Berry
Imperial Grade Laoshan Black
Bao Zhong Royale
Kanchanjangha Black
Jade Cloud
Majestic Earl Grey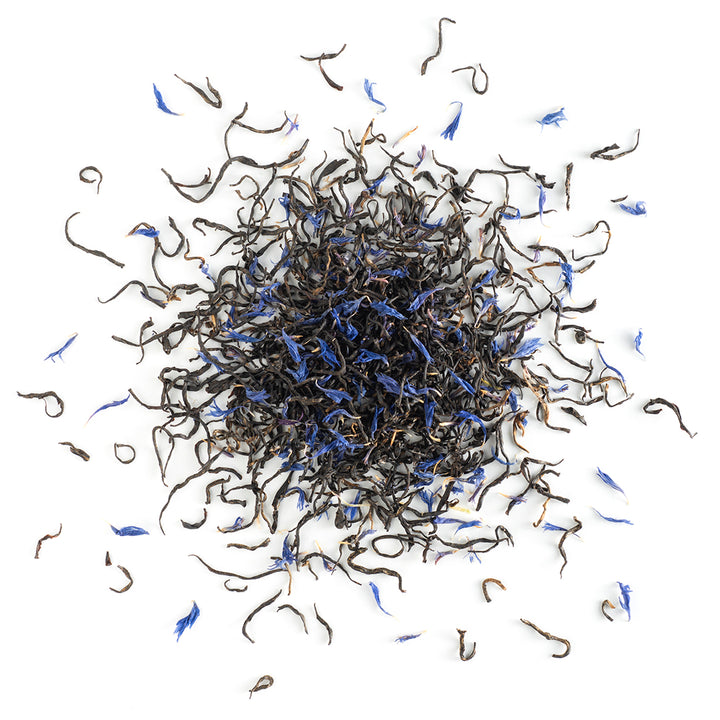 Global Tea Championship Winner
1st Place, Earl Grey Black


Majestic Earl Grey is one of the most awarded Earl Grey teas in the world.
This elegant and classic Earl Grey has been the top place finisher in the 'Earl Grey Black' category at the Global Tea Championship Awards every time it has been entered since 2014 (with the exception of 2018 where it came 2nd place).
Made from the highest quality Yunnan black tea and cold-pressed bergamot oil from Italy, this Earl Grey is one of the finest. It is a masterful balance of high grade black tea and the highest quality bergamot oil. Loose Leaf Earl Grey Tea,
We recommend enjoying this tea in its natural state without the addition of milk or sugar.
Ingredients: Black tea, bergamot oil, blue cornflowers.
Origin: Multiple origin blend.
Caffeine: MED-HIGH

---
Classic Laoshan Black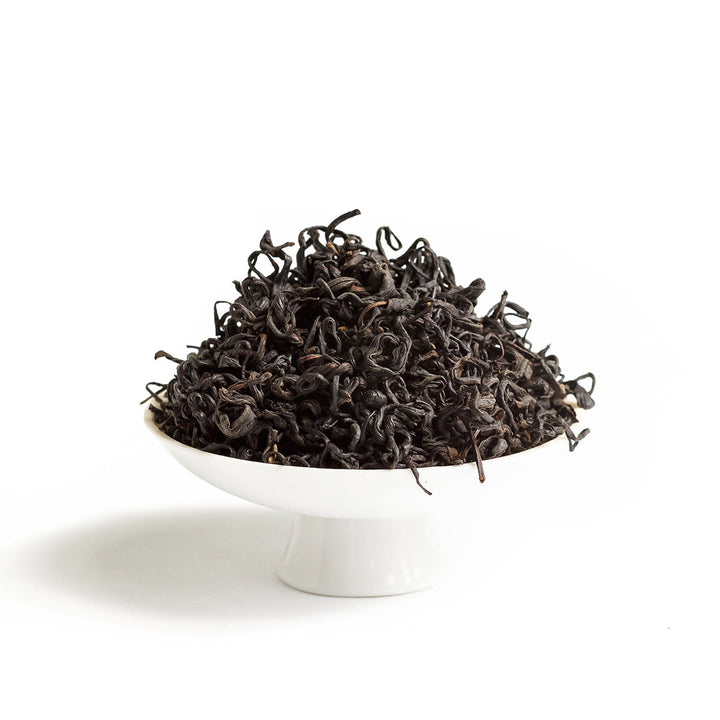 Laoshan is a small village near the sea in northeast China. Laoshan black teas are usually small and tippy, lacking the white pekoe-style hairs that give black teas their golden color.
Classic Laoshan Black, grown under the shadow of a sacred mountain, is very smooth and viscous with a robust flavor that has a distinct dark chocolate bite.
People often question whether sugar was added to this tea, but it's simply the weather and soil that make this tea naturally sweet and thick.
Classic Laoshan Black is one of our personal favorites at Tea Runners. It's a tea we always have on our shelf at home!
Spring 2023 Harvest.
Ingredients: Black tea.
Origin: Shandong, China
Caffeine: MED-HIGH
---
Citron Mint Black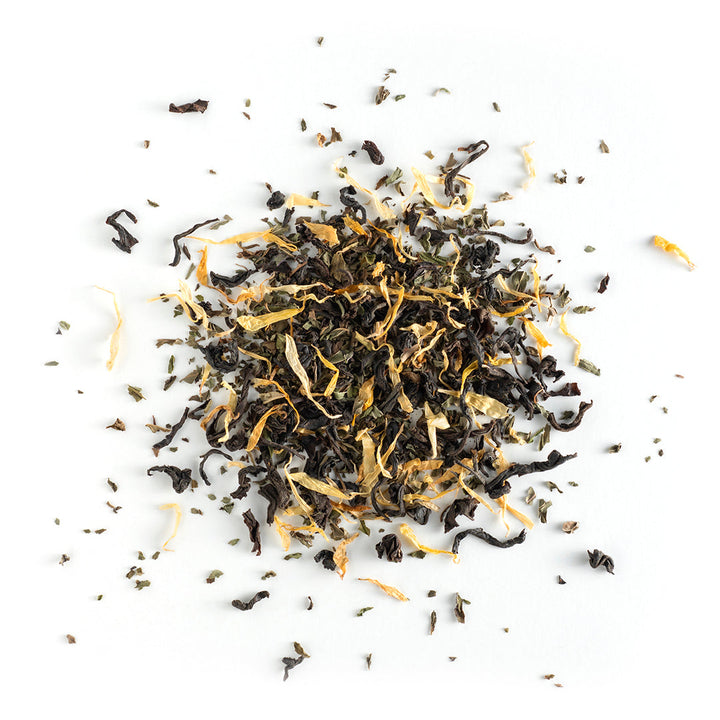 Global Tea Championship Winner
2nd Place, Flavored Black
A perfectly revitalizing and vibrant tea to brighten up a sluggish day, this high quality Yunnan black tea is infused with a refreshing dose of mint and tangy citrus.
Waken up the palate with lemon verbena and peppery calendula, this tea packs a caffeine punch ideal for tackling your to-do list.
Enjoyable both hot or iced!
Ingredients: Black tea, mint, calendula, lemon verbena, and natural flavoring.
Origin: Multiple origin blend.
Caffeine: HIGH
---
Bao Zhong Royale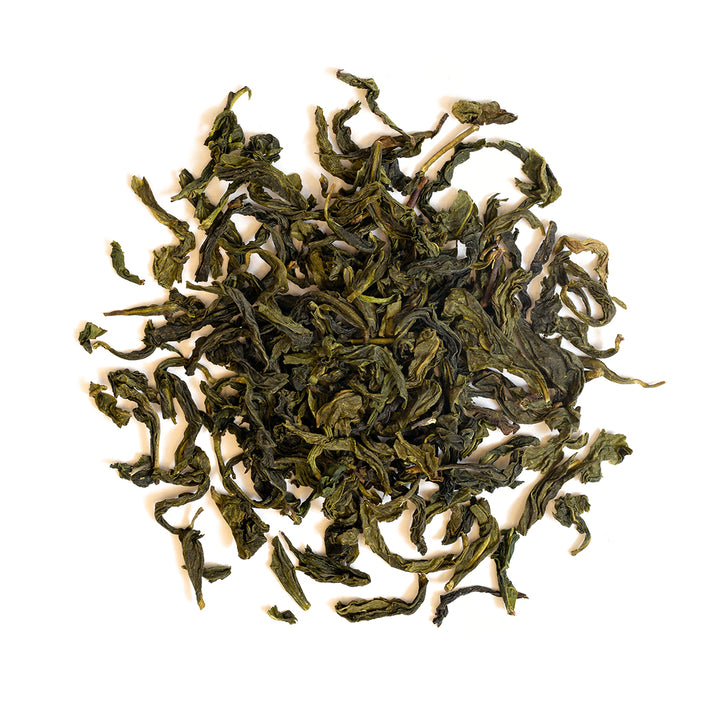 One of our favorite oolongs, this spectacular tea is lightly oxidized but still hefty on floral complexity with little to no astringency.
We love its complicated combination of roasted stone fruit, unsweetened coconut, and firewood, with a deliciously rich and buttery, creamy aftertaste.
It also withstands multiple infusions.
Ingredients: Oolong tea.
Origin: Mingjian Village, Taiwan
Caffeine: MED
---
Jade Cloud
This highly unique green tea is a blend of three different styles- roasted, baked, and steamed. The combination of these styles creates a lively but beautifully smooth everyday tea.
Savory as well as sweetly floral, it finishes to a toasted nuttiness. Be sure not to steep it over the suggested time to preserve its delicate complexities.
Ingredients: Green tea.
Origin: Fujian, China
Caffeine: LOW-MED
---
Winter Wonderland Rooibos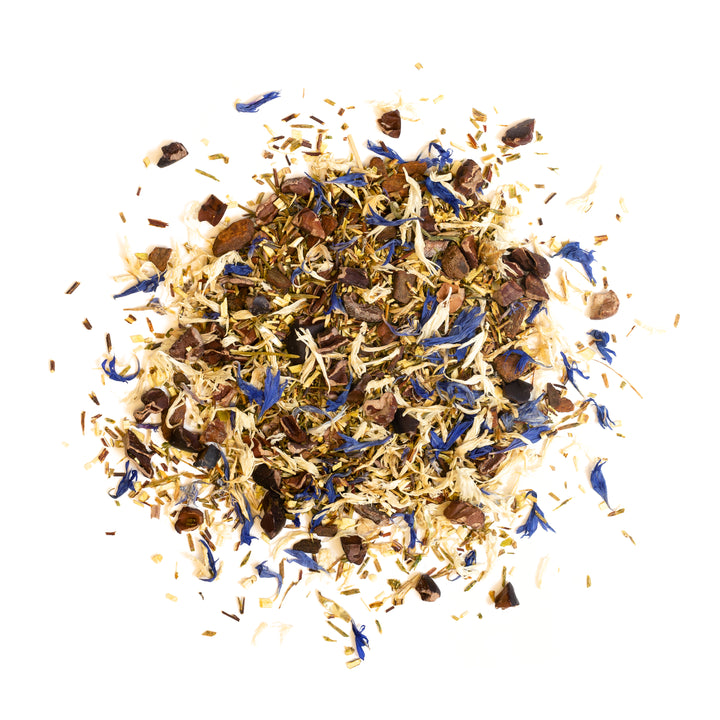 One of our all-time favorites, the Winter Wonderland Rooibos is a crowd-pleasing decadent treat at any time during the year.
Hazelnut flavoring, Bavarian chocolate and fiery cinnamon create the unmistakable taste of birthday cake, making this a great stand-in for raiding the chocolate drawer or, because it's also caffeine-free, a yummy treat for the kids. Pair it with a dash of warm milk to make it truly delectable.
Ingredients: Green rooibos, cacao nibs, cinnamon pieces, flavoring (chocolate, hazelnuts, cinnamon), and blue cornflower petals.
Origin: Multiple Origin Blend
Caffeine: CAFFEINE-FREE

---
Tangerine Ginger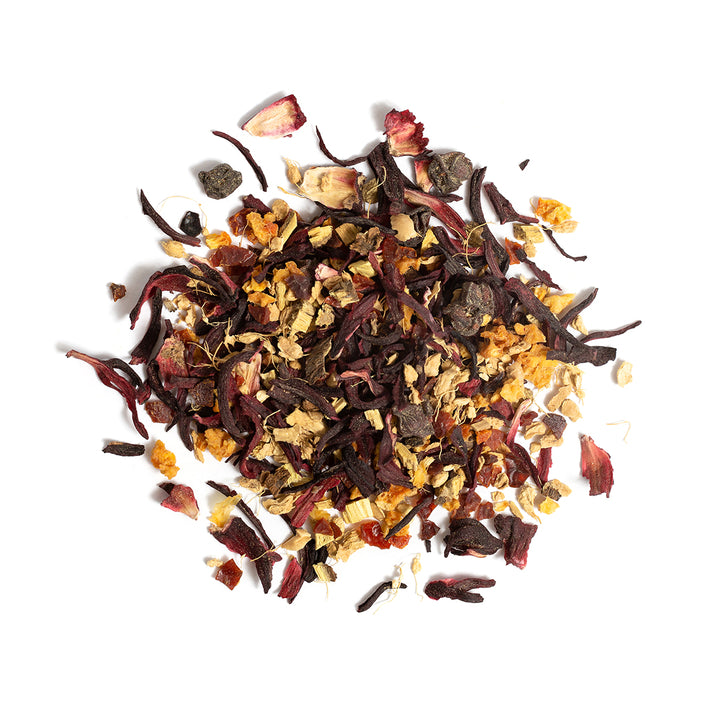 This lovely herbal tea combines fruits, herbs, and roots to create a very vibrant and flavorful deep red tonic. A spicy ginger zing is balanced with the sweetness of tangerine.

Tangerine Ginger is one of our favorite tea company's most popular herbal teas.
Ingredients: Hibiscus flowers, ginger root, rosehips, licorice root, orange peel, schizandra berries, essential tangerine and orange oils.
Origin: Multiple Origin Blend
Caffeine: CAFFEINE-FREE

---
Kanchanjangha Black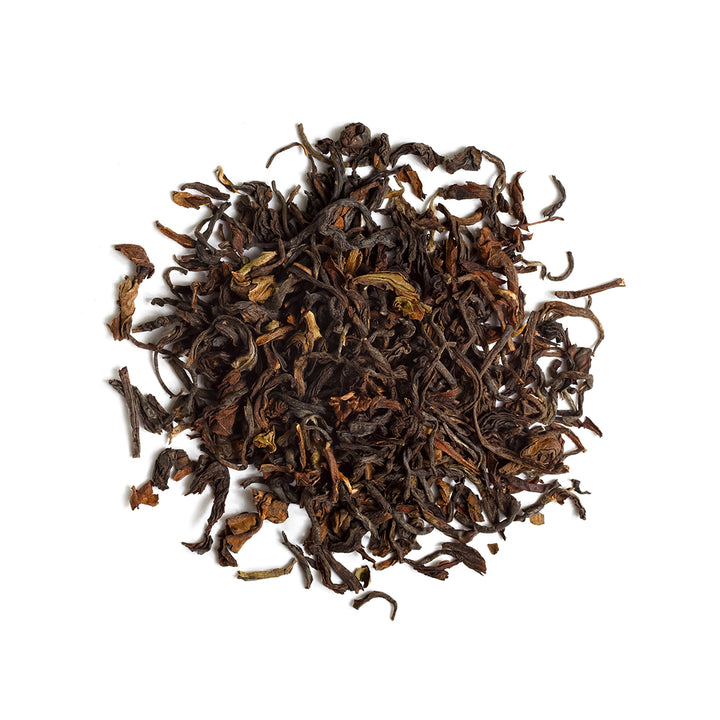 From one of the best tea producing regions in the world near the border of Nepal and India, comes this high elevation premium black tea with similar characteristics to its famous neighboring teas of Darjeeling, India.

This lovely tea produces a fresh, fruity, flowery aroma with notes of dark chocolate, raisins, caramel, and wild grass.
Enjoy this gorgeous Nepalese tea over multiple infusions. This tea is a great value.
Ingredients: Black tea.
Origin: Panchthar, Nepal
Caffeine: HIGH

---
Hibiscus Berry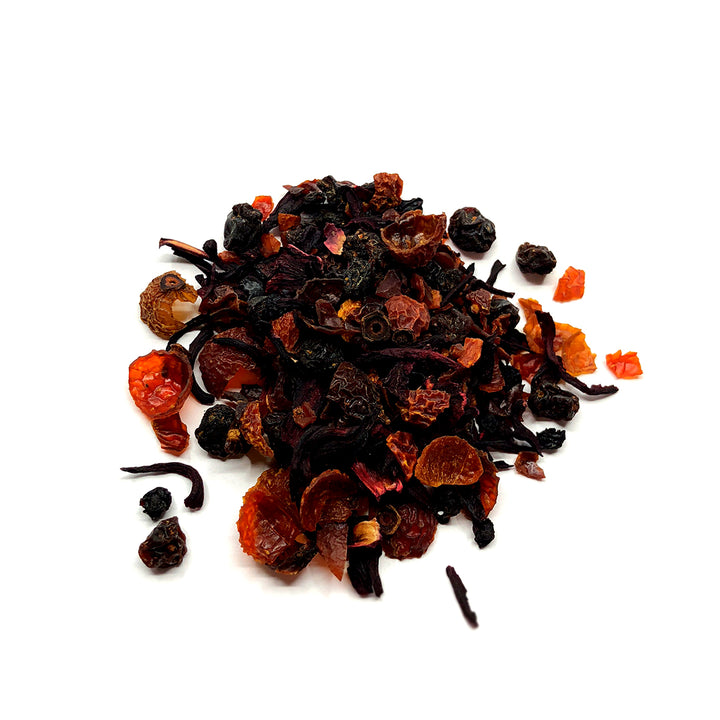 A caffeine-free blend of floral and fruity notes with the tartness of hibiscus and elderberries to balance its sweetness, this herbal infusion lusciously quenches the palate.
Rosehips and essential orange oil complement the piquancy of tangy current and crisp apple.
Have it hot, or serve it over ice for a sugar-free fruit punch.
Ingredients: Rosehips, hibiscus flowers, currants, apples, elderberries, natural blueberry flavor, essential orange oil, natural mango flavor.
Origin: Multiple Origin Blend
Caffeine: CAFFEINE-FREE

---
Imperial Grade Laoshan Black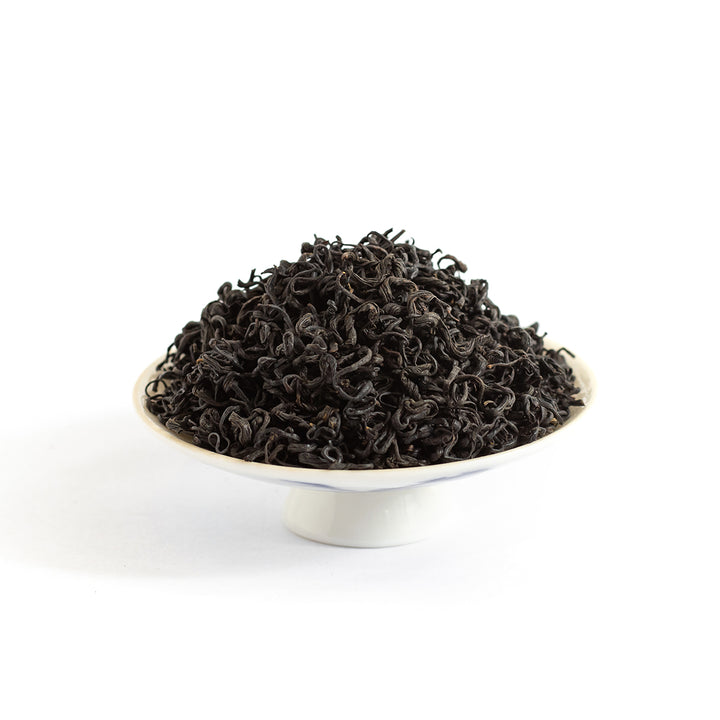 Imperial Grade Laoshan Black is the highest grade version of the already high grade Classic Laoshan Black.
This tea comes from the small family farm of the Liang family where all the growing and processing is done on site, under their strict control, to produce the highest quality result.
What separates this tea from the Classic Laoshan Black is that it's produced from the smallest tippy materials of the tea plants, which are hand selected one leaf at a time during the picking process and set aside for this small batch of tea.
This tea starts its growth under the protection of a greenhouse in the winter and early spring, then it's exposed to direct sunlight until picking season starts in late April to early May.
This tea is wonderfully sweet and thick, with notes of cane sugar and chocolate.
One of our favorites!
2022 Harvest
Ingredients: Black tea
Origin: Shandong, China
Caffeine: HIGH
---
Lavender Lemongrass Mint
A brilliant concoction of calming lavender, soothing lemongrass and refreshing peppermint. Lavender Lemongrass Mint is made from top quality organic ingredients from North America's most awarded tea company.
Ingredients: Lavender petals, lemongrass, Egyptian peppermint, calendula and natural flavoring.
Origin: Multiple Origin Blend
Caffeine: CAFFEINE-FREE

---
Spiced Elderberry Orange Oolong
This delicious oolong is comfort in your cup during the cold winter days. Cinnamon spice warms your taste buds and the addition of dried fruit with a hint of orange makes this tea a perfect fireside sipper.
This tea is excellent iced as well.
Ingredients: Cinnamon, dark oolong, elderberries, orange peel, rosehips, orange flavor, cinnamon flavor, elderberry flavor.
Origin: Multiple Origin Blend
Caffeine: MED-HIGH

---
---
Additional Customization Options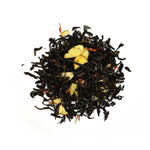 Almond Sugar Cookie Dessert Black
Strong black tea gets the sweet treatment with toasted almonds and almond sugar cookie.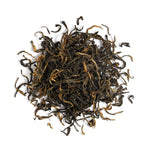 Big Snow Mountain of Mengku Black Tea
High altitude pure black tea from 30-40 year old naturally grown tea plants in Yunnan.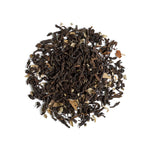 Caramel Toffee Pu-erh
This delicious desert-like pu-erh blend is rich and velvety, with notes of toasted pistachio, hazelnut, creamy caramel and buttered toffee.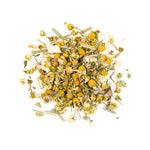 Chamomile Medley
A very soothing blend of chamomile, spearmint, and lemon.
Cinnamon Plum
A juicy and full-bodied herbal blend that's like biting into a roasted and caramelized plum.
Cranberry Spice
This herbal is the latest crowd-pleaser in our warehouse, fruity and spicy.
Fruit Aroma Yixing Black Tea
A perfect everyday black tea, smooth with a malty finish and with lingering notes of dried fruit.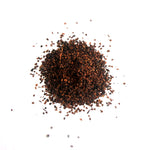 Honeybush
A caffeine-free South African treat! Hearty, only slightly sweet, with notes of apricot jam.
Raspberry Green Tea
Green tea gets a pungent punch from juicy raspberry, making this one equally delicious hot or iced.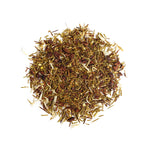 White Chocolate Peppermint
A seasonal treat with organic cacao nibs and a kiss of peppermint, beautifully balanced and rich.
---