Hello Tea Lovers!
June is national iced tea month! Almost any tea can be brewed cold, and to help you get the hang of it, we're happy to announce the launch of our new blog this month. We're kicking it off with some foolproof iced tea methods, cold brew instructions, and even a few tea cocktail recipes for summer.

We're also excited to announce some new subscription options. The two most common reasons people pause or cancel their subscriptions is because they have "too much tea" (like there is such a thing!) or they're looking to save some cash. Well, we listened, and we are now offering subscription options for only 2 or 3 pouches per box. Log in to your account and edit your subscription if you would prefer this option!

  
---
Customize Your June Box
Get more of the kinds of teas you love in your box by requesting customizations.
(Customization is not available to Amazon subscribers.)
Customization now closed for renewals. All new members can customize their first box within 24 hours of placing their orders. 
---
Switch Boxes
If you would like to switch from one box to another - for next month only or for all remaining boxes - please click the button below.
All switch requests must be received before the 1st of the month.
---
Mumbai Chai
Sweet Bee
Peach Ginger Detox Gold
Cinnamon Plum
Mumbai Chai
Black Rose
High Mountain Tu Cha Black
London Breakfast
Fireside Nightcap
Yogi's Tonic
Mango Raspberry Rooibos
Cinnamon Plum
Bahara Black First Flush
Dejoo First Flush
Dragon Claw Oolong
Ancient Pu-erh Tuo Cha
High Mountain "Tu Cha" Black
From high up in the Wu Yi Mountains comes this niche black tea with distinct chocolatey notes. If you're a fan of Laoshan teas you'll enjoy this rare find as well.

The tea is ultra viscous with a rich and velvety mouth feel. Complex enough for experienced tea drinkers, but easy enough to become your every day black tea.

Spring 2023 Harvest.

Ingredients: Black tea.
Origin: Fujian, China
Caffeine: HIGH
---
Mumbai Chai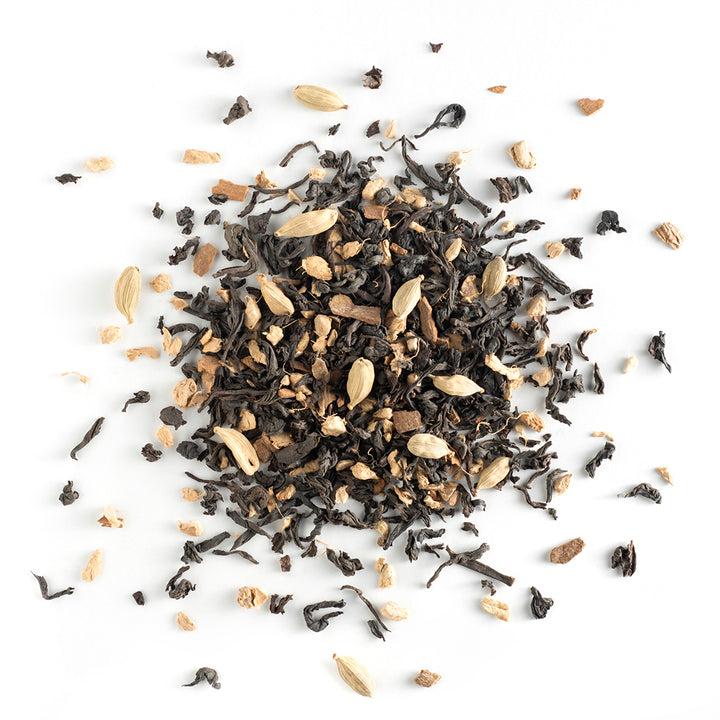 Global Tea Championship Winner
3rd Place, Chai (Masala Chai)
Masala Chai is a mixture of black tea and aromatic spices originating from the Indian subcontinent. This popular beverage has gained a worldwide following and can be found in today's most prominent coffee and tea chains.

Mumbai Chai, a blend of carefully selected spices and high-quality Assam black tea, is an award-winning masala chai.
Ingredients: Assam black tea, cinnamon, cardamom, clove, and ginger.
Origin: Multiple Origin Blend
Caffeine: MED-HIGH
---
Dejoo First Flush
This strong Assam tea is not for the faint of heart. It has a pleasant bite with notes of barley and hops, almost like a beer-drinking tea. However, due to its leaves being from the first flush of the harvest, it finishes with a delicateness, making it a well-balanced tea to start your morning.
Ingredients: Black tea.
Origin: Assam, India
Caffeine: HIGH
---
Baraha Black First Flush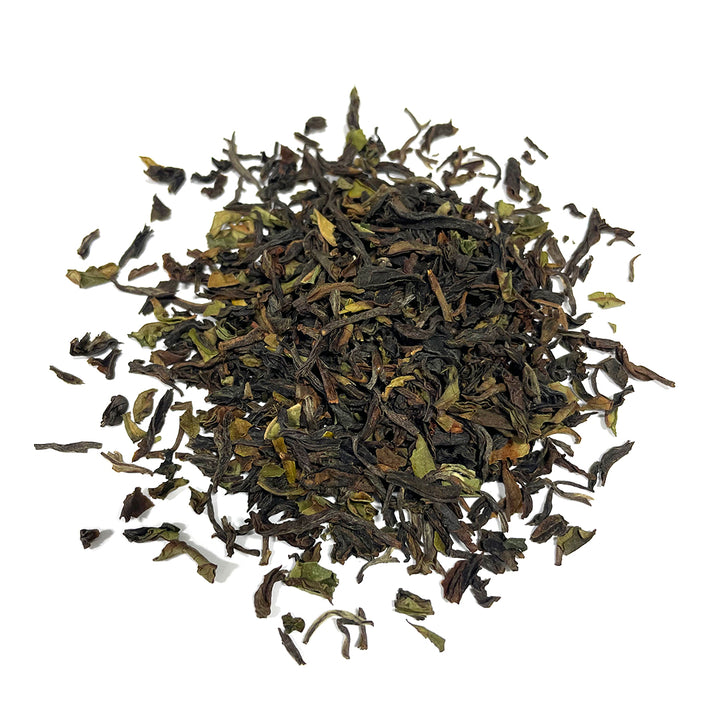 We love to sing the praises of Nepalese tea, and this one is gorgeous. The Baraha black tea from the Himalayas awakens the palate with sweet notes of muscat grapes and rose, with the lingering finish and aroma of toasted almonds. Its high caffeine content makes it the perfect tea for a day when you need an elegant pick me up.
Ingredients: Black tea.
Origin: Phidim, Nepal
Caffeine: HIGH
---
Sweet Bee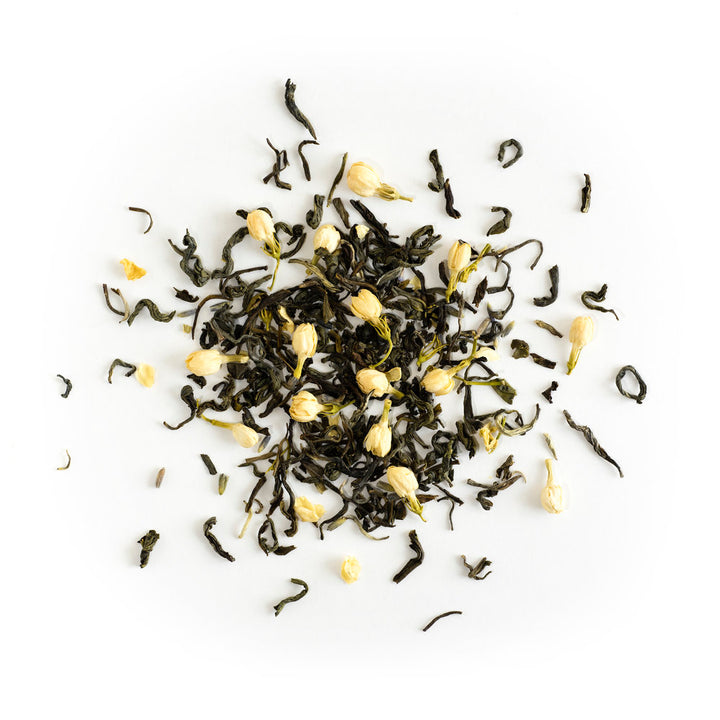 This lovely and unusual green tea gets a decadent layer added to it with Madagascar vanilla bean.
Heady jasmine lends a sophisticated floral note to its aroma, and Oregon lavender rounds it out to be an all-around pleasing and relaxing blend.
Ingredients: Green tea, jasmine, Oregon lavender, Madagascar vanilla bean.
Origin: Multiple Origin Blend
Caffeine: LOW-MED
---
Mango Raspberry Rooibos
This tart and tropical herbal blend is a great warm weather quencher, bursting with juicy mango and the sharp sweet bite of raspberry. High quality rooibos adds a smooth and slightly nutty taste, aiding in digestion while it satisfies the palate with a summery lusciousness that's equally great hot or iced.
Ingredients: Rooibos, mango pieces, raspberry pieces, natural flavoring.
Origin: Multiple Origin Blend
Caffeine: CAFFEINE-FREE

---
Black Rose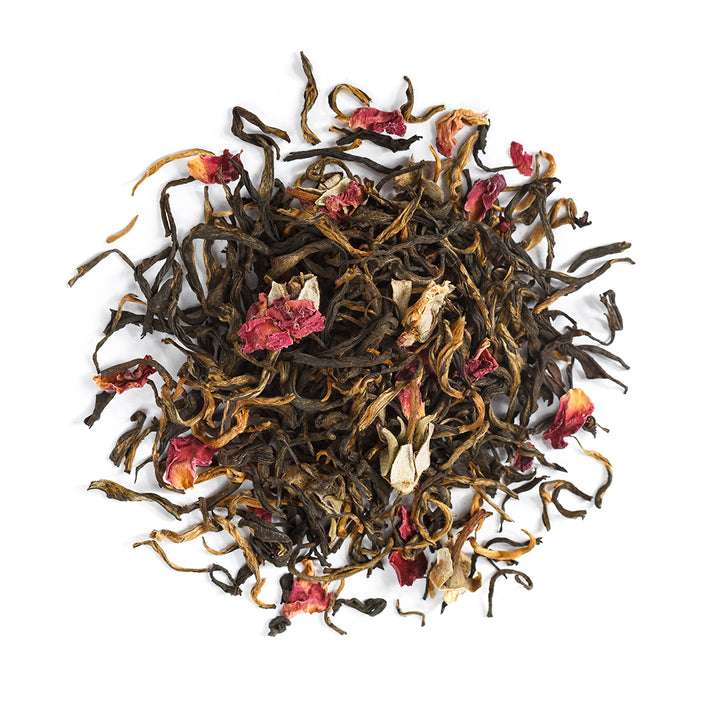 This gorgeous black tea has a base of strong Yunnan black tea leaves, packing a caffeinated punch and slight astringency, making this an excellent breakfast tea. But the addition of rose petals creates a heady and beautifully elegant character, while Madagascar vanilla bean sweetens and further elevates the decadence of this fabulous tea.
Ingredients: Black tea, rose petals, vanilla bean.
Origin: Multiple Origin Blend
Caffeine: HIGH
---
Ancient Pu-erh Tuo Cha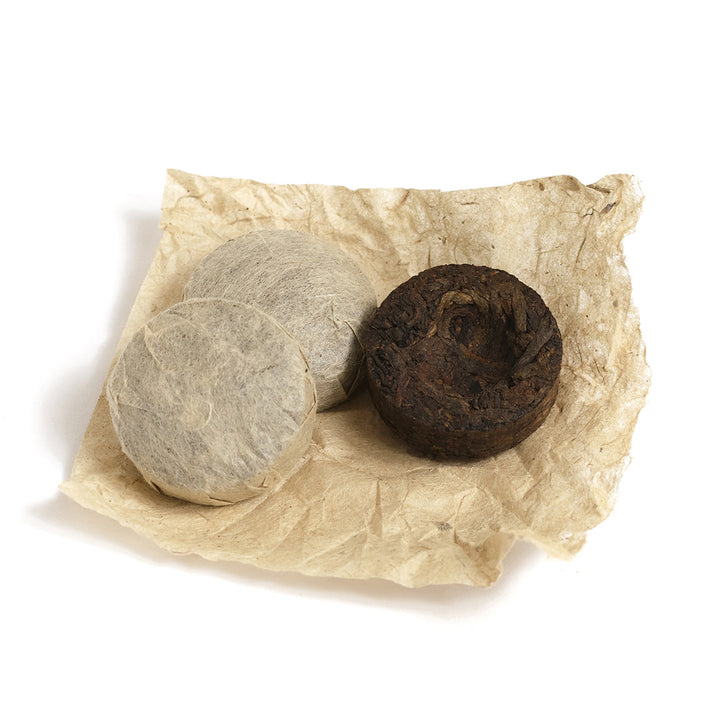 This traditional style ripe Pu-erh is a blend of vintages ranging from 2-4 years in age. These small Ancient Tuo Cha (meaning "dome shaped") Pu-erh cakes are perfect for single-serving size and should be enjoyed all day with multiple infusions.
Each subsequent infusion reveals the complex personality this tea hides under its powerful earthy smell: a little sweet, a little savory, and very smooth with notes of dark mocha. A tremendously soothing tea.
Ingredients: Pu-erh tea
Origin: Yunnan, China
Caffeine: MED
---
Dragon Claw Oolong
This sharp and lingering oolong is aptly named, because as the tea leaves open, they resemble claws unfurling. These leaves are plucked at the beginning of the harvest after summer when the leaves are dark green, but the cup steeps to a beautiful amber color with a nutty toasted finish and the sweet tartness of apricot.
We're huge fans of oolongs in general, but this one is just spectacular.
Ingredients: Oolong tea.
Origin: Maipokhari, Ilam region, Nepal
Caffeine: MED

---
London Breakfast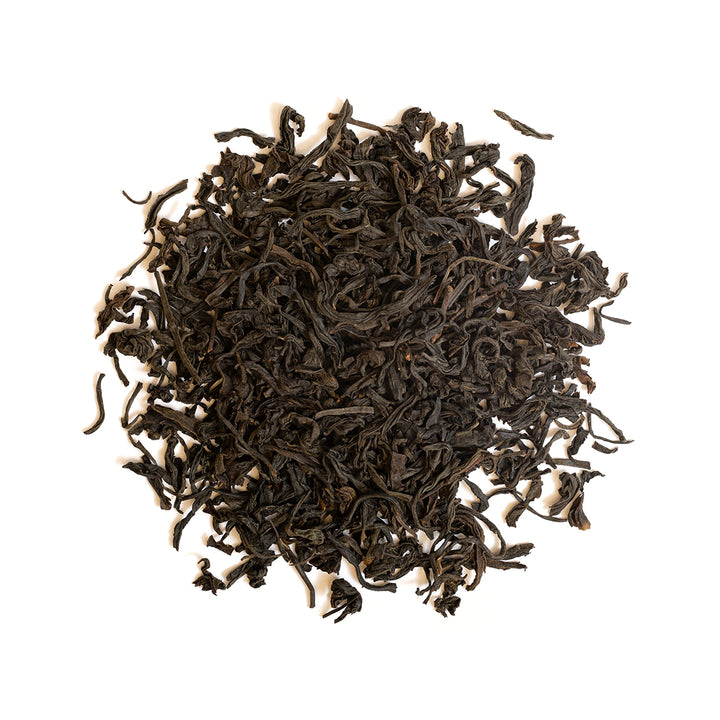 The kickstart to your day you've been waiting for, this hefty but elegant black tea is an expertly crafted blend of Assam, Keemun Black, and Sri Lankan black tea leaves. Vibrant like a traditional Assam, this modern tea swirls with an earthy depth and a well-rounded and smooth finish.
Try it with some milk for a traditional cup, but its silky enough to enjoy on its own.
Ingredients: Black tea.
Origin: India, China, and Sri Lanka
Caffeine: HIGH
---
Peach Ginger Detox Gold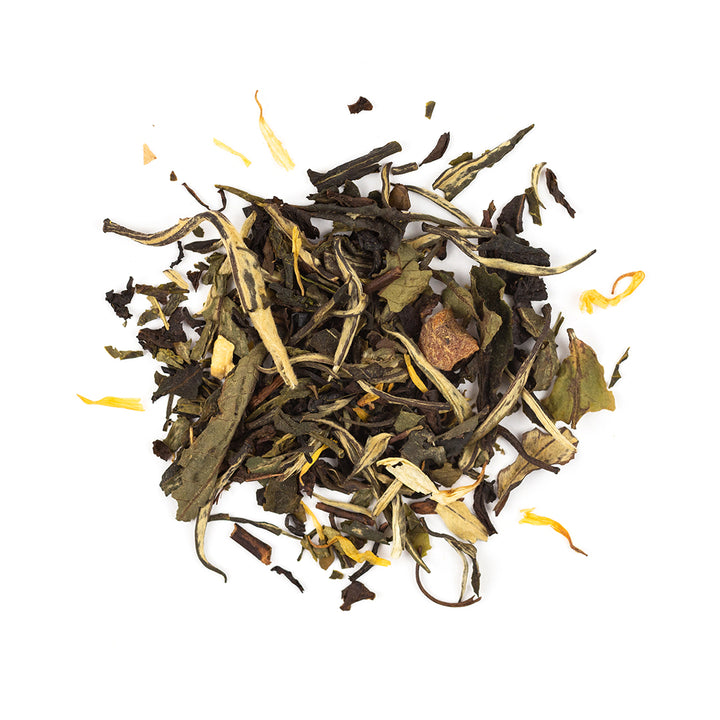 Global Tea Championship Winner
1st Place, Flavored Green Tea
This tea is a detoxifying blend of the finest top grade white tea, silver needles and Formosa oolong, blended with ginger and peach bits for added addictive sipping.

This magical tea will boost your metabolism and immune system, give you glowing skin, decrease nausea, and even give you some pep in your step when it comes to jet lag.
Ingredients: Green tea, white tea, oolong tea, yellow marigold flowers, dried peach bits, ginger root, and natural flavoring.
Origin: Multiple Origin Blend
Caffeine: LOW-MED

---
Yogi's Tonic
This tea has been discontinued by our manufacturer.  Once it's gone it's gone. 
This herbal tea is great for the yoga enthusiast due to its addition of anise and mint which allow for clearer breathing. But sharp lemongrass and wintergreen give it a refreshing verve, with lavender and chamomile balancing things out to a smooth and soothing finish.


Ingredients: Rosehips, star anise, peppermint, black currant leaf, lemongrass, chamomile, lavender, wintergreen extract, natural vanilla flavor.
Origin: Multiple Origin Blend
Caffeine: CAFFEINE-FREE
---
Cinnamon Plum
This juicy and full-bodied herbal blend is like biting into a roasted and caramelized plum. A touch of spice is added with cinnamon and licorice root, pleasantly enhanced with the scent of sweet hibiscus flower.
Try this tea in a mulled wine recipe, or serve it over ice on a gorgeous sunny day.
Ingredients: Organic cinnamon, organic hibiscus flowers, organic currants, organic licorice root, natural plum flavor.
Origin: Multiple Origin Blend
Caffeine: CAFFEINE-FREE
---
---
Additional Customization Options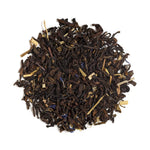 Strawberry Peach Pu-erh
An award-winning blend of pu-erh, yerba mate, oolong tea and various fruity flavors.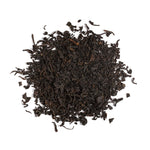 Blue Mountain Black
A strong pure black tea that embodies the unique and worldly flavor profile of Nilgiri, India.
Ginger Lime Rooibos
Ginger, lime and licorice root deliver a bright and zesty caffeine-free treat!
Maghreb Mint
A traditional Moroccan blend of roasted green tea, peppermint, ginger, and cardamom.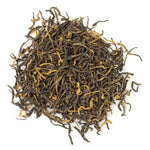 Black Dragon
A high-grade Chinese "congou" black tea with notes of sweet cocoa, malt and fresh fruit.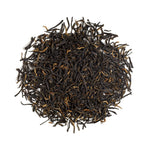 Zheng Shan Xiao Zhong
A traditional Chinese-style black tea with notes of dark chocolate with a surprisingly sweet finish.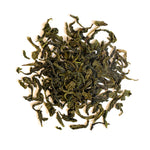 Bao Zhong Royale
A lightly oxidized oolong, rich and buttery, with notes of stone fruit, coconut, and firewood.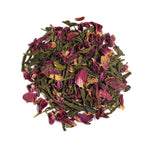 Imperial Sencha Rose
The perfect marriage of green tea and rose petals. Soothing, aromatic, and elegant.
---