Hello Friends,
We'd like to start off this month's greeting with sincere gratitude for your patience. The pandemic has continued to cause delays in shipping, due to our suppliers unable to access ingredients and supplies in a timely manner.
As a result of delayed deliveries, we were unable to ship Blueberry Cinnamon Crumble last month, but we received it and it's coming this month. 
To make sure we don't face similar delays in shipping your tea to you in the future, we've ordered our teas way in advance, ensuring that your boxes will go out in the first week of the month as usual.

The spring harvest of 2022 teas is underway, so keep a lookout for them in the next few weeks.

Our best wishes to the people of Ukraine. We hope this terrible situation will be resolved quickly and peacefully. 

~ Tea Runners
---
Customize Your March Box
Get more of the kinds of teas you love in your box by requesting customizations.
(Customization is not available to Amazon subscribers.)
Customization now closed for renewals. All new members can customize their first box within 24 hours of placing their orders. 
---
Switch Boxes
If you would like to switch from one box to another - for next month only or for all remaining boxes - please click the button below.
All switch requests must be received before the 1st of the month.
---
Golden Mao Feng


Earl Grey Lavender

Earl Grey Creme
Caramel Apple Green
Blueberry Cinnamon Crumble
Golden Mao Feng
Bengal Tiger Breakfast
Kanchanjangha Black


Earl Grey Lavender

 

Earl Grey Creme
Evening in Missoula
Herbal Root Beer
Cranberry Spice
Blueberry Cinnamon Crumble
Golden Mao Feng
Fujian Black
Houjicha
Drum Mountain White
Golden Mao Feng
This earthy and full flavored black tea comes from Yunnan, China. Its name translates to "hairy mountain tea" because of the fuzzy down on its leaves, but you'll fall in love with its woodsy and vibrant character with sweet notes of cane sugar.
A perfect tea for a wet and rainy day.
Ingredients: Black tea.
Origin: Yunnan, China
Caffeine: MED-HIGH
---
Drum Mountain White
This tea was made popular by Buddhist monks on the coast of Fujian Province who grew it around their monasteries and used it for mental stimulation during meditation sessions. It is one of China's most natural teas with very minimal processing, and uses the full leaf.

Drum Mountain White is a smooth and refreshing white tea with a round mouth feel and lingering notes of natural honey.
Ingredients: White tea.
Origin: Fujian, China
Caffeine: LOW-MED

---
Cranberry Spice
This herbal is the latest crowd-pleaser in our warehouse, and one sip will tell you why. Tart fruits like cranberry, raspberry, and blackberry are livened up with ginger and lemongrass, while cinnamon and turmeric lend an earthiness to its finish.
A fantastic caffeine-free treat to warm the body up on a cold day.
Ingredients: Clove, raspberry leaf, cinnamon, blackberry leaf, turmeric, natural flavor, ginger root, lemongrass, cranberries.
Origin: Multiple Origin Blend
Caffeine: CAFFEINE-FREE

---
Kanchanjangha Black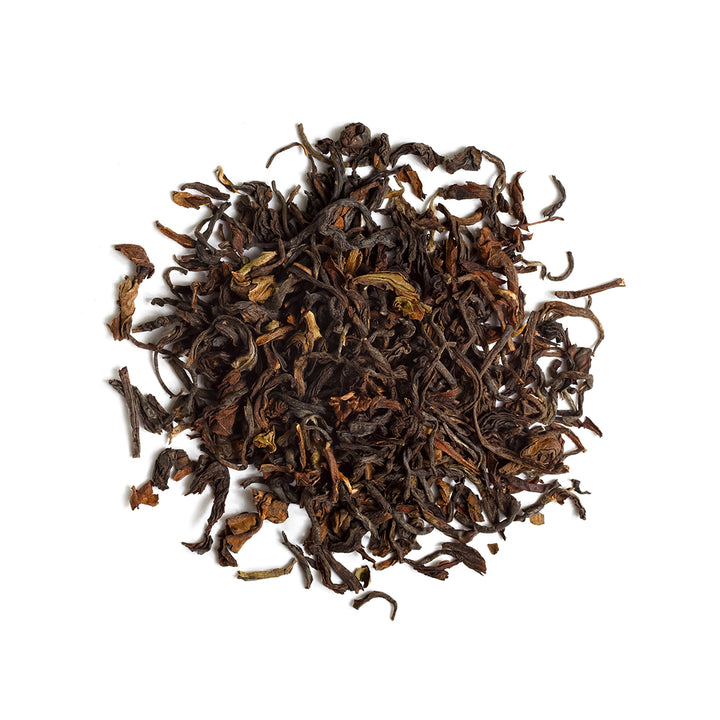 From one of the best tea producing regions in the world near the border of Nepal and India, comes this high elevation premium black tea with similar characteristics to its famous neighboring teas of Darjeeling, India.

This lovely tea produces a fresh, fruity, flowery aroma with notes of dark chocolate, raisins, caramel, and wild grass.
Enjoy this gorgeous Nepalese tea over multiple infusions. This tea is a great value.
Ingredients: Black tea.
Origin: Panchthar, Nepal
Caffeine: HIGH

---
Herbal Root Beer
Bursting with personality and nostalgic root beer flavor, this fun and vivacious tea kicks off the palate with tart black currant and licorice root.

Green rooibos further aids in this tea's natural ability to help digestion, while rosehips and red rose petals create a richness to make it a perfect after dinner treat.

Ingredients: Green rooibos, rooibos, licorice root, black currant leaf, rosehips, root beer flavoring and red rose petals.
Origin: Multiple Origin Blend
Caffeine: CAFFEINE-FREE
---
Houjicha
Although this tea brews to a dark and lovely amber hue, Houjicha is a green tea by nature.
Traditional Bancha Japanese green tea is taken through an extra roasting step to transform it into this chocolaty smooth treasure with milder levels of caffeine, which means it can also be enjoyed into the evening.
A bonus for coffee lovers will be the savory coffee bean notes on the finish.
Ingredients: Green tea.
Origin: Kagoshima prefecture, Japan
Caffeine: LOW

---
Bengal Tiger Breakfast
This ideal breakfast tea is the perfect caffeinated blend to start your day. Big, bold Assam tea gets a bright boost from invigorating Ceylon, creating a one-two punch that's as invigorating as it is sophisticated.

Bengal Tiger Breakfast has a rich copper-toned tea liquor with an uplifting malty, caramel aroma. An invigorating morning breakfast tea that's perfectly smooth on its own, or try it with a splash of milk.

Ingredients: Black tea.
Origin: Assam and Sri Lanka
Caffeine: HIGH

---
Blueberry Cinnamon Crumble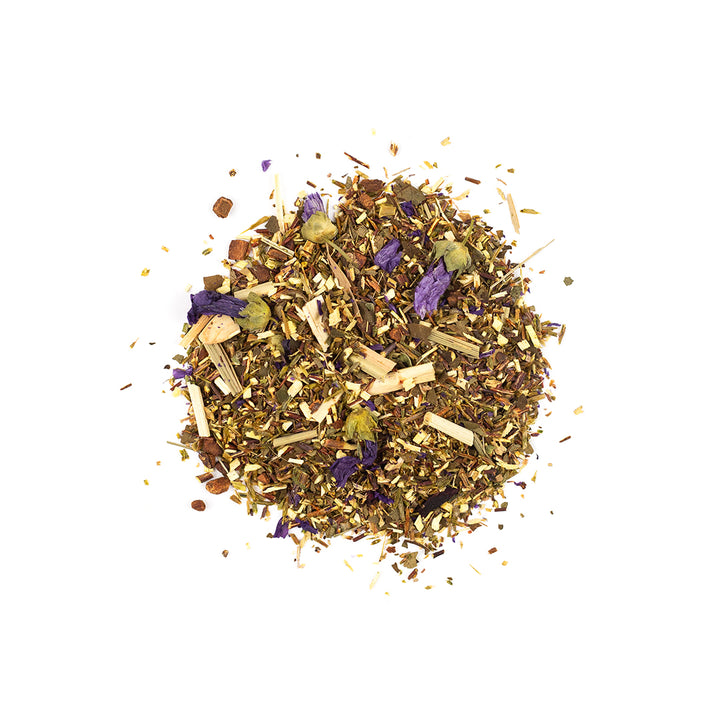 This decadent herbal blend mixes rich green rooibos with a pinch of cinnamon, tart currants, and sweet blackberry leaves. The result is like biting into a piece of warm blueberry cake. Its sweetness is delicately balanced with the finishing touch of lemongrass.


Ingredients: Organic green rooibos, currants, beetroot, organic cinnamon, sweet blackberry leaves, flavoring, organic lemongrass and malva flowers.
Origin: Multiple Origin Blend
Caffeine: CAFFEINE-FREE

---
Earl Grey Lavender
Here we have a welcomingly different twist on a classic. With citrusy bergamot pressed from real fruit and flowers, and the intoxicating fragrance of organic lavender blossoms, the Earl Grey Lavender is an elegant wake-me-up tea in the morning.
One of our most popular teas!

Ingredients: Organic black tea, organic lavender flowers, essential bergamot oil, natural lavender oil extract.
Origin: Multiple Origin Blend
Caffeine: MED
---
---
Additional Customization Options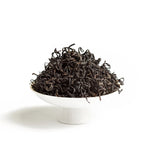 Classic Laoshan Black
One of our absolute favorite teas. A unique black tea with a distinct dark chocolate bite. 2022 Harvest.
White Pearls
First flush peony silver needles delicately handcrafted into tiny pearls. Spring 2023 harvest.
High Mountain Red
Pure black tea from Yunnan with notes of caramel, honey, sweet potatoes, and malt. (2022 harvest)
---