Happy March, tea lovers!

To welcome the winds of March, we're happy to announce that our orders are in for the 2023 fresh harvest of teas! Some years, we're lucky enough to get teas in the door of our warehouse within 2 WEEKS of the date they're plucked. If you're like us and love a pure tea (which means not blended with other teas or flavored), there is nothing like opening a bag of tea that's this fresh.

March also means it's time for the World Tea Expo in Las Vegas, one of our favorite and most looked forward to events. Due to the pandemic, it's been a few years since we've been able to attend in person, but this is where we meet our tea providers from all over the world and taste as many teas as we can, ensuring your boxes contain an excellent variety of teas that are top of the line in quality.
We can't wait to share our finds with you!
Enjoy this month's teas!
~Tea Runners
Please note: Imperial Grade Mojiang Golden Bud and King of Duck Shit Aroma Dan Cong Oolong are only available as customization options to Pure Tea Box members.
---
Customize Your March Box
Get more of the kinds of teas you love in your box by requesting customizations.
Customization now closed for renewals. All new members can customize their first box on checkout.
---
Switch Boxes
If you would like to switch from one box to another - for next month only or for all remaining boxes - please click the button below.
All switch requests must be received before the 1st of the month.
---
Mozambique Black
Earl Grey Crème
Guava Gold
Pacific Peppermint
Mozambique Black
Earl Grey Crème
Kathmandu Cosmos
Gong Fu Black
Pacific Peppermint
Turmeric Chai
Caramel Walnut Shortbread Rooibos
Fig Honey
Mozambique Black
Imperial Mojiang Golden Bud
Emerald Green
Iron Goddess of Mercy
Earl Grey Creme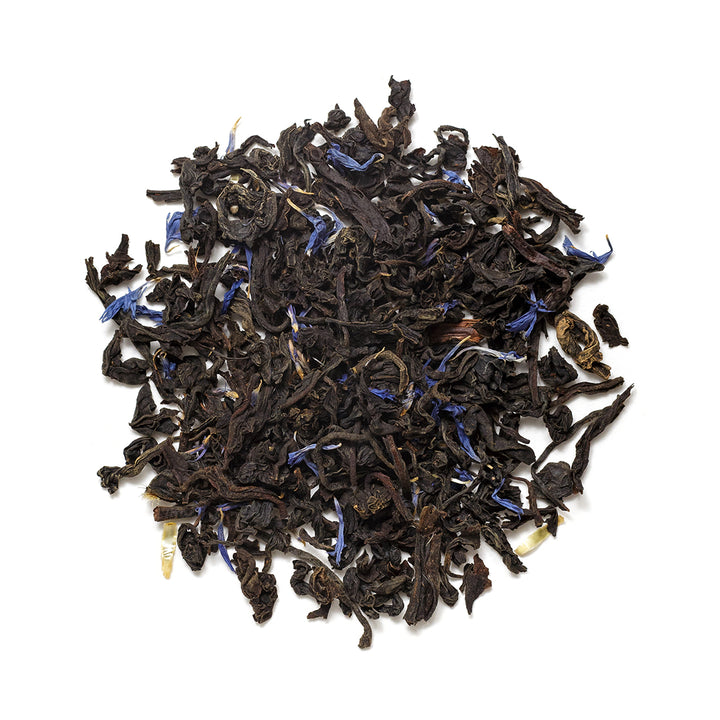 This Earl Grey Crème comes from Garden to Cup, one of the top tea companies in North America and the creator of our popular award-winning Majestic Earl Grey.

Earl Grey Crème is a stronger earl grey with a thick, creamy mouth feel and lingering aftertaste of vanilla that'll be sure to please any Earl Grey lover.
Ingredients: Black tea, blue cornflower, natural flavoring.
Origin: Multiple Origin Blend
Caffeine: HIGH
---
Mozambique Black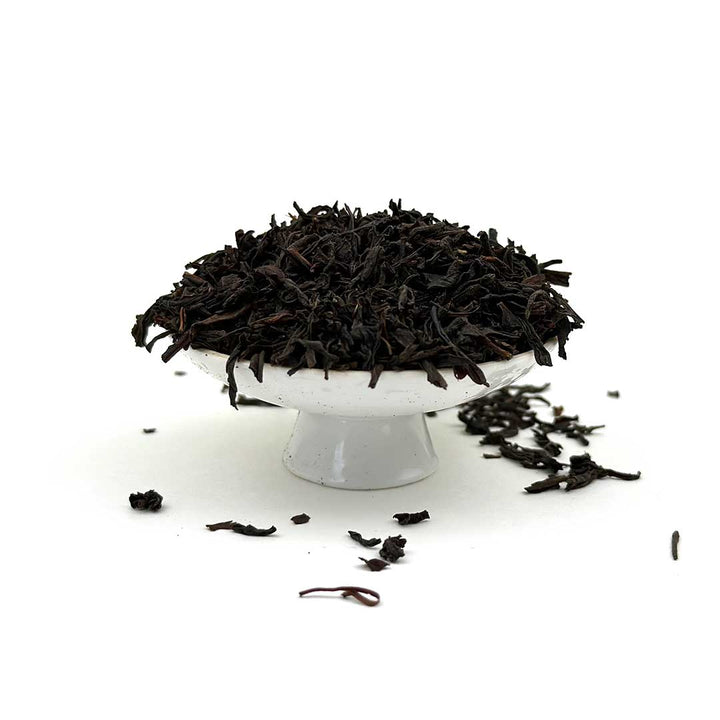 The long wiry leaves of Mozambique black brew into a beautiful, bright amber cup of tea with an inviting, earthy aroma. This exciting black tea is exceptionally smooth with malty notes and a slight toasty flavor on the back of the palate.
Ingredients: Black tea.
Origin: Mozambique, Africa
Caffeine: MED-HIGH
---
Caramel Walnut Shortbread Rooibos
A joyous caffeine-free blend of green rooibos, safflower and orange blossoms, this tea fills the air with the scent of toasted walnut and warm caramel.
Deliciously buttery, we love the sweetness of this tea to sing on its own without any additional sugar, but do try it with milk to further enhance its richness.
Ingredients: Green rooibos, flavoring, safflower blossoms, and orange blossoms.
Origin: Multiple Origin Blend
Caffeine: CAFFEINE-FREE

---
Iron Goddess of Mercy
As the story goes, the tea plant from which this Taiwanese oolong gets its name was left to a pious farmer by a Buddhist god as a way of thanks for this man's dedicated upkeep of the village's temple.
This velvety and creamy tea has intricate juxtapositions of roasted buckwheat and chestnut with sweet dried apricot, a winning combination straight from the gods.
Ingredients: Oolong tea.
Origin: Nantou County, Taiwan
Caffeine: LOW-MED

---
Pacific Peppermint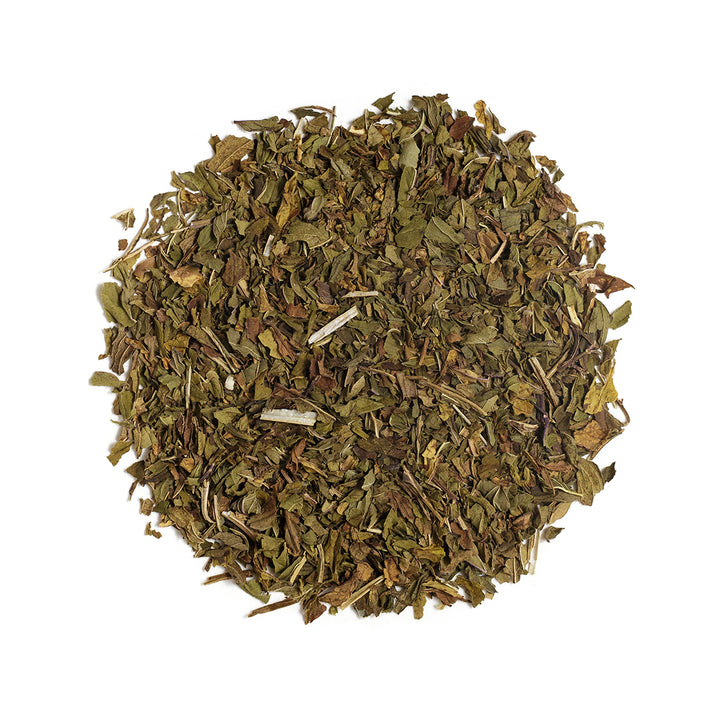 The hot and dry summers of the Pacific Northwest produce some of the world's most aromatic and flavorful peppermint. Believed to calm the body and soothe the digestive system, Pacific Peppermint has a bright candy cane flavor with chocolate notes that give your taste buds a reason to sing.
Ingredients:
Peppermint.
Origin: Washington State, USA

Caffeine:
CAFFEINE-FREE
---
Turmeric Chai
Like chai but don't want the caffeine? This mouthwatering blend of traditional chai has notes like cardamom and ginger mixed with toasted coconut and vanilla bean is a heady and wildly flavorful offering.
The pungency of turmeric lends a warming and spicy boost to this herbal concoction bursting with personality.
Ingredients: Coconut, turmeric, ginger root, cardamom, cinnamon, sarsaparilla root, vanilla bean, black pepper, natural lychee flavor, natural rose extract.
Origin: Multiple Origin Blend
Caffeine: CAFFEINE-FREE

---
Gong Fu Black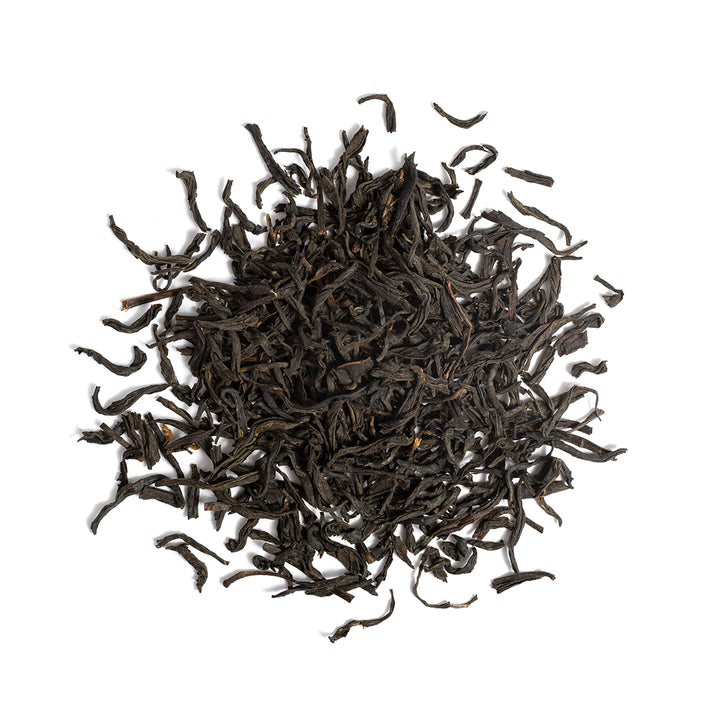 Harvested in the spring in the WuYi Mountains, this elegant black tea is a great choice for first thing in the morning, or for any time of day when your mind needs refreshing. Its initial taste is soft and sweet, with a cloying pungency sneaking up in its finish.
We love its fruity liveliness, with the richness of molasses and caramel to round out its body.
Enjoy this one over several steeps, noting its different complexities each time.
Ingredients: Black tea.
Origin: Fujian, China
Caffeine: MED-HIGH

---
Kathmandu Cosmos
A stunning chai that is pleasing to the taste buds. This gorgeously crafted blend is a combination of only the finest golden tipped leaves and an intoxicatingly heady spice mixture that at once conveys traditional chai notes of cinnamon, cardamom and clove while guiding the senses to an incredibly smooth finish on the palate.
Ingredients: Black tea, cinnamon bark, cinnamon leaf, orange peel, ginger, black cardamom, lemongrass.
Origin: Panchthar, Phidim, Nepal
Caffeine: MED-HIGH
---
Guava Gold
Global Tea Championship Winner
3rd Place, Flavored Green Tea


A beautiful blend of Silver Needle White, Bai Mu Dan White, the finest Japanese Sencha Kyoto Green, and Formosa Oolong, this tea will become your feel-good daily ritual.
The palate will be enticed with its notes of tart guava, strawberry, and an all-around pleasant and rosy aftertaste. This blend will also detoxify the body and boost the immune system. It's magic in a cup!
Ingredients: White tea, green tea, oolong tea, blue flowers, rose petals, & flavoring.
Origin: Multiple Origin Blend
Caffeine: LOW-MED
---
Emerald Green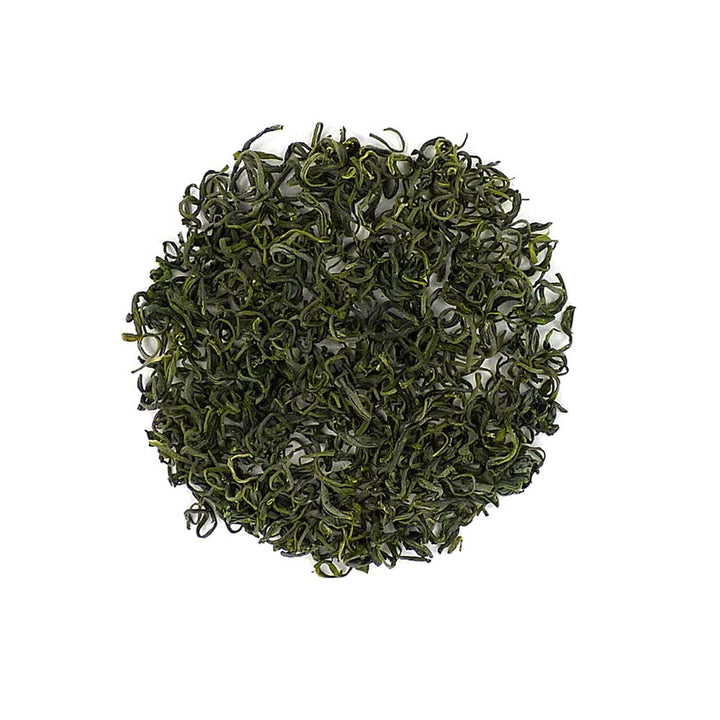 This unique beauty is definitely different, standing out with an offbeat and delicious flavor profile. Fresh melon notes are enhanced with sweet pine and finished with unexpected notes of butter, making this an unforgettable green tea.


Ingredients: Green tea.
Origin: Fujian, China
Caffeine: LOW-MED

---
Fig Honey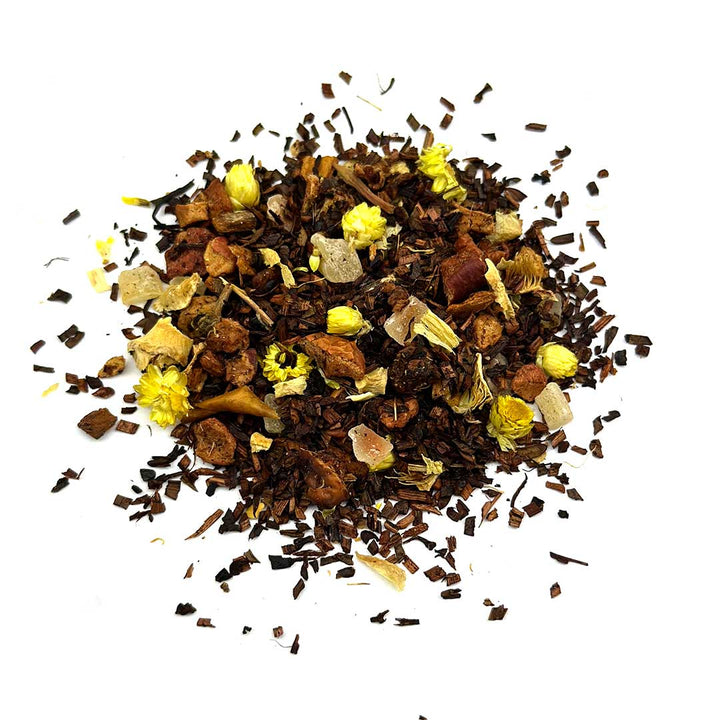 Honeybush offers this tea blend an earthy start with subtle fruit notes followed by a warming sensation from cinnamon and ending with sweet honey. Enjoy this caffeine-free treat with a slice of warm cinnamon bread.

Ingredients: Honeybush, apple pieces, candied pineapple pieces (pineapple, sugar), candied papaya pieces (papaya, sugar), natural flavor, cinnamon sticks, cinnamon, fig slices, lychee pieces, cactus blossoms, dwarf everlast blossoms.
Origin: Multiple Origin Blend
Caffeine: CAFFEINE-FREE
---
Imperial Mojiang Golden Bud Black Tea
This rare and beautiful tea is a pure bud pick from established plants in the Mojiang area of Simao. It is a spring harvest tea that has been carefully processed to keep its lovely appearance and guard its subtle sugarcane and malty flavors.

We recommend steeping this tea one cup at a time at a lower temperature than other black teas to preserve its delicate flavors.
Spring 2022 Harvest.

Ingredients: Black tea.
Origin: Mojiang, Yunnan, China
Caffeine: MED-HIGH
---
---
Additional Customization Options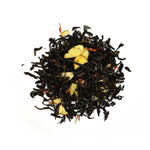 Almond Sugar Cookie Dessert Black
Strong black tea gets the sweet treatment with toasted almonds and almond sugar cookie.
Big Red Robe
An oolong with a perfect harmony of minerality with a honey sweetness, a roasted nuttiness, and finished with a floral elegance.
Drum Mountain White
A smooth and refreshing white tea with a round mouth feel and lingering notes of natural honey.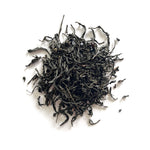 Golden Buddha
A very pleasing pure black tea, robust and hearty with tobacco notes and a tart balance of dried apricot and raisin.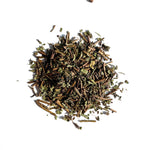 Green Tea Mint
A very refreshing blend of roasted green teas and peppermint! Will remind you of chocolate :)
King of Duck Shit Aroma Dan Cong Oolong
This oolong steeps to a beautiful flowery cup with notes of honey. Click More Info to learn about the name.
Lavender Raspberry Honeybush
An award-winning herbal blend and one of our personal favs!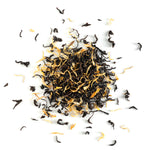 Lemon Drop Black
A classic combo of high grade black tea with lemon. One of our most popular teas!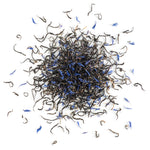 Majestic Earl Grey
The world's most awarded Earl Grey tea! Yunnan black tea and cold-pressed bergamot oil from Italy.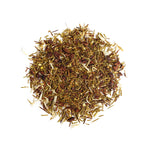 White Chocolate Peppermint
A seasonal treat with organic cacao nibs and a kiss of peppermint, beautifully balanced and rich.
Yogi's Tonic
Anise, mint, lemongrass, wintergreen, lavender and chamomile make for a refreshing caffeine-free treat.
Yunnan Early Spring Silver Strands
A fresh, fragrant, and bold green tea from Yunnan, China.
Zhe Lan Xiang "Orchid Fragrance" Oolong
High grade oolong with springy notes of tangy peach nectar. Refreshing and velvety rich!
---