Happy May, tea lovers!
This month we're happy to include some of the first fresh 2021 harvest teas in our line up! 
We jumped on the opportunity to snag the freshest and very best teas we could find across the globe, and we're so excited for you to sample them. And we're just getting started!
The 2021 harvest of black teas are on their way to our headquarters, and we're looking forward to including them in your subscriptions and in our online store for purchase.
There's nothing better than being able to enjoy a high quality, freshly picked tea. It's the best time of year for a tea lover!

We'd also like to wish a very Happy Mother's Day to all of the amazing moms in our life. Here's to you and all of the wonderful things that you do.

Happy Sipping
~ Tea Runners
---
Customize Your May Box
Get more of the kinds of teas you love in your box by requesting customizations.
(Customization is not available to Amazon subscribers.)
Customization now closed for renewals. All new members can customize their first box within 24 hours of placing their orders. 
---
Switch Boxes
If you would like to switch from one box to another - for next month only or for all remaining boxes - please click the button below.
All switch requests must be received before the 1st of the month.
---
High Mountain Red
Imperial Grade Green Snails
Cranberry Peach Green
Valerian Dream
High Mountain Red
Kathmandu Cosmos
Black Ginger Peach
Savannah Sunrise
Valerian Dream
Mother's Day
Orange Crème Brûlee Rooibos
Turmeric Tonic
Himalayan Golden Black
Imperial Grade Green Snails
Anxi Oolong
Early Spring Snow Buds White Tea
Early Spring Snow Buds White Tea
Coming from Simao, these Snow Buds go through a complex process of frying, rolling, and air-drying before their downy leaves are ready to be enjoyed.

We love a white tea with a touch of umami, and this one delivers with a honey malt sweetness to balance it out.

Spring 2023 Harvest.
Ingredients: White tea
Origin: Yunnan, China.
Caffeine: LOW-MED
---
High Mountain Red
Grown at a very high-altitude of 2000 meters, this pure black tea has notes of caramel, honey, sweet potatoes, and malt. It is picked from the first flush of the spring harvest, lightly oxidized, and processed in a Taiwanese-style.

High Mountain Red is thick and rich with a fruity finish to cut its vigor. A very flavorful and enjoyable pure black tea!!
Spring 2023 Harvest.

Ingredients: Black tea.
Origin: Yunnan, China
Caffeine: MED-HIGH

---
Valerian Dream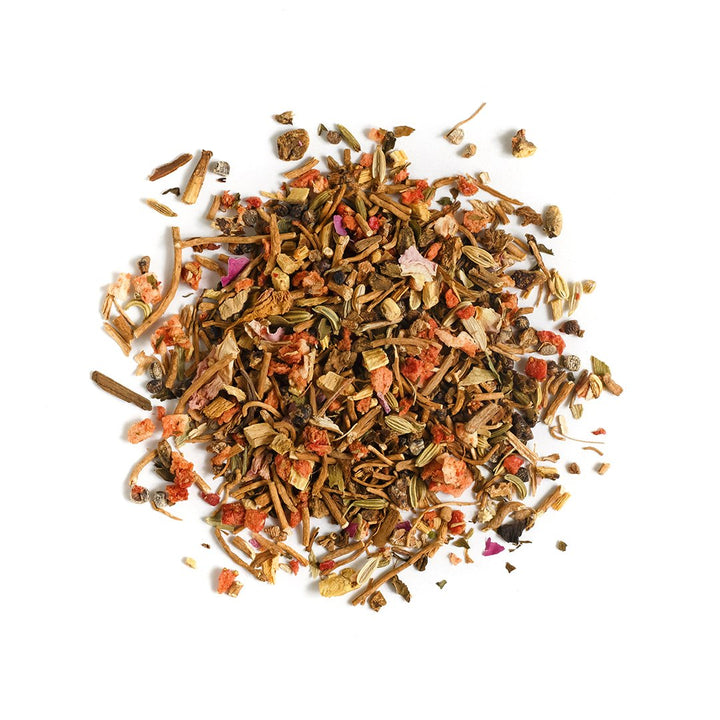 Valerian Dream is a masterful blend of exotic spices and fruit from all over the world. This is a calming tea with nervine tonic herbs like cardamom and fennel to aid relax the body and mind.
Valerian root has been used by Europeans for centuries as a bedtime tea. Unwind with this caffeine-free delectable treat. Sweet dreams!
Ingredients: Valerian root, cardamom, fennel, licorice root, strawberries, spearmint, natural rose extract, rose petals, essential orange oil.
Origin: Multiple Origin Blend
Caffeine: CAFFEINE-FREE

---
Himalayan Golden Black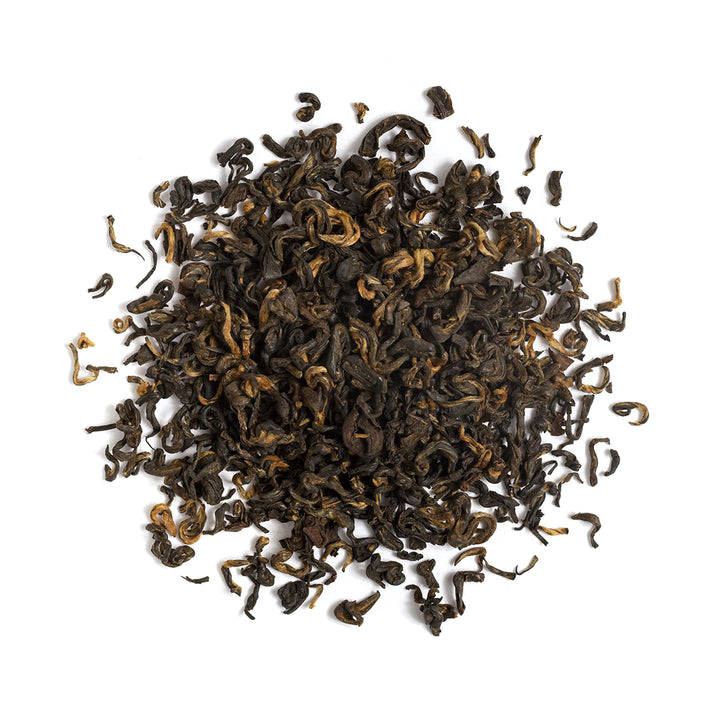 Global Tea Championship Winner
1st Place Winner, Black Tea
Himalayan Golden Black was a 1st Place Winner of the highly-competitive "Black Tea" category of the Global Tea Championship Awards. It is truly an outstanding black tea that reflects all of nature's goodness in a cup.

This highly sought after black tea is crafted by Himalayan monsoons and the fertile soils of Sandakphu in eastern Nepal. It's one of those small pockets of the world where the conditions are perfect for tea growing. After plucking, the leaves are 25 percent withered, then rolled in mechanical rollers. The tea is then placed in a shaping machine and further dried, producing uniformly curled leaves.

Tea producers from around the world came to this small artisan farm in Nepal to see how it was done.

Like a fine wine, this tea has a lovely balance of flavors: toasty and malty, with notes of stonefruit and honey. We're so lucky to get it and can't wait to share it with you!
2022 Winter Harvest.


Ingredients: Black tea.
Origin: Sandakphu, Ilam, Eastern Nepal
Caffeine: MED-HIGH

---
Imperial Grade Green Snails
This beautiful and delicate tea is created from young tender shoots of the tea buds and is picked at the first flush of the spring.
Imperial Grade Green Snails is a sweet, thick and vibrant tea with some slight astringency to counters the sweetness, lending it depth and complexity.
Spring 2023 Harvest.

Ingredients: Green tea
Origin: Yunnan, China
Caffeine: LOW-MED

---
Savannah Sunrise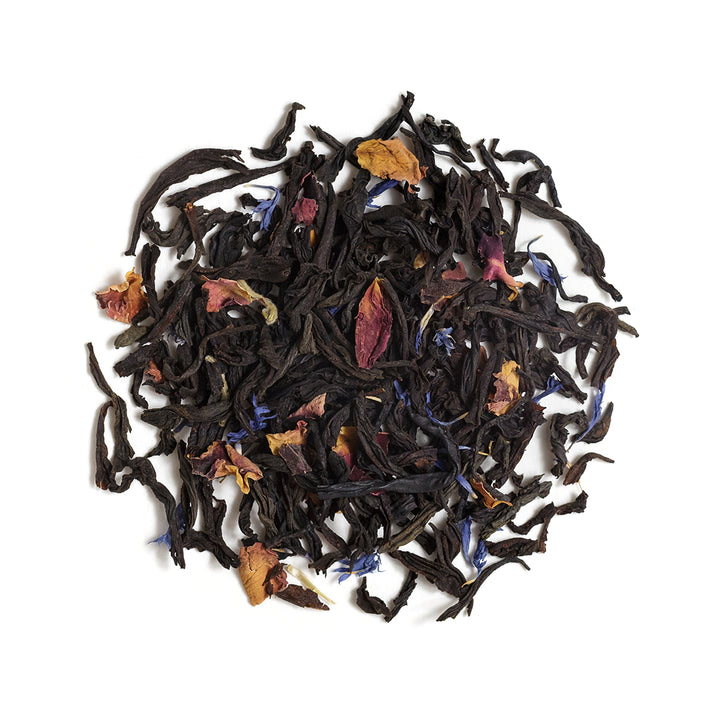 A juicy tea packing a caffeine kick, this Ceylon black tea blend is deliciously quenching, hot or iced.

The sweetness of fresh peach is nicely balanced with the tartness of cranberry and a slight citrus acidity. Rose adds elegance and a smoothness to the finish.
Ingredients: Ceylon black tea, cornflowers, red rose petals, orange sweet essential oil, cranberry and peach flavor.
Origin: Multiple Origin Blend
Caffeine: HIGH

---
Kathmandu Cosmos
A stunning chai that is pleasing to the taste buds. This gorgeously crafted blend is a combination of only the finest golden tipped leaves and an intoxicatingly heady spice mixture that at once conveys traditional chai notes of cinnamon, cardamom and clove while guiding the senses to an incredibly smooth finish on the palate.
Ingredients: Black tea, cinnamon bark, cinnamon leaf, orange peel, ginger, black cardamom, lemongrass.
Origin: Panchthar, Phidim, Nepal
Caffeine: MED-HIGH
---
Turmeric Tonic
Global Tea Championship Winner
3rd Place, Detox Blend
Global Tea Championship Winner
2018 People's Choice Winners' Tasting Circle, Best Hot Herbal Tea
Nurture your body with this healing and comforting blend of cleansing herbs and spices. Not only was it an award-winner with the Tea Championship judges in 2017, but it was the People's Choice winner for best hot herbal tea of 2018.


Ingredients: Ginger root, cinnamon, fennel, sarsaparilla root, peppercorn, turmeric, nettle, natural chai flavoring.
Origin: Multiple Origin Blend
Caffeine: CAFFEINE-FREE

---
Cranberry Peach Green
A beautifully bright and refreshing green packing a fruity punch, this tea can make a blended green tea lover out of anyone.

Its aroma is perfectly floral and fresh for spring, but its finish lingers with a deep complexity and slightly nutty, toasty notes that compound its cranberry tartness.
Ingredients: Green tea, cranberry bits, peach bits, natural flavoring.
Origin: Multiple Origin Blend
Caffeine: LOW-MED
---
Creme Brulee Black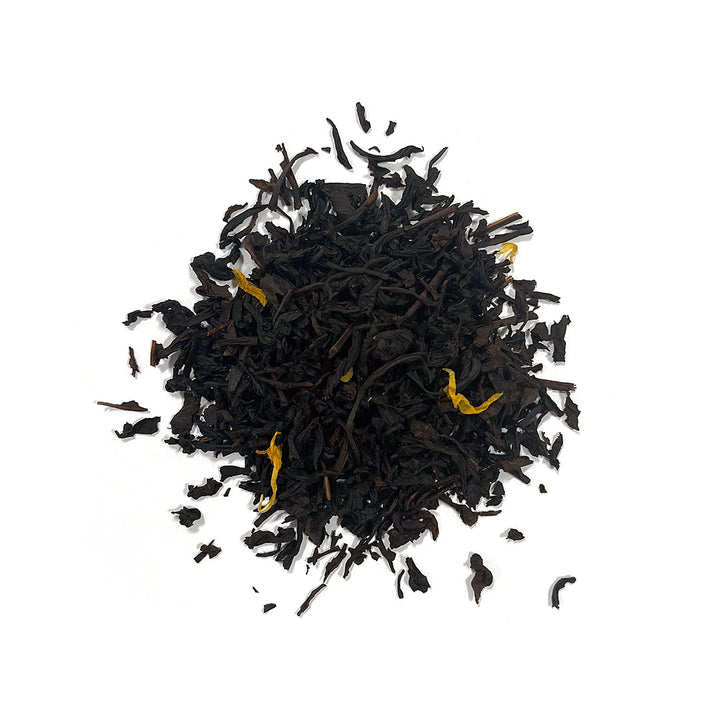 This lovely flavored black tea has all the taste and aroma of the indulgent dessert itself. Buttery, creamy, and a lingering aftertaste of caramelized brown sugar.
Dessert in a cup!
Ingredients: Black tea, creme brulee flavoring, and marigold petals.
Origin: Multiple Origin Blend
Caffeine: HIGH
---
Zhe Lan Xiang "Orchid Fragrance" Oolong
Grown at 1000 meters in the Phoenix Mountains, the leaves of this tea are shrouded in clouds until late morning, when they're basked in the hot sun for the rest of the afternoon. It brews with springy notes of tangy peach nectar, all at once refreshing and velvety rich on the palate.
Ingredients: Oolong tea
Origin: Guangdong, China
Caffeine: MED
---
Raspberry Green Tea
Bright and lively steamed green tea gets a pungent punch from juicy raspberry, making this one equally delicious hot or iced. Tart hibiscus rounds out its sweetness with a welcome citrusy bite.

Great on its own, or with a squeeze of lemon, or, for an especially refreshing treat, try it with a splash of pomegranate juice over ice.
Ingredients: Green tea, raspberry, hibiscus flowers, natural raspberry flavor.
Origin: Multiple Origin Blend
Caffeine: LOW

---
---
Additional Customization Options
Earl Grey Lavender
A lovely twist on a classic tea: Earl Grey with organic lavender blossoms.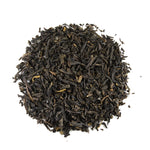 Russian Caravan
A blend of pu-erh, assam, oolong, and lapsang souchong. A delight for lovers of smoked black tea!
White Pearls
First flush peony silver needles delicately handcrafted into tiny pearls. Spring 2023 harvest.
---