Hello Tea Lovers! Happy October!

Our teas this month are meant to highlight the fall season with warm and comforting flavors for brisk days and chilly nights. We've got some old favorites coming back by popular demand, as well as some delectable teas for you pumpkin spice lovers.

We also have a huge shipment of new tea ware about to arrive at our warehouse, including gorgeous full sized tea pots to treat a crowd, elegant glass tea cups, and lots more of our beloved easy brew single serve tea pots as well.

Stay tuned for our announcement on when it's all available for purchase!

Happy Sipping!

~ Tea Runners
---
Customize Your October Box
Get more of the kinds of teas you love in your box by requesting customizations.
(Customization is not available to Amazon subscribers.)
Customization now closed for renewals. All new members can customize their first box within 24 hours of placing their orders. 
---
Switch Boxes
If you would like to switch from one box to another - for next month only or for all remaining boxes - please click the button below.
All switch requests must be received before the 1st of the month.
---
Fruit Aroma Black
Salty Caramel Pumpkin Black
Pumpkin Spice Oolong
Blood Orange Rooibos
Fruit Aroma Black
China Breakfast
Imperial Gold Needle
Apple Cider Black
Herbal After Eight
Turmeric Ginger
North
Blood Orange Rooibos
Fruit Aroma Black
Yunnan Pine Needles
Imperial Gold Needle
Mang Fei Mountain Ripe Pu-erh
Pumpkin Spice Oolong

Global Tea Championship Winner
3rd Place, Flavored Oolong


This outstanding and wildly memorable oolong tea is perfect for fall with its rich flavors of pumpkin and warm spice.
This tea is smooth to the taste with a creamy lingering complexity light in tannins and a slightly sweet mouth feel. One of our favorite flavored teas yet!
Ingredients: Oolong tea, cloves, ginger root, cinnamon chips, pumpkin spice flavoring.
Origin: Multiple Origin Blend
Caffeine: MED-HIGH

---
Salty Caramel Pumpkin Black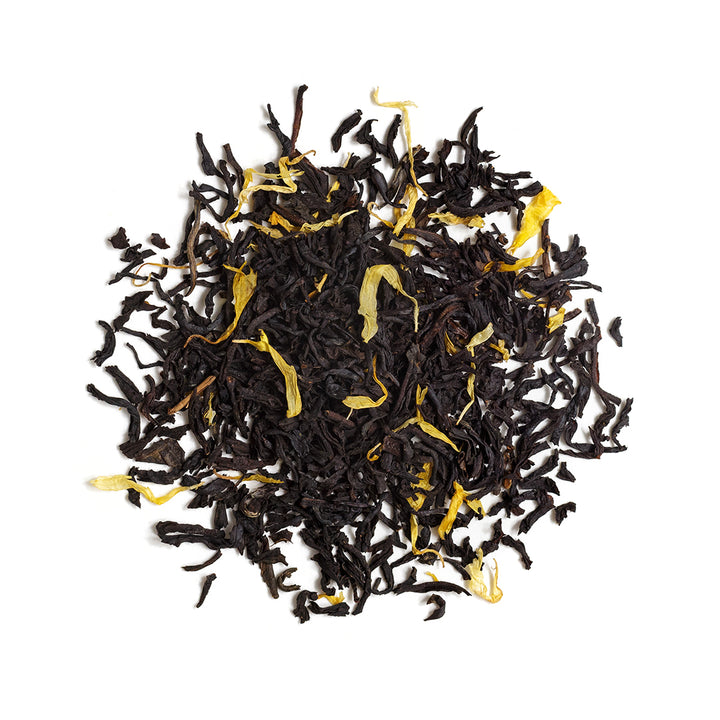 This delicious offering is a perfect accompaniment to the fall season, oozing with sweet and salty caramel goodness and savory pumpkin.
The smooth amber hued liquor has a satisfying roundness in its mouthfeel, while the addition of marigold petals brightens its finish.
Try it on its own or with warm milk to make it extra rich.
Ingredients: Black tea, marigold petals and pumpkin and salty caramel flavorings.
Origin: Multiple Origin Blend
Caffeine: MED-HIGH
---
Blood Orange Rooibos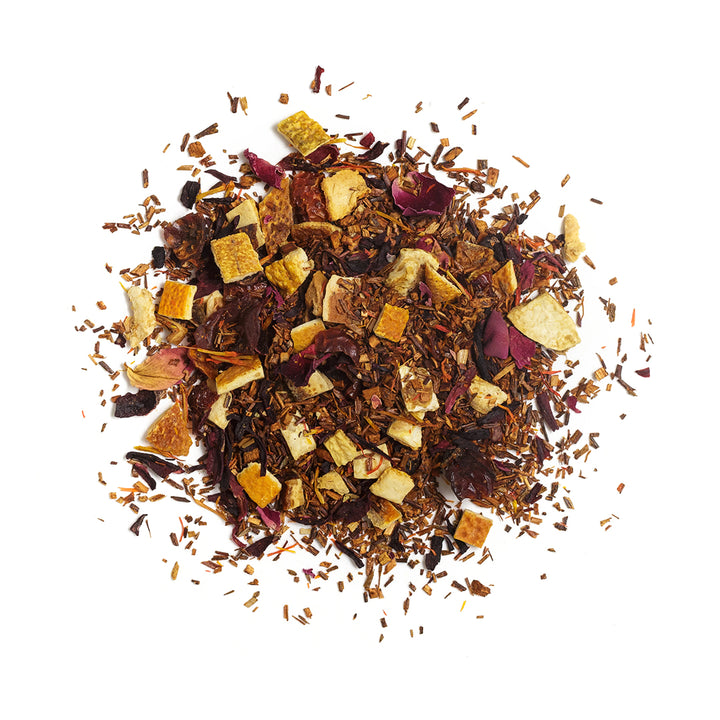 Global Tea Championship Winner
3rd Place, Flavored Herbal Blends
This caffeine-free blend is a satisfyingly tangy treat to end a meal on a high note or to satiate a persistent sweet tooth.
Like biting into a baked Granny Smith apple tart, its juicy mouth feel is pleasantly countered with its piquant notes of orange zest and dried cranberry, while hibiscus lends a sophistication to its finish.
Ingredients: Rooibos, orange peel, hibiscus, rose hips, apple pieces, safflowers, and rose petals with orange, vanilla, and lemon flavor.
Origin: Multiple Origin Blend
Caffeine: CAFFINE-FREE

---
North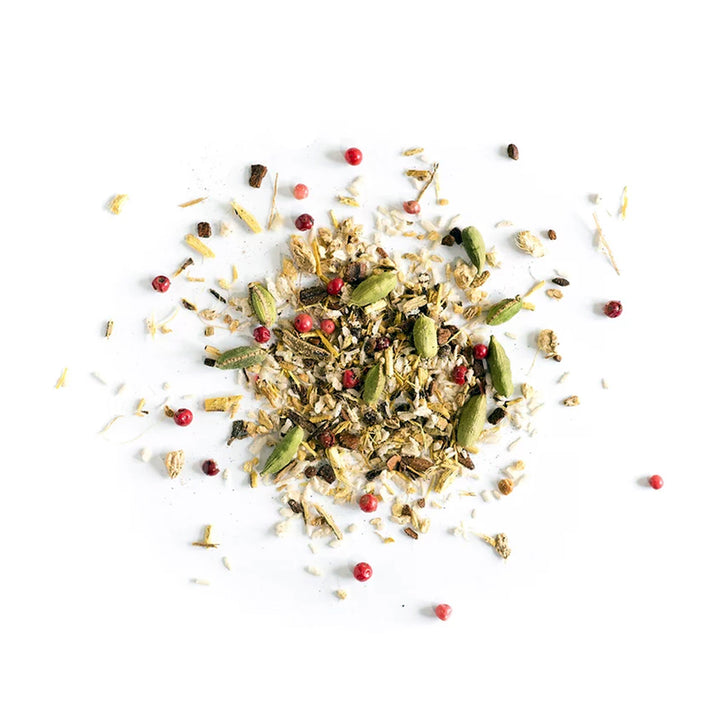 This exotic herbal tea is just the thing to warm you up in the winter months. Cardamom, cinnamon, and ginger add a spicy punch with pink peppercorn heating up the palate even further. Licorice adds depth while sweet coconut rounds out its complexities to a smooth finish.

Ingredients: Coconut, cardamom, cinnamon, ginger, licorice, and pink peppercorns.
Origin: Multiple Origin Blend
Caffeine: CAFFEINE-FREE

---
Herbal After Eight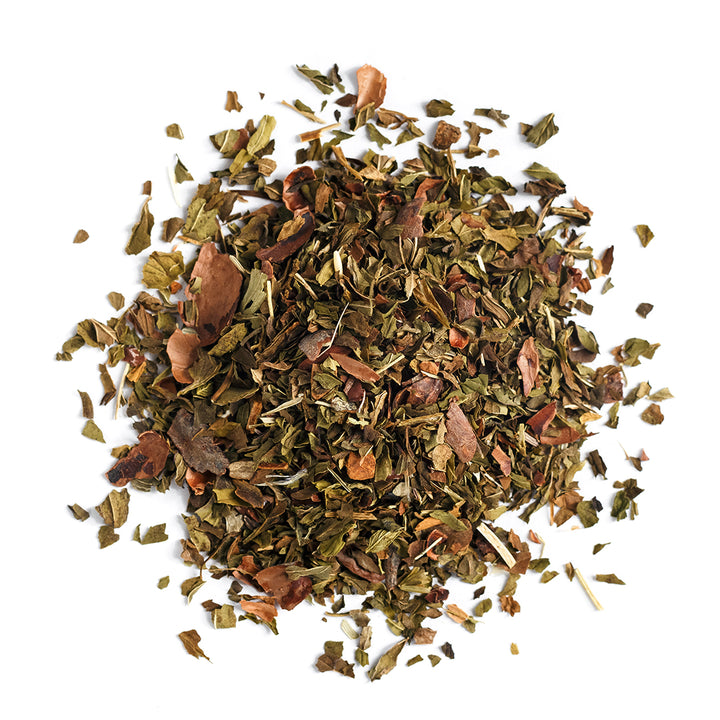 This gorgeous herbal blend is like sipping on peppermint chocolate, at once soothing to the body and also deliciously decadent.
Cinnamon adds a welcomed touch of heat, making this the perfect after dinner tea any time of year.
Ingredients: Peppermint, cacao, cinnamon, stevia
Origin: Multiple Origin Blend
Caffeine: CAFFEINE-FREE
---
Apple Cider Black
Black Mao Feng tea leaves get the seasonal treatment with apple pits, tart orange peel, and traditional chai tea spices. It steeps to a peppery and zesty cup, soothing the body while awaking the senses with a strong black tea profile.
Ingredients: Black tea, chai spice, apple bits, orange peel, organic flavoring.
Origin: Multiple Origin Blend
Caffeine: HIGH
---
Turmeric Ginger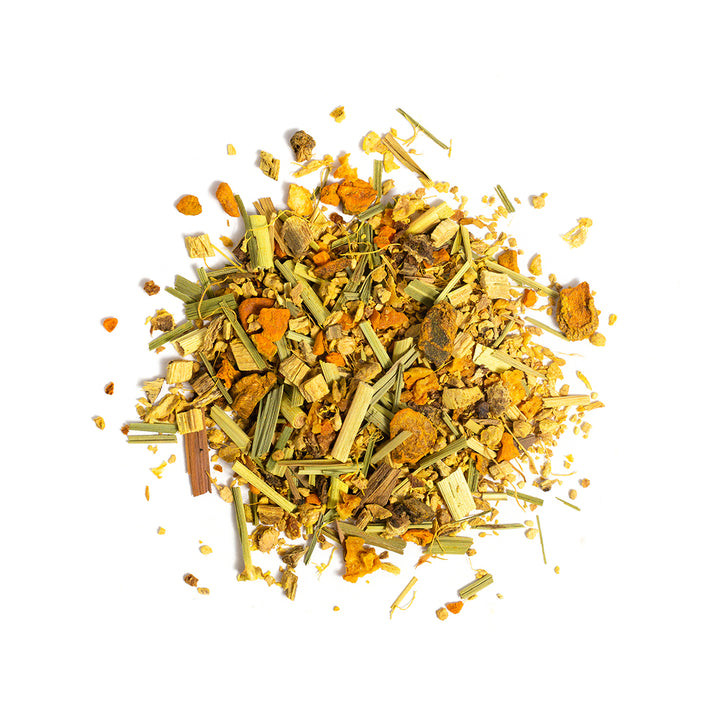 This spicy and bold tea packs a powerful punch, zinging with lots of ginger and lemongrass and arriving at a slightly sweet and tart finish with fresh orange peel.
Lemongrass adds an exotic underlying element while superfood turmeric lends a gorgeous marigold color to this tea's liquor while rounding out the finish with an earthy pungency.
Ingredients: Turmeric, ginger, lemongrass, orange peel, licorice and citrus essential oils.
Origin: Multiple Origin Blend

Caffeine: Caffeine-Free
---
Yunnan Pine Needles
The fresh green tea is first fried in a wok to halt oxidation, then rolled, wilted, and dried again. In the final stage of processing the tea is pressed flat to shape it into what the locals call "Song Zhen" (Pine Needles).

Yunnan Pine Needles brews up a lovely, fresh green tea with notes of umami, fresh green grass, and a little nuttiness. A to-die-for aroma is followed by a buttery mouthfeel and a delicate sweetness that lingers on the palate.

Spring 2021 Harvest

Ingredients: Green tea
Origin: Yunnan, China
Caffeine: MED

---
Imperial Gold Needle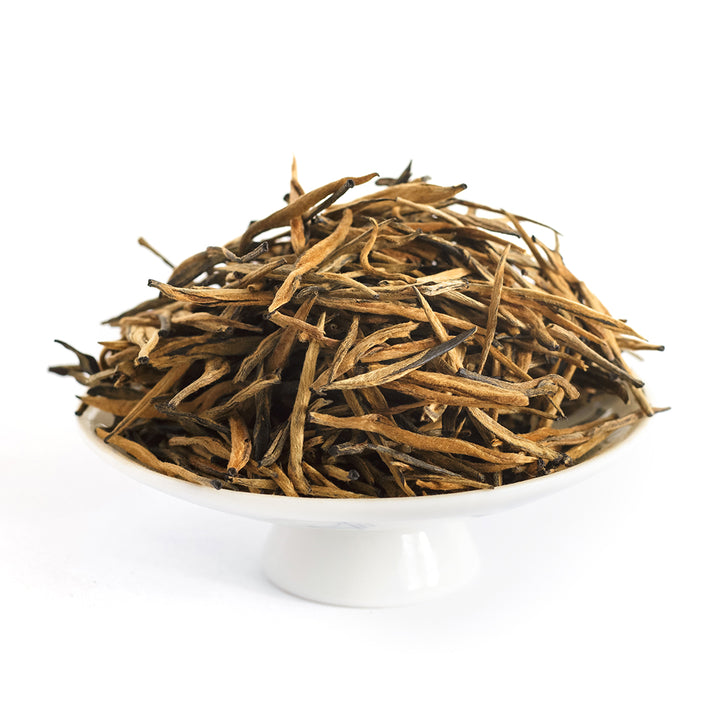 This sensational black tea is a pure bud pick from the spring harvest in Yunnan, China.
The bud shoots are lightly wilted and processed to keep the delicate taste and appearance intact.
An aroma that is thick and luscious, this incredibly fresh tea will leave you with smooth notes of dark malt and sweet honey.
Spring 2023 Harvest.
Ingredients: Black tea.
Origin: Yunnan, China
Caffeine: MED-HIGH

---
China Breakfast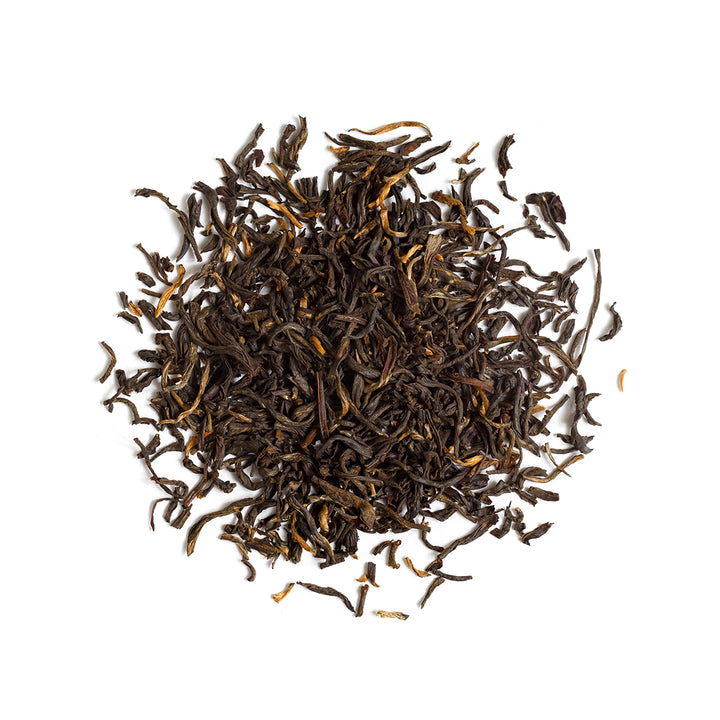 Global Tea Championship Winner
2nd Place, Breakfast Blend


Milder than a traditional English breakfast, this memorable tea with notes of raisin and caramel is a perfect way to start your day.
This organic tea is grown high up in the forested Ecological Tea Garden in Yunnan, China, and makes a full-bodied cup that's great on its own. Or if you're feeling like a richer, more decadent cup, try boosting its natural sweetness with a dash of milk and honey.
Ingredients: Black tea.
Origin: Yunnan, China
Caffeine: MED-HIGH

---
Golden Buddha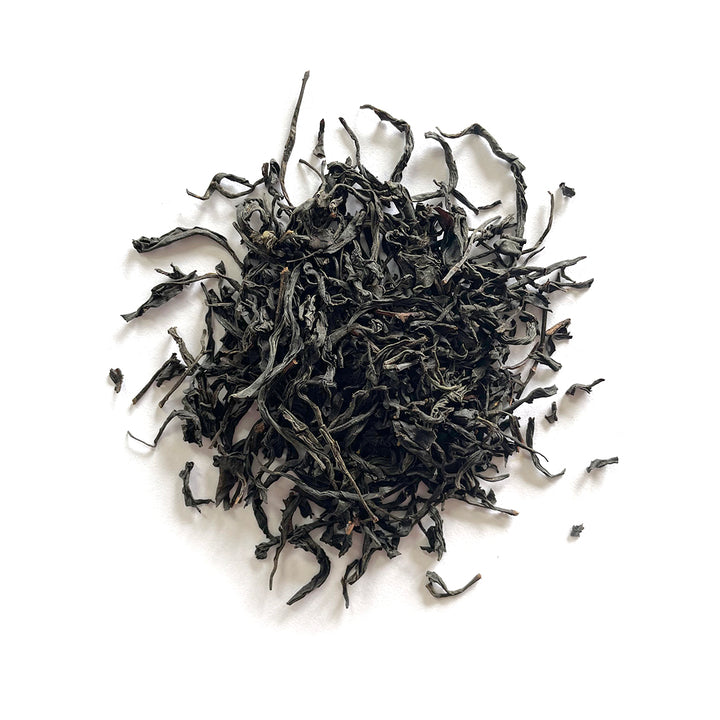 Fujian black tea is one of our favorite types of traditional Chinese tea, and this one does not disappoint. Its robust and hearty with tobacco notes and a tart balance of dried apricot and raisin, while being balanced enough to be pleasantly smooth in its finish. This tea is great brewed on its own, or made creamy with the addition of milk.

Ingredients: Black tea
Origin: Fujian, China
Caffeine: HIGH
---
Vietnamese Ancient Tree
This majestic and highly unusual black tea brews to a rich and hearty cup dripping with notes of molasses and malt. This tea gets its name from the wild, ancient tea trees bearing its leaves in the north Vietnam province of Yen Bai.
These trees have been tended for hundreds of years, and you can taste the expertise and care that goes into the harvesting of these beautiful long, dark leaves.
Ingredients: Black tea.
Origin: Yen Bai, Vietnam
Caffeine: MED

---
Spiced Elderberry Orange Oolong
This delicious oolong is comfort in your cup during the cold winter days. Cinnamon spice warms your taste buds and the addition of dried fruit with a hint of orange makes this tea a perfect fireside sipper.
This tea is excellent iced as well.
Ingredients: Cinnamon, dark oolong, elderberries, orange peel, rosehips, orange flavor, cinnamon flavor, elderberry flavor.
Origin: Multiple Origin Blend
Caffeine: MED-HIGH

---
---
Additional Customization Options
Mystic Mint
Peppermint, cardamom, and licorice root combine to create the *perfect* mint herbal tea.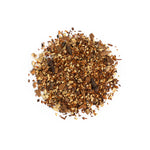 Mandela Masala
An award-winning caffeine-free herbal masala chai blend.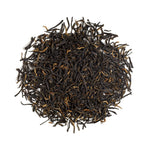 Zheng Shan Xiao Zhong
A traditional Chinese-style black tea with notes of dark chocolate with a surprisingly sweet finish.
Tangerine Pear Green
A perfect balance of tart and sweet flavors with a green tea base. Great hot or iced!
High Mountain Red
Pure black tea from Yunnan with notes of caramel, honey, sweet potatoes, and malt. (2022 harvest)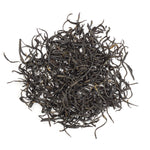 Imperial Red
Small batch pure black tea with notes of cocoa, molasses, malt, and fruit with natural sweetness.
---