Hello Tea Lovers!
We're now on TikTok and looking forward to sharing a lot more video content with you. To kick things off, we're giving away free teas everyday for the entire month of October. To enter, all you have to do is follow us! (@tearunners)

We've got a huge amount of customization options this month, and one we strongly recommend is Pumpkin Spice Oolong.  This one is an award-winner and very enjoyable! 

Happy Sipping! 
~Tea Runners

  
---
Customize Your October Box
Get more of the kinds of teas you love in your box by requesting customizations.
(Customization is not available to Amazon subscribers.)
Customization now closed for renewals. All new members can customize their first box within 24 hours of placing their orders. 
---
Switch Boxes
If you would like to switch from one box to another - for next month only or for all remaining boxes - please click the button below.
All switch requests must be received before the 1st of the month.
---
Wu Liang Hong Mao Feng Black Tea
Salty Caramel Pumpkin Black
Genmaicha
Northern Lights 
Wu Liang Hong Mao Feng Black Tea
Apple Cinnamon French Toast
Salty Caramel Pumpkin Black
New Moon Darjeeling
Red Berries
Luscious Lemon
Herbal After Eight
Northern Lights
Wu Liang Hong Mao Feng Black Tea
Green Mao Feng
Golden Dawn Oolong
New Moon Darjeeling
Wu Liang Hong Mao Feng Black Tea
Grown in the high altitude region of Simao, this black tea is expertly crafted and totally unique. Its leaves are slightly fermented before being processed into black tea, creating a depth and earthiness to its body, while still remaining floral with notes of dried fruit throughout.
Delightful and interesting, and sure to create a conversation.  

Ingredients: Black tea.
Origin: Yunnan, China
Caffeine: MED-HIGH
---
Salty Caramel Pumpkin Black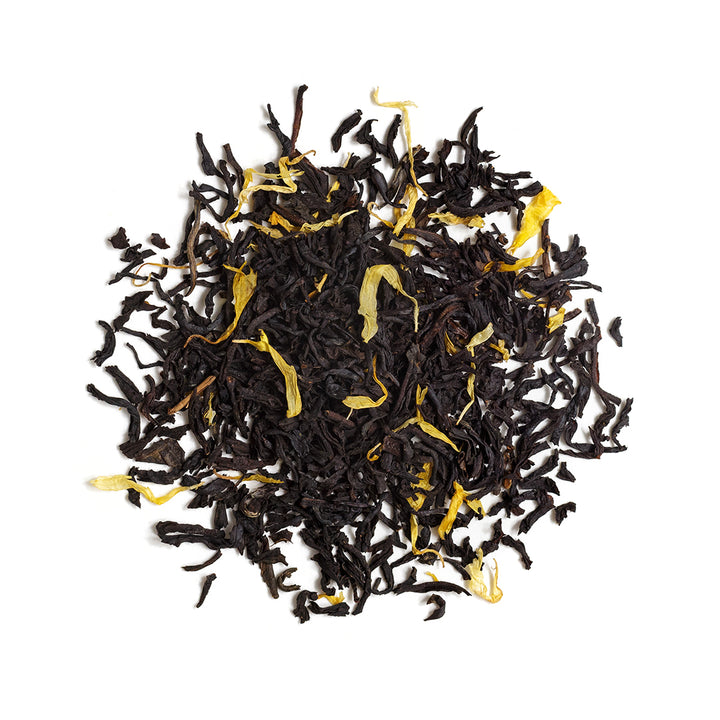 This delicious offering is a perfect accompaniment to the fall season, oozing with sweet and salty caramel goodness and savory pumpkin.
The smooth amber hued liquor has a satisfying roundness in its mouthfeel, while the addition of marigold petals brightens its finish.
Try it on its own or with warm milk to make it extra rich.
Ingredients: Black tea, marigold petals and pumpkin and salty caramel flavorings.
Origin: Multiple Origin Blend
Caffeine: MED-HIGH
---
Green Mao Feng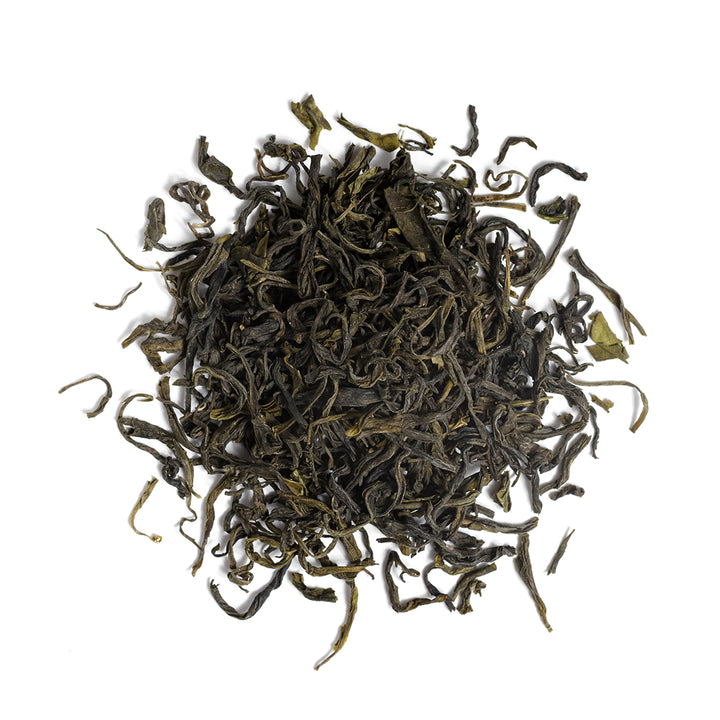 Perfectly paired with a warm sunny day, this fresh and delicate green tea comes from leaves grown at extremely high altitudes and carefully plucked during the first thaw of spring.
Floral yet woodsy in its finish, this easy drinking tea has soft notes of fiddleheads and green grass with a touch of sweetness to balance its vegetal nature.
Ingredients: Green tea.
Origin: Yunnan, China
Caffeine: MED
---
Luscious Lemon
Luscious Lemon is packed with natural herbal lemon flavor. Lemon peel, lemongrass, lemon balm and lemon verbena make this a bright and refreshing tea that will awaken the pallet.
Try it hot with a little honey or it is even better iced on a hot day!
Ingredients: Organic lemon peel, organic lemongrass, organic lemon balm and lemon verbena and natural lemon flavor.
Origin: Multiple Origin Blend
Caffeine: CAFFEINE-FREE
---
Golden Dawn Oolong
Golden Dawn Oolong, more traditionally known as 'Huang Jin Gui', is a beautifully aromatic tea that steeps a light-bodied cup with a bright, mineral character and lots of floral notes.
This is a great oolong tea for everyday drinking.
Ingredients: Oolong tea
Origin: Fujian, China
Caffeine: MED
---
New Moon Darjeeling
This is a perfectly balanced 2nd flush Darjeeling. Amber liquor rests gently on the palate while delivering bright sweet muscatel and ripe plum notes as expected from a premium Darjeeling.

Darjeelings are known as the champagne of teas due to their smooth mouth feel and delicate flavor profile.
2022 Harvest.
Ingredients: Black tea.
Origin: Darjeeling, India
Caffeine: HIGH
---
Northern Lights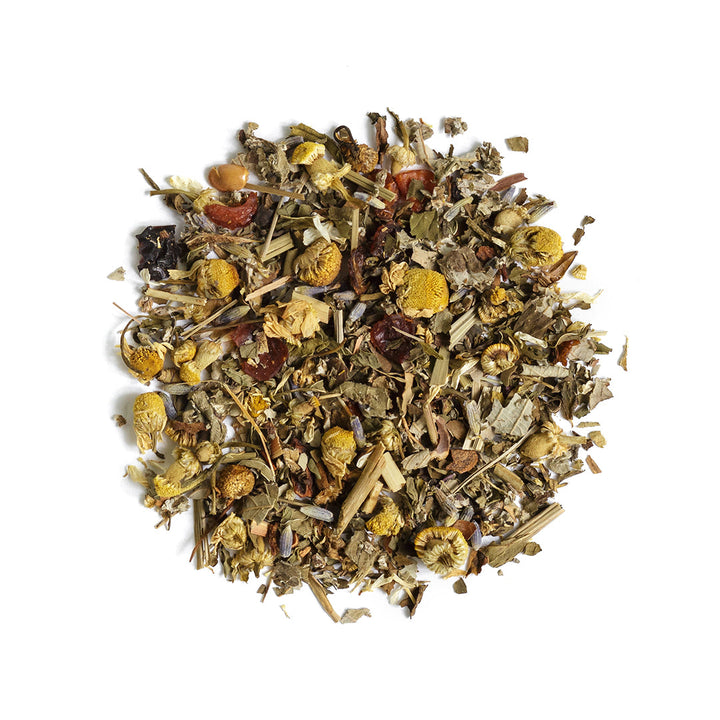 This tea is our all-natural version of the award-winning Evening in Missoula.
This caffeine-free treat is perfect for enjoying before bedtime. Chamomile, peppermint and spearmint make this tea smooth and soothing, with many complex layers of flavors to enjoy.
Ingredients: Chamomile, rosehips, spearmint, blackberry leaf, raspberry leaf, natural flavor, peppermint, star anise, lavender, lemongrass, stevia, wild cherry bark, lemon peel.
Origin: Multiple Origin Blend
Caffeine: CAFFEINE-FREE
---
Genmaicha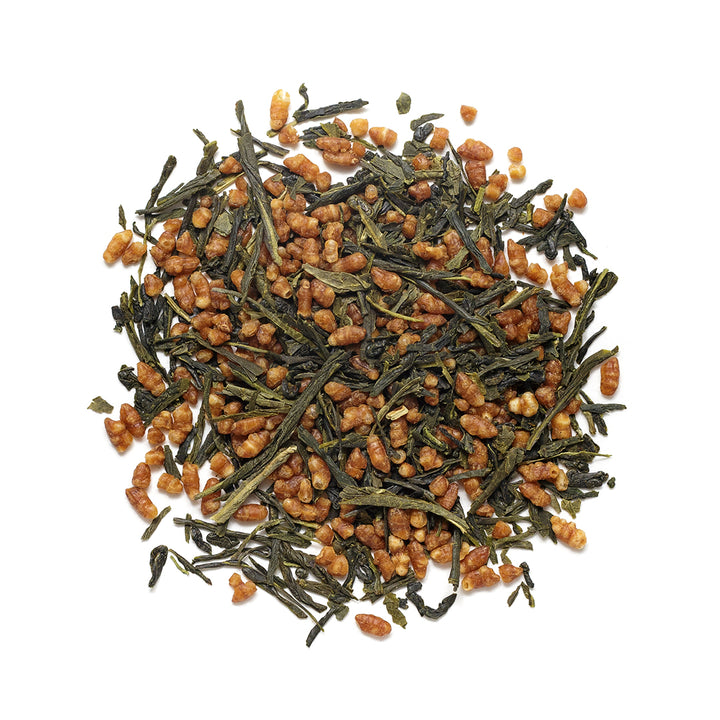 Genmaicha (meaning "brown rice tea") was discovered centuries ago when Japanese monks brewed green tea in their rice cauldrons. This particular high-end genmaicha uses green tea superior in quality and roasted sticky rice to create toasty aromas and a rich, nutty sweetness.
Don't blame us if you become as addicted as we did-- it'll have you swooning. We recommend experimenting with tea/water ratio, water temp, and steep times to get it just how you like it.
Ingredients: Green tea, rice.
Origin: Shizuoka, Japan
Caffeine: LOW
---
Herbal After Eight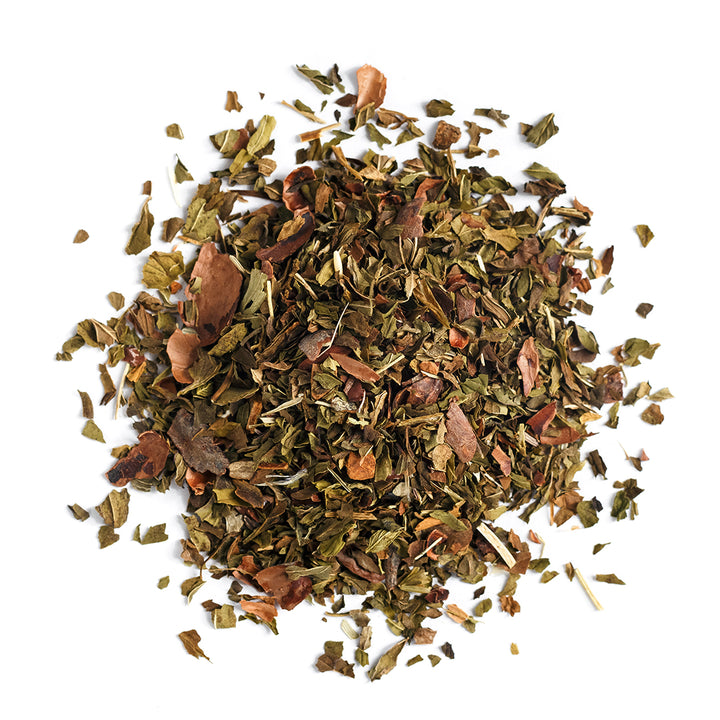 This gorgeous herbal blend is like sipping on peppermint chocolate, at once soothing to the body and also deliciously decadent.
Cinnamon adds a welcomed touch of heat, making this the perfect after dinner tea any time of year.
Ingredients: Peppermint, cacao, cinnamon, stevia
Origin: Multiple Origin Blend
Caffeine: CAFFEINE-FREE
---
Apple Cinnamon French Toast
Easily one of our favorites, this gorgeously decadent black tea is perfect for a Sunday morning. Apple pieces and organic cinnamon make it taste like an apple pie, but the addition of maple really turns this tea into something special. Try it with warm milk to make it really rich and serve it alongside your favorite brunch.
Ingredients: Black teas, apple pieces, cinnamon pieces and apple cinnamon french toast flavoring.
Origin: Multiple Origin Blend
Caffeine: HIGH

---
Red Berries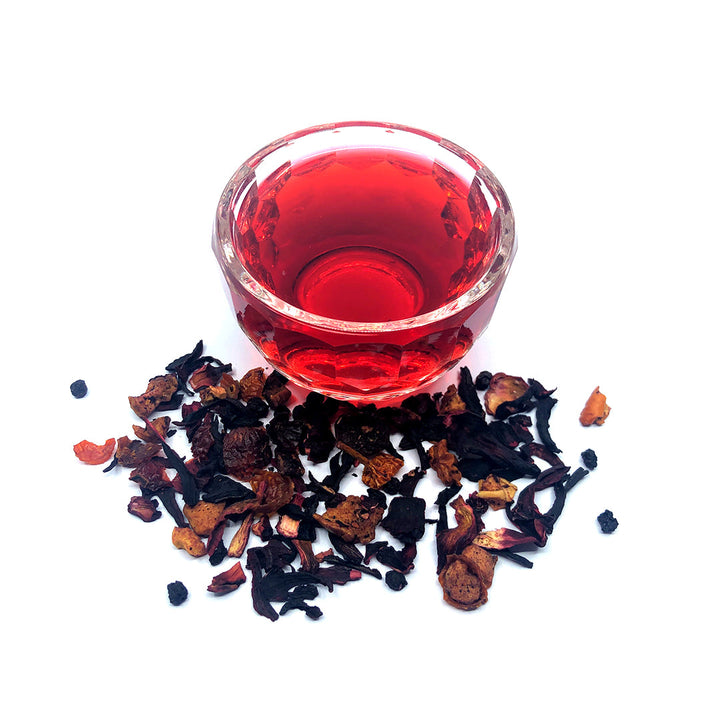 This tea has two personalities, depending on whether you're going to be steeping it hot or cold. Apples, currants, elderberries, and sour cherry make this a bracing hot beverage that's at once tart and soothing, while serving it over ice brings out its natural sweetness from hibiscus and raspberry.
Ingredients: Apple, elderberries, currants, rosehip peels, blackberries, raspberry, flavor, hibiscus, sour cherry.
Origin: Multiple Origin Blend
Caffeine: CAFFEINE-FREE

---
---
Additional Customization Options
Pumpkin Spice Oolong
An award-winning blend of oolong tea, cloves, ginger root, cinnamon chips and pumpkin spice flavoring.
Raspberry Green Tea
Green tea gets a pungent punch from juicy raspberry, making this one equally delicious hot or iced.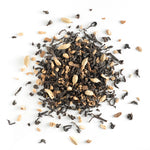 Mumbai Chai
An award-winning blend of carefully selected spices and high-quality Assam black tea.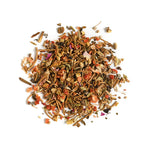 Valerian Dream
A masterful blend of exotic spices create this relaxing caffeine-free treat.
White Pearls
First flush peony silver needles delicately handcrafted into tiny pearls. Spring 2023 harvest.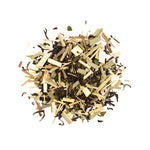 Orange Jasmine Blossom
Jasmine green tea with juicy notes of sweet orange blossom and fresh lemongrass.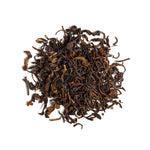 Kanchanjangha Black
Pure Nepalese black tea with notes of dark chocolate, raisins, caramel, and wild grass.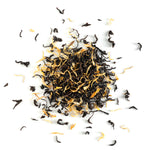 Lemon Drop Black
A classic combo of high grade black tea with lemon. One of our most popular teas!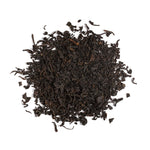 Blue Mountain Black
A strong pure black tea that embodies the unique and worldly flavor profile of Nilgiri, India.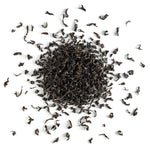 English Breakfast
A blend of high-grade assam, ceylon, and keemun black teas makes this a beloved English Breakfast.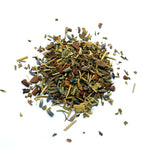 Lavender Lace
A caffeine-free treat! Lavender with cinnamon, mint and lemon.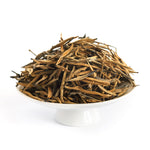 Imperial Gold Needle
2023 Harvest. A sensational pure bud pick, with notes of dark malt and sweet honey, with a light touch of toastiness.
Imperial Grade Silver Needles
A very pure form of tea with little to no oxidation and a gorgeous array of sweet and subtle flavors. (2022 harvest)
Cinnamon Plum
A juicy and full-bodied herbal blend that's like biting into a roasted and caramelized plum.
Spiced Elderberry Orange Oolong
A lovely seasonal blend that makes a comforting fireside sipper.
---