Happy holidays, tea lovers!

We know 2020 has been tough for many of us, and a lot of you may be spending the holidays a little differently this year. Our hope for you is that you're able to relax and reflect with some good tea, as a whole new year full of possibilities awaits us soon.

We have some festive holiday teas in your boxes this month, as well as a stocked up online store to buy your favorites in bulk. We also have Christmas gift subscriptions available for a perfect contactless way to shop and also bring some cheer to your loved ones' email inbox. These can be purchased right up until midnight on December 24th!

As always, we are forever thankful for your support. Here's to best wishes to the new year, and good health and abundance for us all.

Happy Holidays!
~ Tea Runners
Dec 7: Please note that some selections were updated due to being sold out of some teas. The teas listed on this page and the checkout pages are what will ship at the time you place your order. 
---
Customize Your December Box
Get more of the kinds of teas you love in your box by requesting customizations.
(Customization is not available to Amazon subscribers.)
All new members can customize their first box within 24 hours of placing their orders. 
---
Switch Boxes
If you would like to switch from one box to another - for next month only or for all remaining boxes - please click the button below.
All switch requests must be received before the 1st of the month.
---
Golden Mao Feng
Imperial Sencha Rose
Golden Honey Aroma Yunnan Black


Red Apple Caramel

Malty Black
Ceylon Orange Pekoe
Imperial Sencha Rose
Golden Honey Aroma Yunnan Black
Cold Comfort
Sacred Tulsi Spiced Rose
Red Apple Caramel


Nile River Valley Chamomile

Golden Mao Feng


Annapurna Amber Oolong


Plum Blossom Dan Cong Oolong
Sandakphu Silver White Tea
Plum Blossom Dan Cong Oolong
Grown from 200-year-old tea trees on the steep steps of a high mountain side, this tea is a unique creation from a master tea maker known for crafting award-winning dan cong oolongs. This is a heavily processed oolong that undergoes multiple stages of sorting, withering, oxidation, and wood charcoal firing.

Plum Blossom is truly exquisite with a peachy, naturally sweet aroma followed by notes of plum, stone fruit, and almonds.
Ingredients: Oolong tea.
Origin: Guangdong, China
Caffeine: LOW-MED

---
Sacred Tulsi Spiced Rose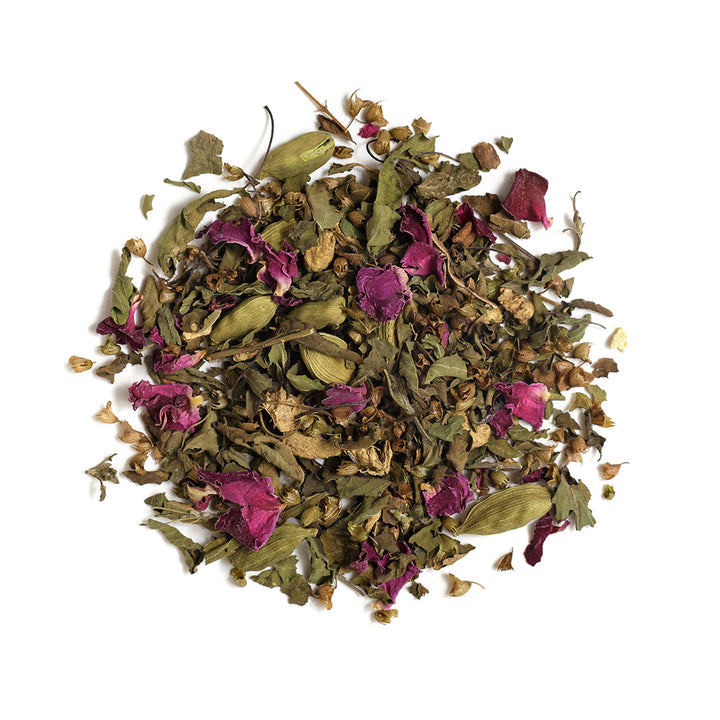 Inspired by the ancient tradition of Ayurveda, this luxurious and relaxing blend sings with ginger, cardamom, and cinnamon, while the addition of rose petals adds a fragrant grandeur. Tulsi is a natural stress relief herb with a basil-like flavor, sure to be enjoyed at any time of day, but especially soothing in the evenings. Enjoy its light golden infusion on its own or with a bit of honey to make it further decadent.
Ingredients: Holy basil (tulsi), cardamom, ginger, cinnamon, rose petals
Origin: Multiple Origin Blend
Caffeine: CAFFEINE-FREE

---
Annapurna Amber Oolong
Global Tea Championship Winner
2nd Place, Dark Oolong


Plucked from the Annapurna Massif in the Himalayas, this tea is slowly oxidized in cold air then double fired, creating a sublime winner.
A stunning Darjeeling-style oolong, these notes of delicious, malted caramel and muscat grape with apricot will leave you soothed and invigorated.
Annapurna is Sanskrit for "Goddess of the Harvests," making this tea worthy of its name.
Ingredients: Oolong tea.
Origin: Ilam region, Nepal
Caffeine: MED
---
Ceylon Orange Pekoe
This beautiful black tea is grown in the fresh mountain air, brilliant sunshine and abundant rainfalls of the southern Sri Lanka.
It has a strong, fresh black tea aroma and brews a full-bodied cup. We love its classic and bold personality with an elegant smoothness that lingers on the palate.
An outstanding orange pekoe that is at once traditional and refreshingly modern.
Ingredients: Black tea.
Origin: Sri Lanka
Caffeine: HIGH

---
Imperial Sencha Rose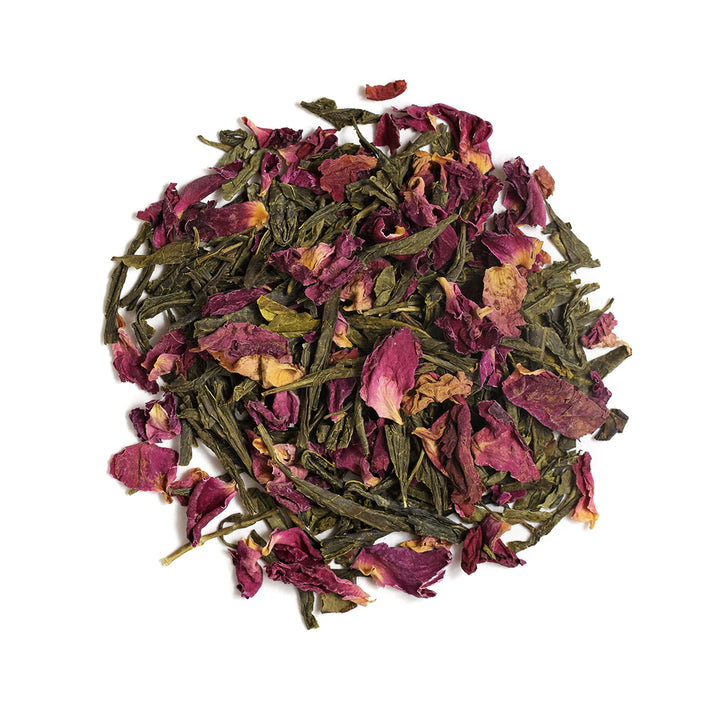 Imperial Sencha Rose is the perfect marriage of green tea and rose petals. This luxurious hand-crafted blend delivers the experience of walking through an Imperial garden full of fresh fragrant roses in bloom.

Soothing and aromatic, this delicate blend is an elegant tea for anytime of day.
Ingredients: Green tea, rose petals.
Origin: Multiple Origin Blend
Caffeine: LOW
---
Golden Honey Aroma Yunnan Black Tea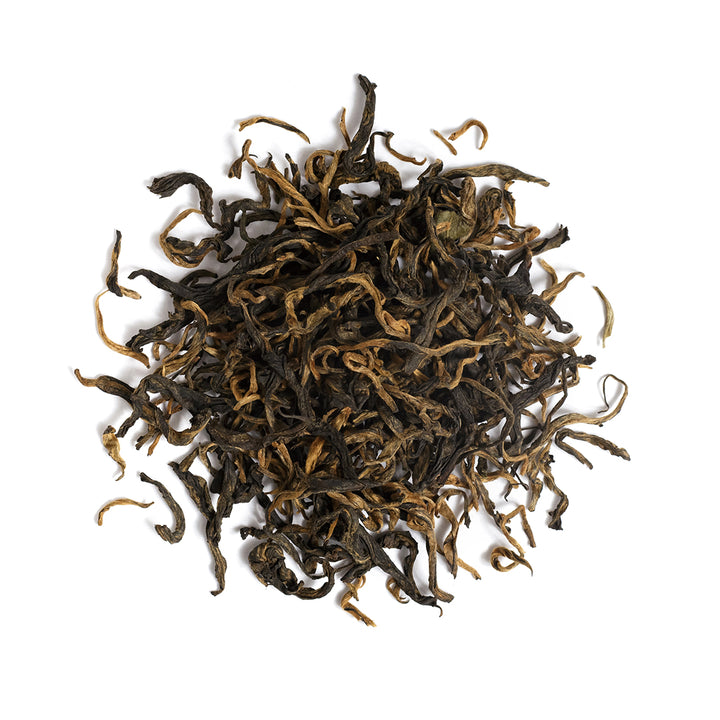 Golden Honey Aroma is "old type" varietal, close to a pure assamica, grown in the Ning'er area of Simao. As the name indicates, this tea is sweet with natural honey notes and very aromatic.
Golden Honey Aroma is a very pleasurable black tea, unique in its own right, but with the familiar delicious flavor profile of black teas from Yunnan.
March 2021 Harvest
Ingredients: Black tea.
Origin: Yunnan, China
Caffeine: HIGH

---
Jalinga Estate Assam
From the one and only carbon-neutral tea farm in the world comes this brisk and malty black tea sure to brighten and invigorate your mornings.
Assam tea is consumed in India as a traditional type breakfast tea, and its strong and pungent flavor has become well-loved around the globe, proven by the leaves being used in sturdy Irish breakfast teas.
Ingredients: Black tea.
Origin: Assam, India
Caffeine: HIGH

---
Strawberry Peach Pu-erh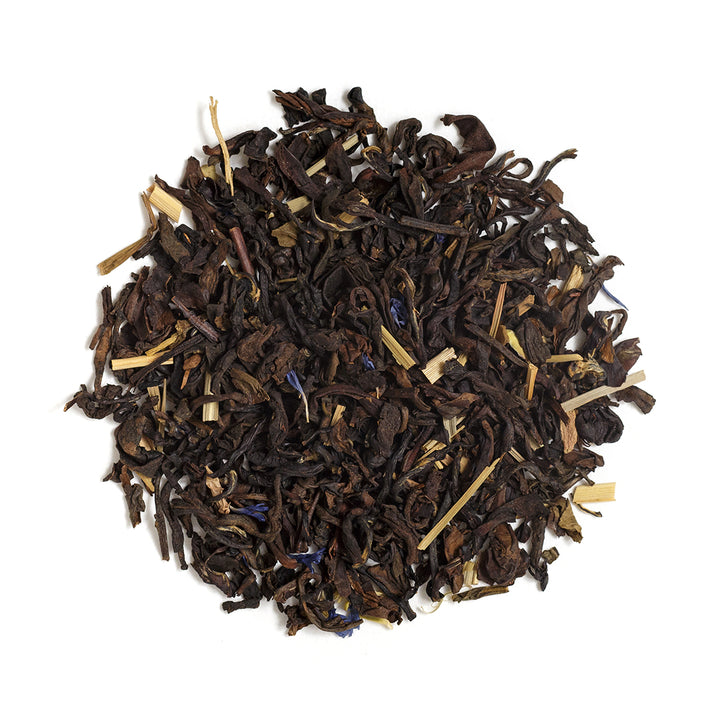 Global Tea Championship Winner
3rd Place, Flavored Pu-erh/Dark


This gorgeous blend of velvety oolong, energy spiking Yerba Mate, and strawberry-peach infused pu-erh has just the right amount of strength and sweetness to create a harmonious sip that will leave you feeling awakened and restored. A bold, fruity, and well-balanced tea.
Ingredients: Pu-erh tea, oolong tea, green tea, yerba mate, rooibos, ginseng, lemon, strawberries, blueberries, peach bits, and natural flavoring.
Origin: Multiple Origin Blend
Caffeine: HIGH

---
Orange Jasmine Blossom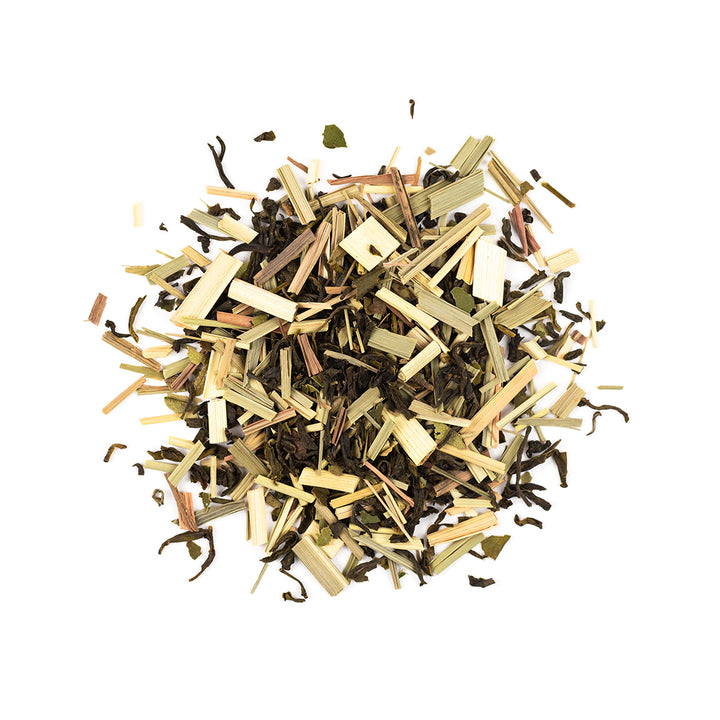 This lovely green tea blend is smooth on the palate with luscious and juicy notes of sweet orange blossom, peppered with the brightness of fresh lemongrass. Rose petals make for a delicate floral aroma while lime and tangerine give it some extra tang in its finish. A refreshing and uplifting cup of tea, whether served hot or on ice.
Ingredients: Green tea with jasmine, lemongrass, lemon myrtle, essential orange oil, natural rose extract, essential lime and tangerine oils.
Origin: Multiple Origin Blend
Caffeine: LOW-MED

---
Earl Grey Creme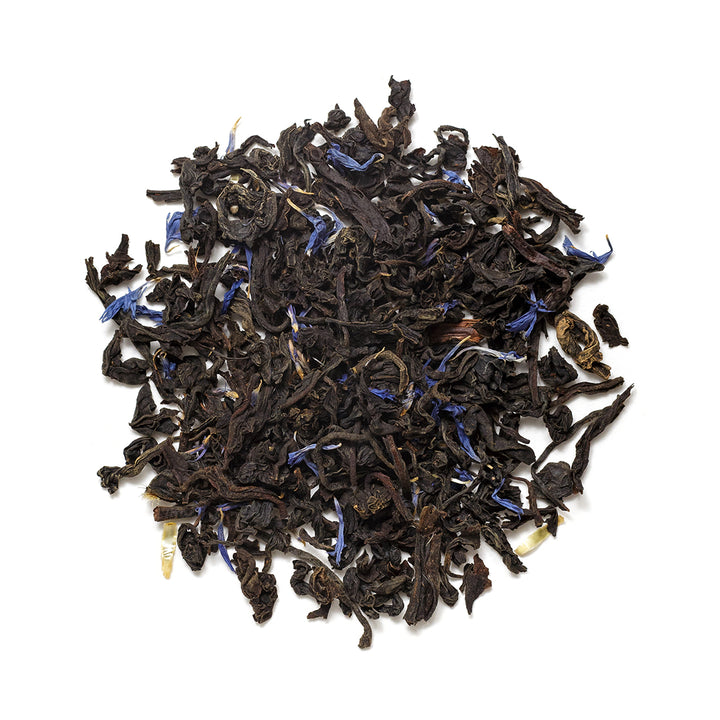 This Earl Grey Crème comes from Garden to Cup, one of the top tea companies in North America and the creator of our popular award-winning Majestic Earl Grey.

Earl Grey Crème is a stronger earl grey with a thick, creamy mouth feel and lingering aftertaste of vanilla that'll be sure to please any Earl Grey lover.
Ingredients: Black tea, blue cornflower, natural flavoring.
Origin: Multiple Origin Blend
Caffeine: HIGH
---
Irish Breakfast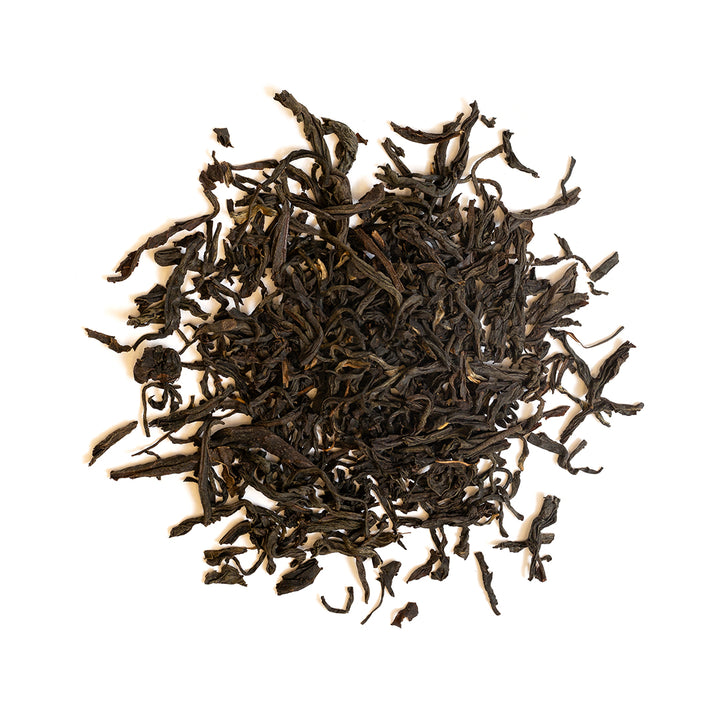 This tea is for the robust breakfast tea drinker. It steeps a heavy, malty, earthy cup of tea that will fire you up in the morning. Full-bodied and richly satisfying on its own, but goes very nicely with milk and sugar.
New Formula: In October 2022 we switched providers on our Irish Breakfast. This new version is much smoother and cleaner than what we previously offered.
Ingredients: Black teas.
Origin: India and Sri Lanka
Caffeine: HIGH

---
Pacific Peppermint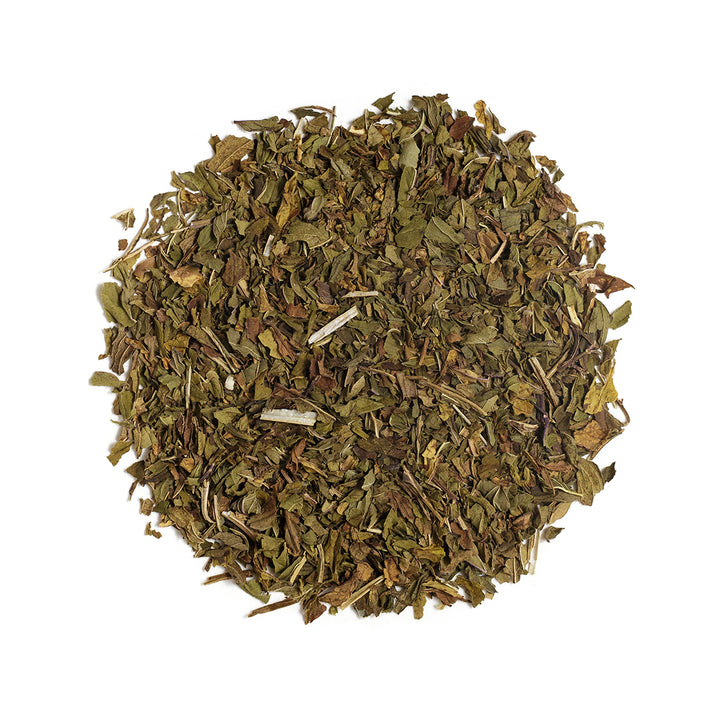 The hot and dry summers of the Pacific Northwest produce some of the world's most aromatic and flavorful peppermint. Believed to calm the body and soothe the digestive system, Pacific Peppermint has a bright candy cane flavor with chocolate notes that give your taste buds a reason to sing.
Ingredients:
Peppermint.
Origin: Washington State, USA

Caffeine:
CAFFEINE-FREE
---
Turmeric Chai
Like chai but don't want the caffeine? This mouthwatering blend of traditional chai has notes like cardamom and ginger mixed with toasted coconut and vanilla bean is a heady and wildly flavorful offering.
The pungency of turmeric lends a warming and spicy boost to this herbal concoction bursting with personality.
Ingredients: Coconut, turmeric, ginger root, cardamom, cinnamon, sarsaparilla root, vanilla bean, black pepper, natural lychee flavor, natural rose extract.
Origin: Multiple Origin Blend
Caffeine: CAFFEINE-FREE

---
Earl Grey Lavender
Here we have a welcomingly different twist on a classic. With citrusy bergamot pressed from real fruit and flowers, and the intoxicating fragrance of organic lavender blossoms, the Earl Grey Lavender is an elegant wake-me-up tea in the morning.
One of our most popular teas!

Ingredients: Organic black tea, organic lavender flowers, essential bergamot oil, natural lavender oil extract.
Origin: Multiple Origin Blend
Caffeine: MED
---
White Chocolate Peppermint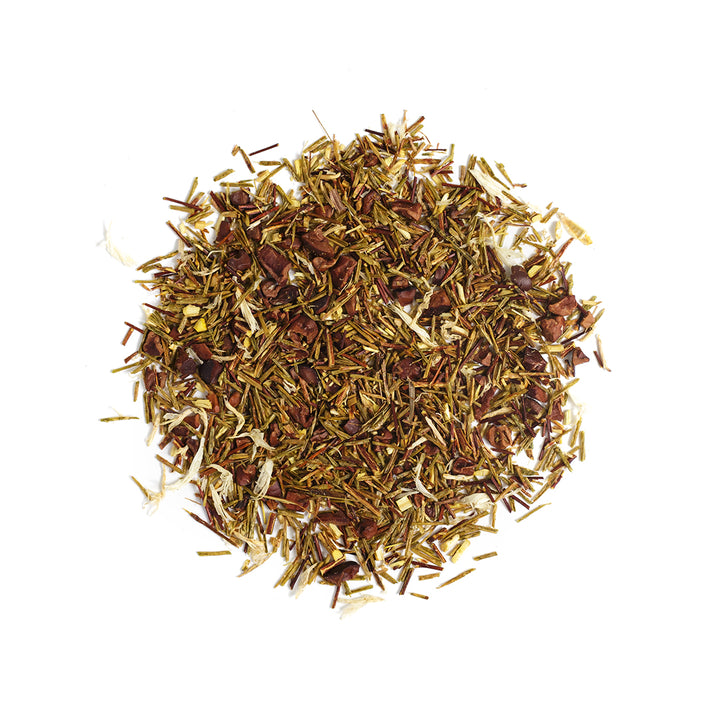 This delicious caffeine-free tea tastes like an indulgence without the guilt. Green rooibos is given the holiday treatment with organic cacao nibs and a kiss of peppermint, beautifully balanced and rich.
Try it with warm milk and perhaps your favorite piece of chocolate on the side!
Ingredients: Organic green rooibos, organic cacao nibs, white chocolate peppermint flavoring and organic white cornflower petals.
Origin: Multiple Origin Blend
Caffeine: CAFFEINE-FREE
---
---
Additional Customization Options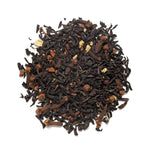 Gingerbread Black
A seasonal black tea blend that creates the joy of gingerbread in a cup.
Apple Cider Rooibos
A delicious caffeine-free rooibos blend that tastes like yummy apple cider!
---