Happy February, tea lovers!
We're celebrating this month with some Valentine-inspired teas, including the strong and elegant Black Rose, as well as one of our cherished favorites, the delicious Valentine Breakfast, complete with a sweet surprise. We've also got our popular Cinnamon Orange Red back this month, as well as a tea we adore called Sweet Kisses, which may help woo that special someone in your life! 
We're so excited to announce that we're moving into a bigger and better warehouse, which means we can keep more of our full sized teas in stock, as well as provide you with even more of your favorites all year round.
As always, stay tuned to our social media and join our mailing list, as we've got some fun announcements and perks coming soon!
Happy sipping!
~ Tea Runners
---
Customize Your February Box
Get more of the kinds of teas you love in your box by requesting customizations.
(Customization is not available to Amazon subscribers.)
All new members can customize their first box within 24 hours of placing their orders. 
---
Switch Boxes
If you would like to switch from one box to another - for next month only or for all remaining boxes - please click the button below.
All switch requests must be received before the 1st of the month.
---
Kanchanjangha Black
Valentine Breakfast
Sweet Kisses
Evening in Missoula
Black Gold Biluochun
Valentine Breakfast
Black Rose
Kanchanjangha Black
Evening in Missoula
Red Berries
Cinnamon Orange Red
Lavenderberry

Black Gold Biluochun
Tongyu Mountain Green
Ancient Pu-erh Tuo Cha
Kanchanjangha Black
Sweet Kisses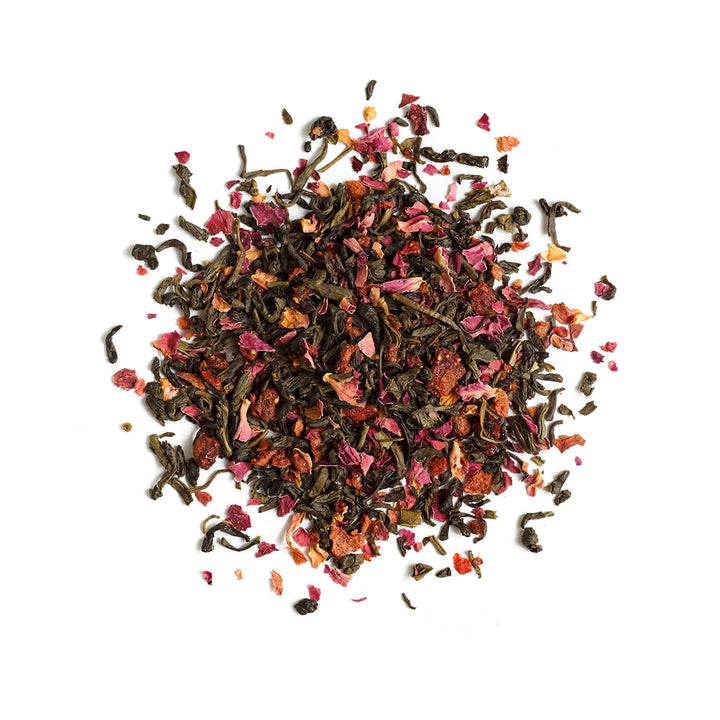 Sweet Kisses is a simple yet masterful blend of just three ingredients, creating a beautifully balanced and highly enjoyable cup of tea. High grade Chinese jasmine green tea is subtly nuanced with floral rose petals, while Californian freeze-dried strawberries add a gentle sweetness to this soft and beautiful tea.

According to perfumers, jasmine is the most sensual and love-inspiring of all scents.
Ingredients: Jasmine green tea, rose petals and crushed freeze-dried strawberry.
Origin: Multiple Origin Blend
Caffeine: LOW-MED
---
Ancient Pu-erh Tuo Cha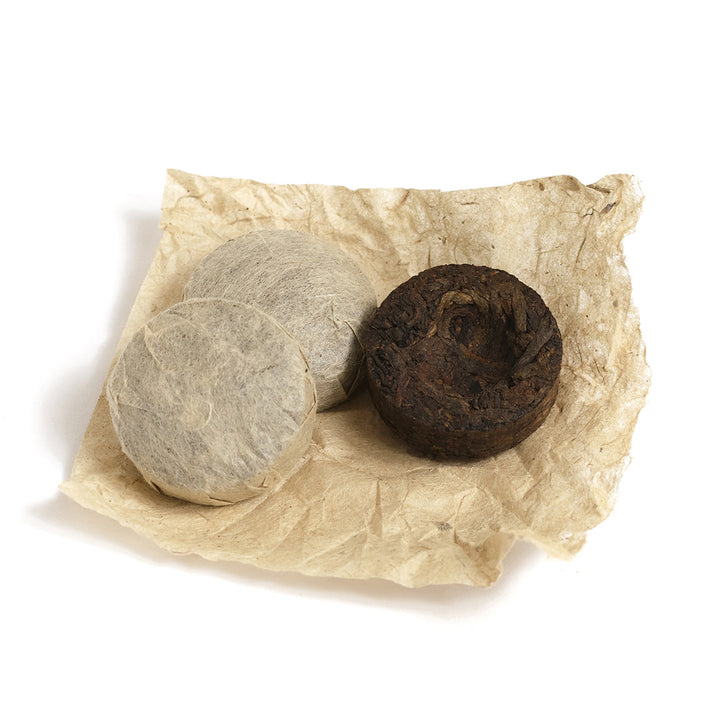 This traditional style ripe Pu-erh is a blend of vintages ranging from 2-4 years in age. These small Ancient Tuo Cha (meaning "dome shaped") Pu-erh cakes are perfect for single-serving size and should be enjoyed all day with multiple infusions.
Each subsequent infusion reveals the complex personality this tea hides under its powerful earthy smell: a little sweet, a little savory, and very smooth with notes of dark mocha. A tremendously soothing tea.
Ingredients: Pu-erh tea
Origin: Yunnan, China
Caffeine: MED
---
Black Gold Biluochun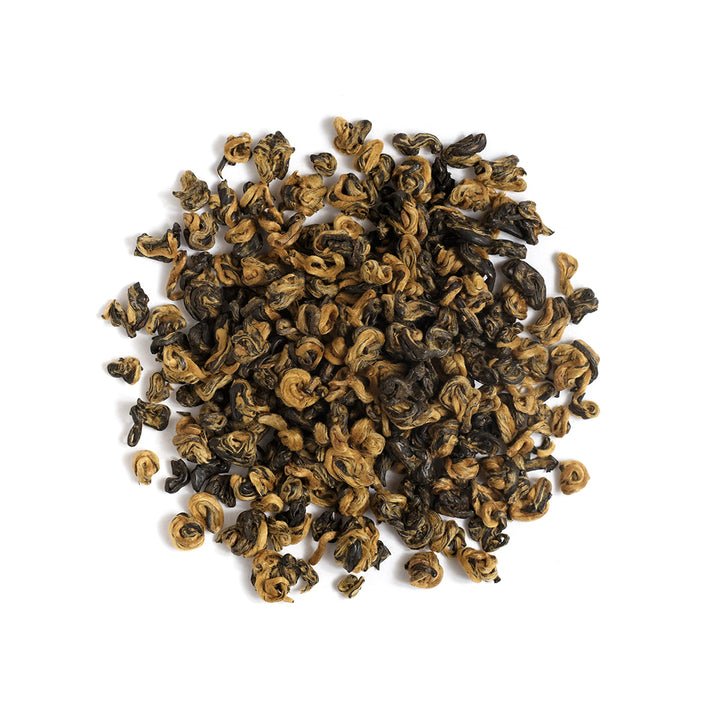 These little pellets benefit from short-term aging to make a smooth but sturdy cup that waken the senses and boost energy levels, while the palate is left with hints of chocolate and flowers.
Enjoy multiple steeps to get the most out of your leaves, or try it iced as a refreshing summer sip.
Spring 2023 Harvest.
Ingredients: Black tea.
Origin: Yunnan, China
Caffeine: MED-HIGH
---
Black Rose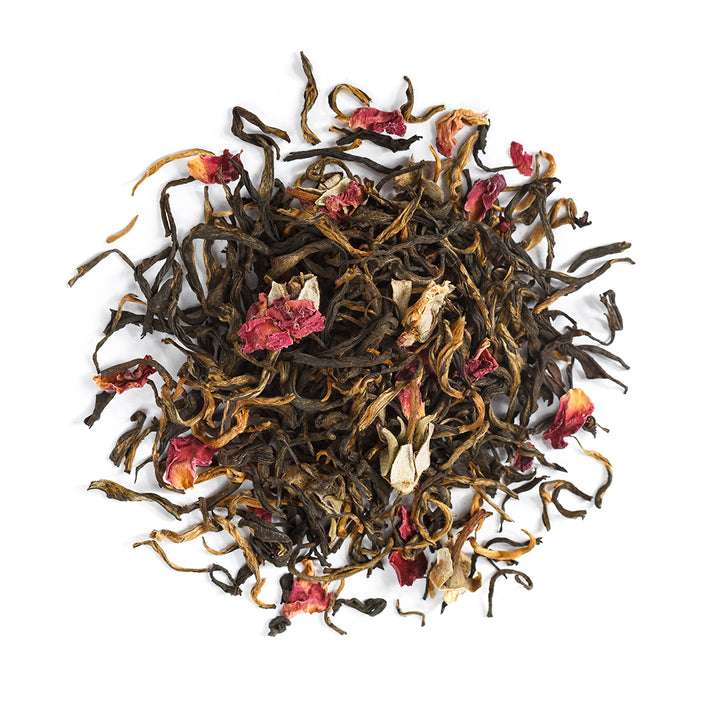 This gorgeous black tea has a base of strong Yunnan black tea leaves, packing a caffeinated punch and slight astringency, making this an excellent breakfast tea. But the addition of rose petals creates a heady and beautifully elegant character, while Madagascar vanilla bean sweetens and further elevates the decadence of this fabulous tea.
Ingredients: Black tea, rose petals, vanilla bean.
Origin: Multiple Origin Blend
Caffeine: HIGH
---
Kanchanjangha Black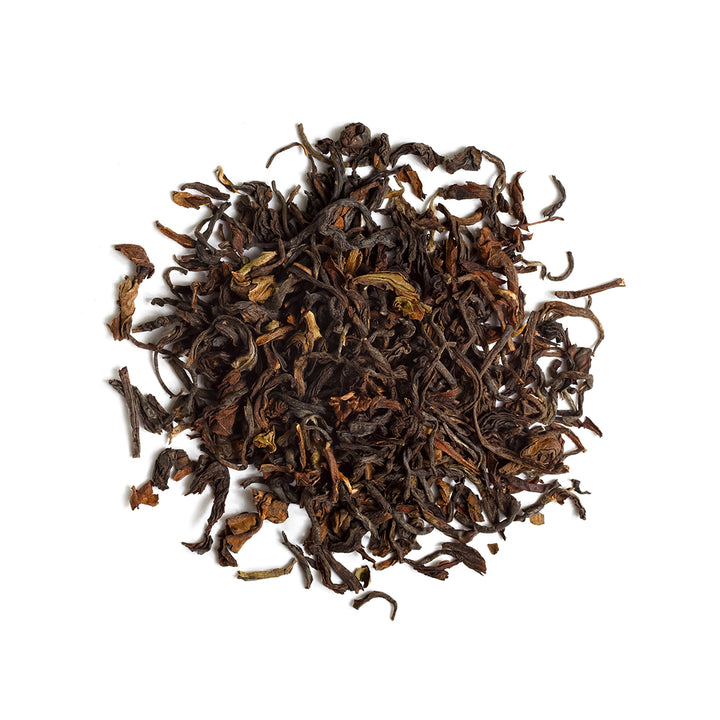 From one of the best tea producing regions in the world near the border of Nepal and India, comes this high elevation premium black tea with similar characteristics to its famous neighboring teas of Darjeeling, India.

This lovely tea produces a fresh, fruity, flowery aroma with notes of dark chocolate, raisins, caramel, and wild grass.
Enjoy this gorgeous Nepalese tea over multiple infusions. This tea is a great value.
Ingredients: Black tea.
Origin: Panchthar, Nepal
Caffeine: HIGH

---
Red Berries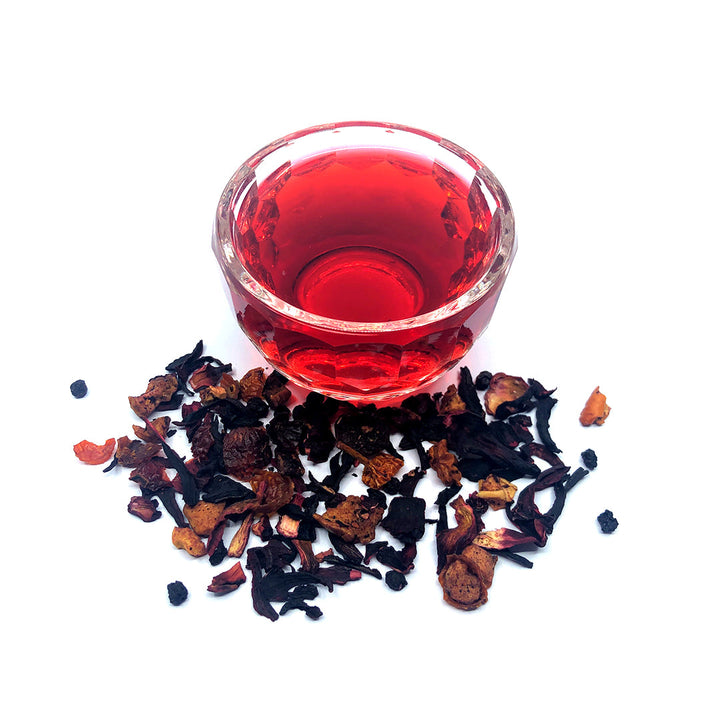 This tea has two personalities, depending on whether you're going to be steeping it hot or cold. Apples, currants, elderberries, and sour cherry make this a bracing hot beverage that's at once tart and soothing, while serving it over ice brings out its natural sweetness from hibiscus and raspberry.
Ingredients: Apple, elderberries, currants, rosehip peels, blackberries, raspberry, flavor, hibiscus, sour cherry.
Origin: Multiple Origin Blend
Caffeine: CAFFEINE-FREE

---
Lavenderberry
Like a rich and silky dessert in a cup, this luscious rooibos is a full-bodied and soothing blend of fresh lavender flowers and dried raspberries. Strawberry undertones sweeten the deal while aromatic vanilla lends notes of warm pound cake.
Rooibos tea comes from South Africa, and its digestive properties and caffeine-free nature make it an excellent choice in lieu of dessert for tea lovers of all ages.
Ingredients: Rooibos, lavender flowers, freeze dried raspberries, and flavoring.
Origin: Multiple Origin Blend
Caffeine: CAFFEINE-FREE
---
Cinnamon Orange Red
This herbal and caffeine-free South African honeybush blend is similar to a rooibos but sweeter with a fuller mouth feel.
Cinnamon Orange Red brilliantly offsets its natural sweetness with the zest of orange peel and cinnamon spiciness. The bonus is the gorgeous smell that wafts through the house while it brews.
Ingredients: Honeybush, cinnamon, orange peels, natural flavoring.
Origin: Multiple origin blend.
Caffeine: CAFFEINE-FREE
---
Sticky Rice Tuo Cha
These mini tea cakes are infused with an herb called Nuo Mi Xiang, imparting the flavor of roasted rice into this pu'erh. We love pu'erh for a healthy caffeine kick, as well as after a heavy meal to help with digestion, and this one is delightfully smooth, herbaceous, and savory.
Enjoy it steeped many times over.
Ingredients: Pu-erh tea.
Origin: Yunnan, China.
Caffeine: MED
---
Valentine Blend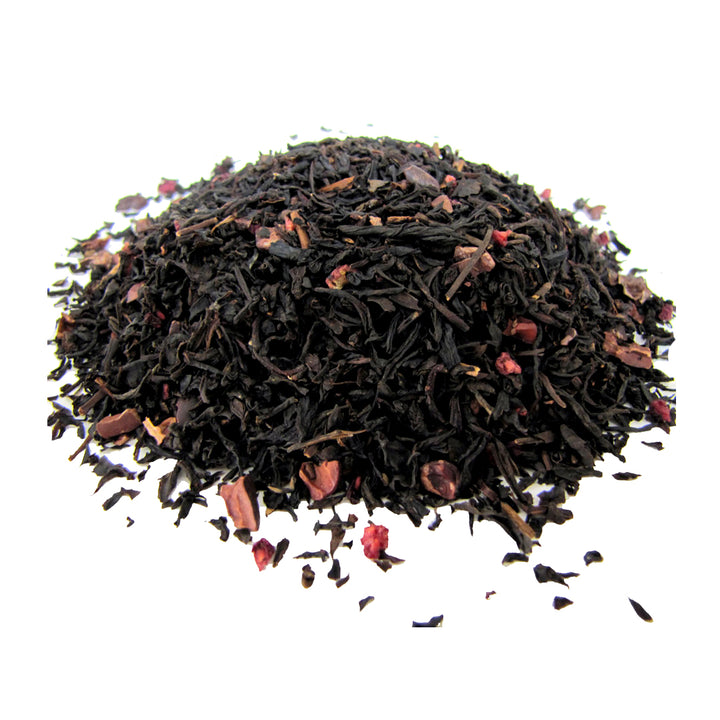 This luscious black tea fills the air with the aroma of chocolate as it steeps, thanks to the addition of cacao nibs. Tart raspberry and pomegranate balance its sweetness, creating a well-rounded and enjoyable cup. It's great for Valentine's Day, but we trust that you'll enjoy steeping it throughout the year.
Ingredients: Black teas, cacao nibs, hibiscus flowers, chocolate flavor, raspberry pieces, and natural pomegranate flavor.
Origin: Multiple Origin Blend
Caffeine: HIGH
---
Sweet Cinnamon Orange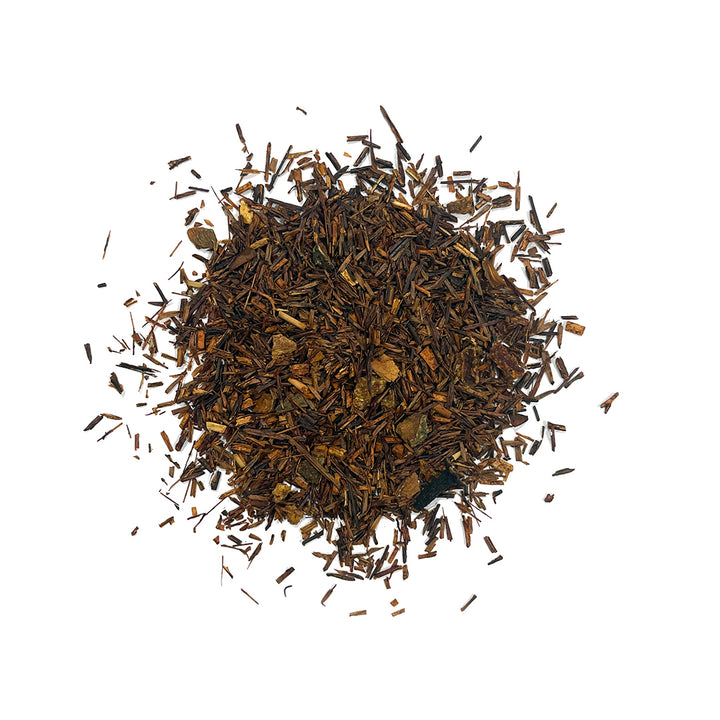 This flavored herbal blend is a delightful caffeine-free treat. It has a perfect balance of spicy and sweet, provided by the cinnamon, cloves, and natural sweet orange flavor.
A perfect sipper for any time of the day!
Ingredients: Rooibos, orange peel, cinnamon, natural flavor, clove
Origin: Multiple origin blend.
Caffeine: CAFFEINE-FREE
---
---
Additional Customization Options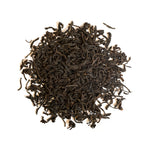 London Breakfast
A delicious breakfast tea created with black teas from India, China, and Sri Lanka.
Sacred Tulsi Spiced Rose
A lovely and unique blend of ginger, cardamom, cinnamon and fragrant rose petals.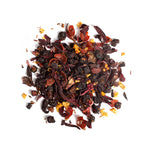 Scarlet
An herbal tea with berries that brews to a deep red liquor and bursts with flavor.
---