Merry Christmas, everyone!

To all our new members and gift recipients, you do not need an account to make your customization requests. Simply put your name on the customization form and we'll match it up to your shipment!

We have many great things coming in 2021, including a completely revamped 'My Account' section, the ability to keep track of your favorites, and more.

We're so grateful for your support. Here's to 2021 being a wonderful year for us all.
~ Tea Runners
---
Customize Your January Box
Get more of the kinds of teas you love in your box by requesting customizations.
(Customization is not available to Amazon subscribers.)
All new members can customize their first box within 24 hours of placing their orders. 
---
Switch Boxes
If you would like to switch from one box to another - for next month only or for all remaining boxes - please click the button below.
All switch requests must be received before the 1st of the month.
---
Classic Laoshan Black
Nepali Breakfast
Maghreb Mint
Herbal Root Beer
Classic Laoshan Black
Nepali Breakfast
London Breakfast
Lemon Drop Black
Tangerine Ginger
Scarlet
Cinnamon Plum
Herbal Root Beer

Classic Laoshan Black
Big Snow Mountain Black
Anhui Maojian Green Tea
Dragon Claw Oolong
Classic Laoshan Black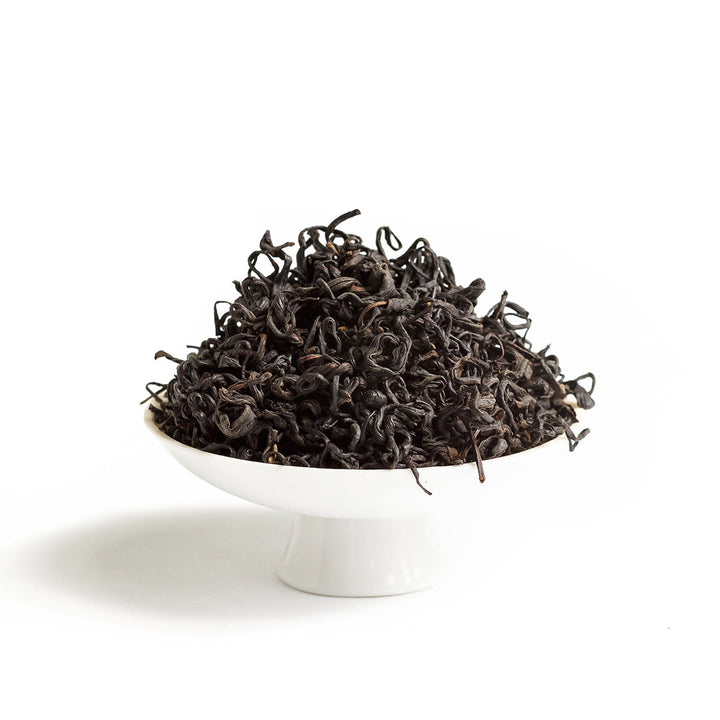 Laoshan is a small village near the sea in northeast China. Laoshan black teas are usually small and tippy, lacking the white pekoe-style hairs that give black teas their golden color.
Classic Laoshan Black, grown under the shadow of a sacred mountain, is very smooth and viscous with a robust flavor that has a distinct dark chocolate bite.
People often question whether sugar was added to this tea, but it's simply the weather and soil that make this tea naturally sweet and thick.
Classic Laoshan Black is one of our personal favorites at Tea Runners. It's a tea we always have on our shelf at home!
Spring 2023 Harvest.
Ingredients: Black tea.
Origin: Shandong, China
Caffeine: MED-HIGH
---
Dragon Claw Oolong
This sharp and lingering oolong is aptly named, because as the tea leaves open, they resemble claws unfurling. These leaves are plucked at the beginning of the harvest after summer when the leaves are dark green, but the cup steeps to a beautiful amber color with a nutty toasted finish and the sweet tartness of apricot.
We're huge fans of oolongs in general, but this one is just spectacular.
Fall 2023 Harvest. 
Ingredients: Oolong tea.
Origin: Maipokhari, Ilam region, Nepal
Caffeine: MED

---
Anhui Maojian
Multiple Award-Winning Tea
This lovely green tea from the Anhui province in China is not only pleasant to look at-- its young leaves are touched with mao jian or "downy tips"-- but it also brews to a lively and vibrant piquancy.
We love the fresh green grass scent and the slightly sweet umami finish in its taste, a welcome combination that makes this green one to savor.
Ingredients: Pure green tea.
Origin: Anhui, China
Caffeine: MED

---
Nepali Breakfast
This breakfast tea is a truly unique and exotic way to start the day. Steeping to a deep ruby red hue due to the addition of CTC leaves, it also sings with the bright and complex flavors of Orthodox tea.

What really makes it a standout is its gorgeous layer of masala spice mix, leaving the palate awakened with notes of clove, cinnamon, ginger, and black pepper.

Try it with some warm milk, or as a sweet treat, a touch of sugar.
Ingredients: Black tea, cinnamon, clove, ginger, black pepper.
Origin: Eastern Nepal
Caffeine: HIGH
---
Maghreb Mint
Take a trip to North Africa with this worldly and spicy tea, an exotic and intoxicating blend of roasted green tea, peppermint, ginger, and cardamom.

The warm nutty notes are pleasantly offset with aromatic clove and woody fennel, creating a unique and lively, unforgettable cup.
Try this tea with a touch of sugar!
Ingredients: Green tea, ginger root, cardamom, peppermint, licorice root, fennel, cloves, black pepper.
Origin: Multiple Origin Blend
Caffeine: MED

---
London Breakfast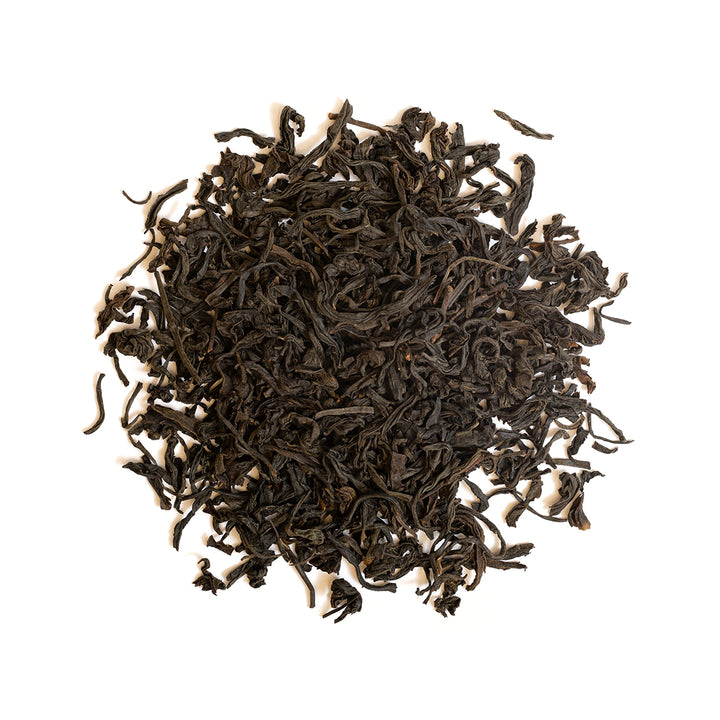 The kickstart to your day you've been waiting for, this hefty but elegant black tea is an expertly crafted blend of Assam, Keemun Black, and Sri Lankan black tea leaves. Vibrant like a traditional Assam, this modern tea swirls with an earthy depth and a well-rounded and smooth finish.
Try it with some milk for a traditional cup, but its silky enough to enjoy on its own.
Ingredients: Black tea.
Origin: India, China, and Sri Lanka
Caffeine: HIGH
---
Tangerine Ginger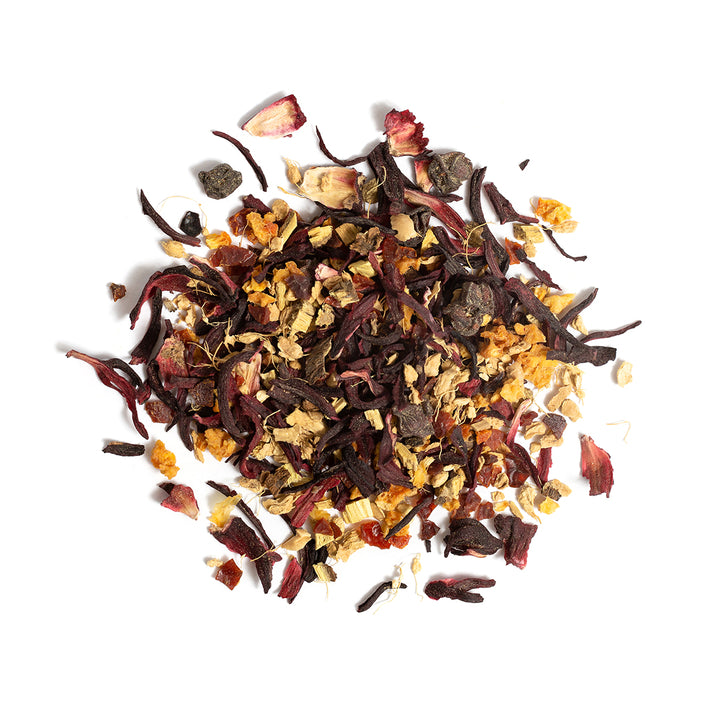 This lovely herbal tea combines fruits, herbs, and roots to create a very vibrant and flavorful deep red tonic. A spicy ginger zing is balanced with the sweetness of tangerine.

Tangerine Ginger is one of our favorite tea company's most popular herbal teas.
Ingredients: Hibiscus flowers, ginger root, rosehips, licorice root, orange peel, schizandra berries, essential tangerine and orange oils.
Origin: Multiple Origin Blend
Caffeine: CAFFEINE-FREE

---
Herbal Root Beer
Bursting with personality and nostalgic root beer flavor, this fun and vivacious tea kicks off the palate with tart black currant and licorice root.

Green rooibos further aids in this tea's natural ability to help digestion, while rosehips and red rose petals create a richness to make it a perfect after dinner treat.

Ingredients: Green rooibos, rooibos, licorice root, black currant leaf, rosehips, root beer flavoring and red rose petals.
Origin: Multiple Origin Blend
Caffeine: CAFFEINE-FREE
---
Scarlet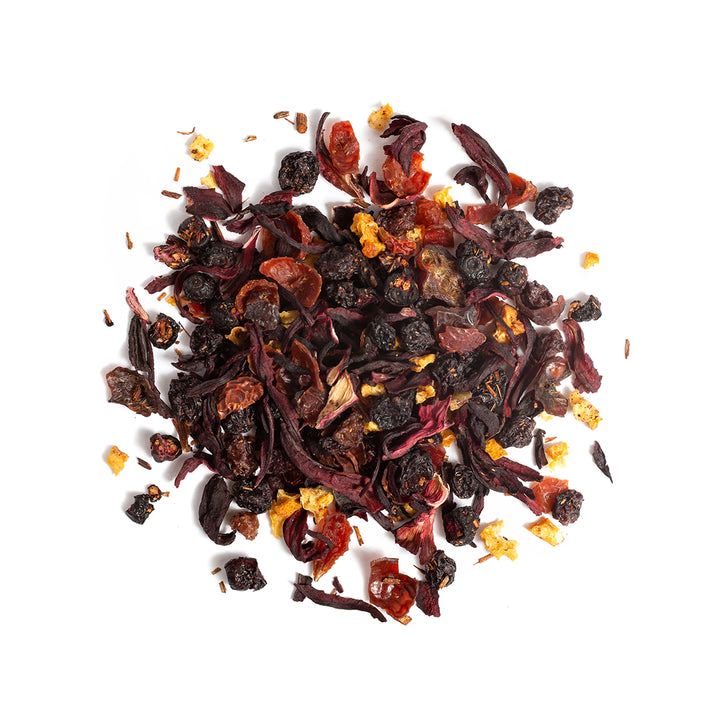 This tea brews to a deep red liquor bursting with tart thirst-quenching goodness, a great caffeine-free tea to sip in the cold months. Currants, cranberries, blueberries, and orange peel sing with festive sweetness while the nuttiness of rooibos rounds out the finish, creating balance. Mango and passion fruit further excite the palate, making this tea a juicy punch of flavor.


Ingredients: Currants, hibiscus flowers, rosehips, rooibos, blueberries, orange peel, cranberries, natural blueberry, passionfruit and mango flavors.
Origin: Multiple Origin Blend
Caffeine: CAFFEINE-FREE

---
Cinnamon Plum
This juicy and full-bodied herbal blend is like biting into a roasted and caramelized plum. A touch of spice is added with cinnamon and licorice root, pleasantly enhanced with the scent of sweet hibiscus flower.
Try this tea in a mulled wine recipe, or serve it over ice on a gorgeous sunny day.
Ingredients: Organic cinnamon, organic hibiscus flowers, organic currants, organic licorice root, natural plum flavor.
Origin: Multiple Origin Blend
Caffeine: CAFFEINE-FREE
---
Big Snow Mountain of Mengku Black Tea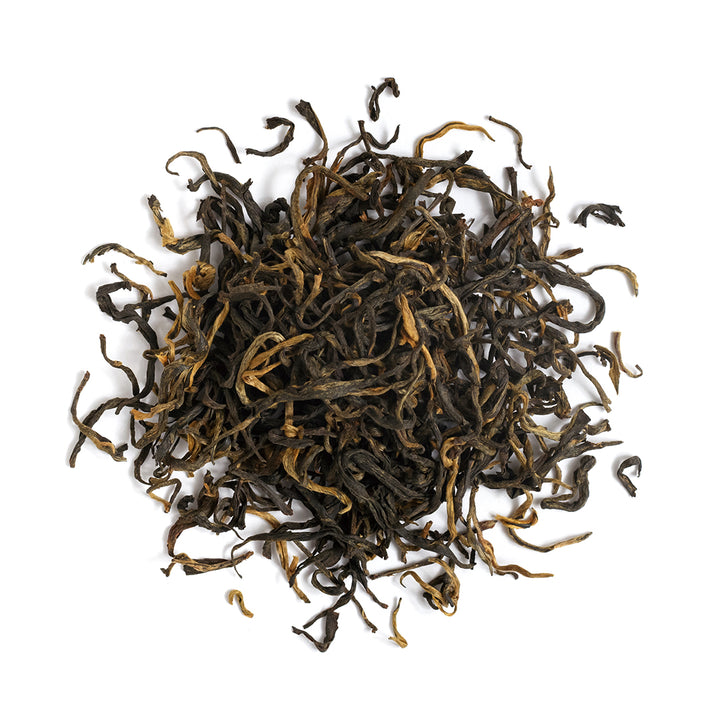 This black tea comes from the high-altitude tea farming region in Lincang. It is processed from the first flush of spring assamica tea leaves of 30-40 year old naturally grown tea plants.

Big Snow Mountain Black brews a deep red liquor with floral notes and a sweet thick mouthfeel.
Spring 2023 Harvest. 
Ingredients: Black tea
Origin: Yunnan, China
Caffeine: HIGH
---
Herbal After Eight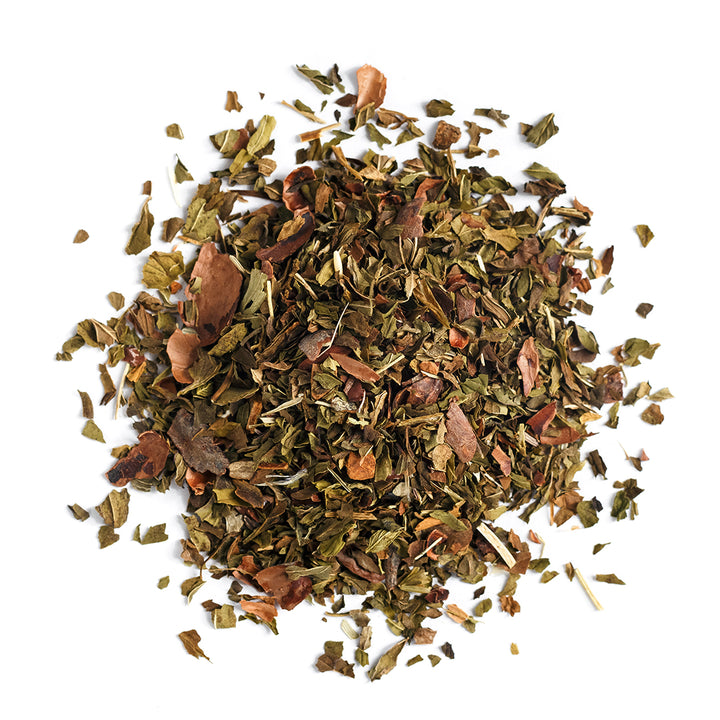 This gorgeous herbal blend is like sipping on peppermint chocolate, at once soothing to the body and also deliciously decadent.
Cinnamon adds a welcomed touch of heat, making this the perfect after dinner tea any time of year.
Ingredients: Peppermint, cacao, cinnamon, stevia
Origin: Multiple Origin Blend
Caffeine: CAFFEINE-FREE
---
Black Dragon Pearls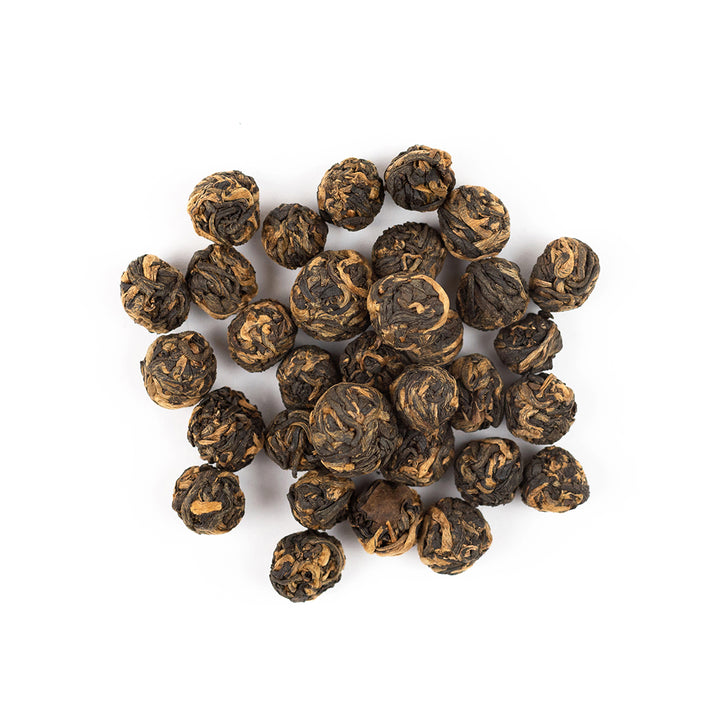 Multiple Award-Winning Tea


These dark tea leaves have been painstakingly hand-rolled into perfect pearls, slowly unfurling as they steep into a honeyed hue.
Black Dragon Pearls have a lovely earthiness that is partnered with the slight pungency of stone fruit, and notes of powdered chocolate.
Ingredients: Black tea.
Origin: Yunnan, China
Caffeine: HIGH

---
---
Additional Customization Options
---