Happy March, tea lovers! 
March is an exciting month in the tea world because it's the time of year that fresh spring 2021 harvesting begins. In 2-3 months from now you will start seeing 2021 harvest teas in the Tea Runners line up. 
We've got some terrific teas for you this month, including some for the best sellers from our web store like Golden Monkey, Jalinga Estate Assam, Earl Grey Creme, Irish Breakfast, and Iron Goddess of Mercy.  If you've never tried them this is a great opportunity to do so. We've also got a big list of customization options to choose from this month. 
We're happy to announce that we've finished our move into a bigger warehouse. This will allow us to keep more teas on hand for our store and keep your favorites in stock throughout the year. It will also drastically reduce the amount of time it takes us to receive, pack, and list teas in our store. 
At the time of writing this our store is still not quite ready. We're ironing out some final tech issues but we should be back online selling teas next week, with a huge restock to continue throughout the month. 
Lastly, for the past few months we've been working on a custom My Account dashboard that will make the process of managing your subscription and your customization requests very easy and error free. We're hoping it will be live and operational in April. 
Happy sipping!
~ Tea Runners
---
Customize Your March Box
Get more of the kinds of teas you love in your box by requesting customizations.
(Customization is not available to Amazon subscribers.)
All new members can customize their first box within 24 hours of placing their orders. 
---
Switch Boxes
If you would like to switch from one box to another - for next month only or for all remaining boxes - please click the button below.
All switch requests must be received before the 1st of the month.
---
Mar 9 - Some of the teas originally listed have been changed due to selling out. 
Jalinga Estate Assam
Strawberry Peach Pu-erh
Orange Jasmine Blossom
Pacific Peppermint
Jalinga Estate Assam
Golden Monkey
Earl Grey Creme
Irish Breakfast
Cinnamon Orange red
Pacific Peppermint
Margaret's Soother
Lavenderberry

Jalinga Estate Assam
Golden Monkey
Iron Goddess of Mercy
Ama Dablam White Tea
Jalinga Estate Assam
From the one and only carbon-neutral tea farm in the world comes this brisk and malty black tea sure to brighten and invigorate your mornings.
Assam tea is consumed in India as a traditional type breakfast tea, and its strong and pungent flavor has become well-loved around the globe, proven by the leaves being used in sturdy Irish breakfast teas.
Ingredients: Black tea.
Origin: Assam, India
Caffeine: HIGH

---
Orange Jasmine Blossom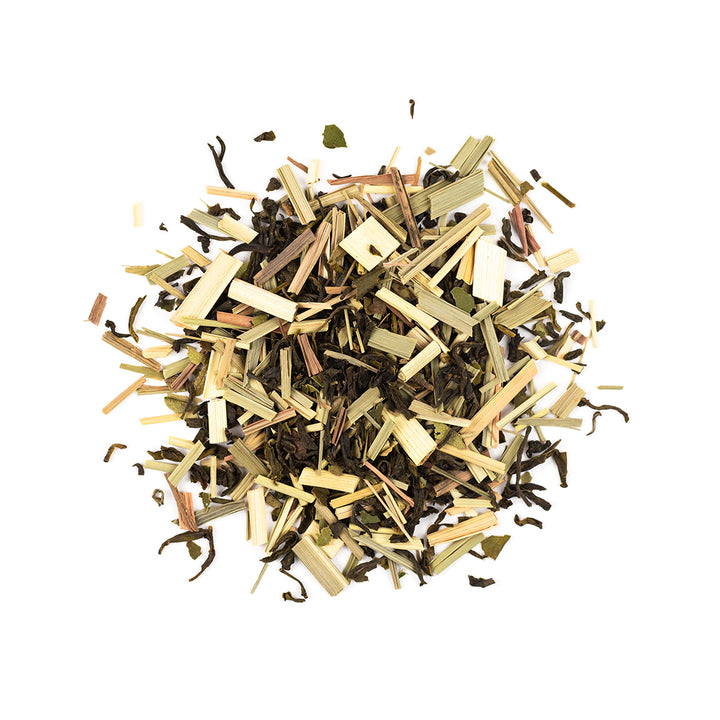 This lovely green tea blend is smooth on the palate with luscious and juicy notes of sweet orange blossom, peppered with the brightness of fresh lemongrass. Rose petals make for a delicate floral aroma while lime and tangerine give it some extra tang in its finish. A refreshing and uplifting cup of tea, whether served hot or on ice.
Ingredients: Green tea with jasmine, lemongrass, lemon myrtle, essential orange oil, natural rose extract, essential lime and tangerine oils.
Origin: Multiple Origin Blend
Caffeine: LOW-MED

---
Strawberry Peach Pu-erh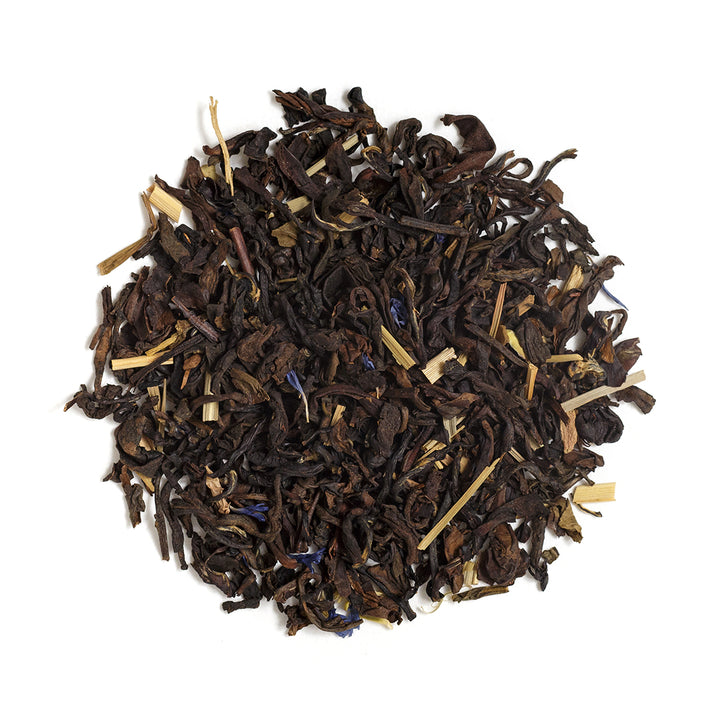 Global Tea Championship Winner
3rd Place, Flavored Pu-erh/Dark


This gorgeous blend of velvety oolong, energy spiking Yerba Mate, and strawberry-peach infused pu-erh has just the right amount of strength and sweetness to create a harmonious sip that will leave you feeling awakened and restored. A bold, fruity, and well-balanced tea.
Ingredients: Pu-erh tea, oolong tea, green tea, yerba mate, rooibos, ginseng, lemon, strawberries, blueberries, peach bits, and natural flavoring.
Origin: Multiple Origin Blend
Caffeine: HIGH

---
Pacific Peppermint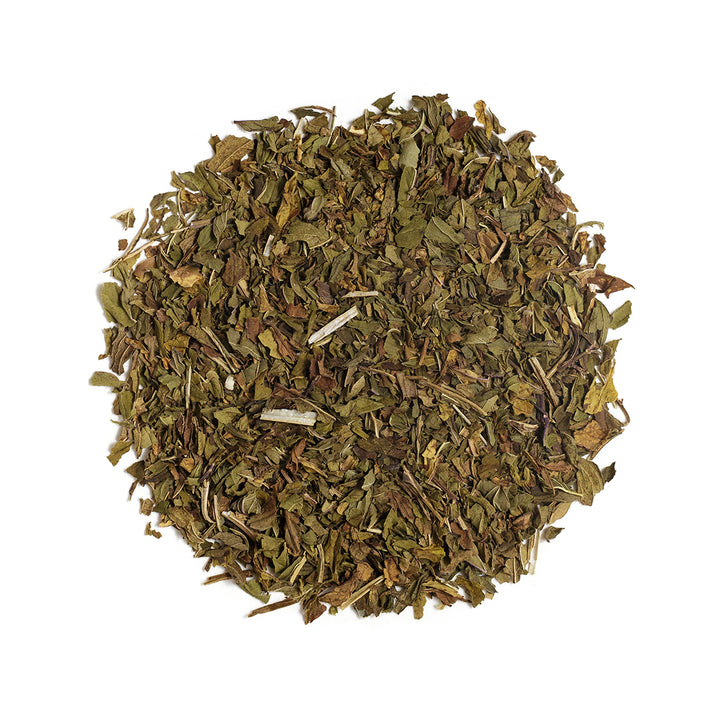 The hot and dry summers of the Pacific Northwest produce some of the world's most aromatic and flavorful peppermint. Believed to calm the body and soothe the digestive system, Pacific Peppermint has a bright candy cane flavor with chocolate notes that give your taste buds a reason to sing.
Ingredients:
Peppermint.
Origin: Washington State, USA

Caffeine:
CAFFEINE-FREE
---
Iron Goddess of Mercy
As the story goes, the tea plant from which this Taiwanese oolong gets its name was left to a pious farmer by a Buddhist god as a way of thanks for this man's dedicated upkeep of the village's temple.
This velvety and creamy tea has intricate juxtapositions of roasted buckwheat and chestnut with sweet dried apricot, a winning combination straight from the gods.
Ingredients: Oolong tea.
Origin: Nantou County, Taiwan
Caffeine: LOW-MED

---
Irish Breakfast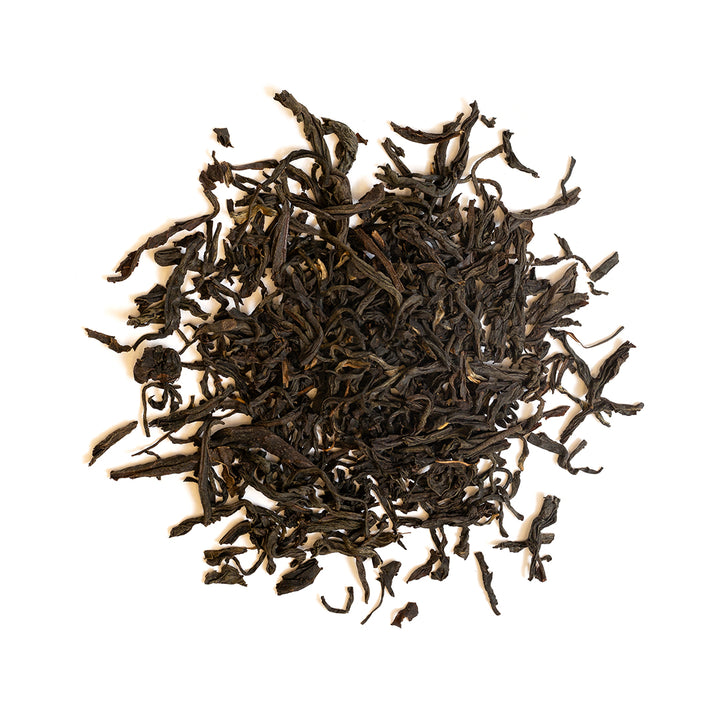 This tea is for the robust breakfast tea drinker. It steeps a heavy, malty, earthy cup of tea that will fire you up in the morning. Full-bodied and richly satisfying on its own, but goes very nicely with milk and sugar.
New Formula: In October 2022 we switched providers on our Irish Breakfast. This new version is much smoother and cleaner than what we previously offered.
Ingredients: Black teas.
Origin: India and Sri Lanka
Caffeine: HIGH

---
Earl Grey Creme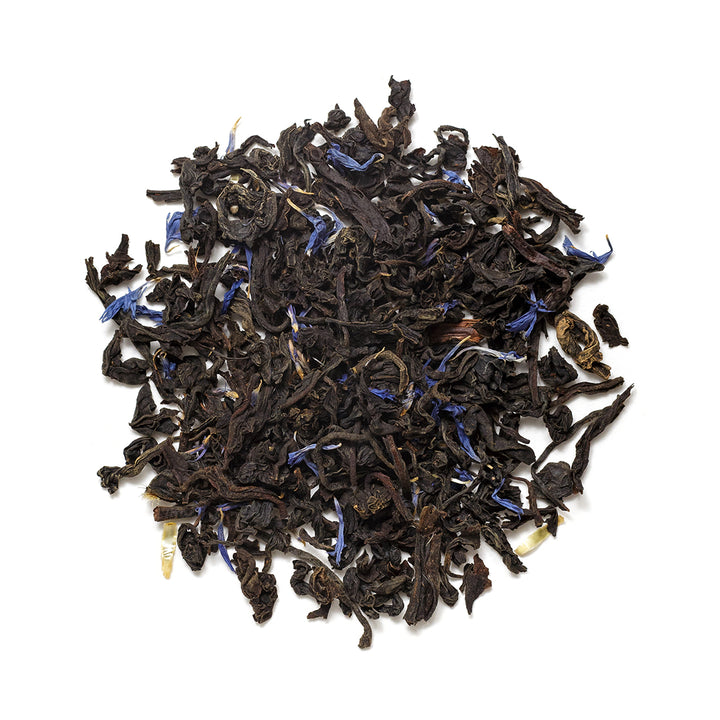 This Earl Grey Crème comes from Garden to Cup, one of the top tea companies in North America and the creator of our popular award-winning Majestic Earl Grey.

Earl Grey Crème is a stronger earl grey with a thick, creamy mouth feel and lingering aftertaste of vanilla that'll be sure to please any Earl Grey lover.
Ingredients: Black tea, blue cornflower, natural flavoring.
Origin: Multiple Origin Blend
Caffeine: HIGH
---
Cinnamon Orange Red
This herbal and caffeine-free South African honeybush blend is similar to a rooibos but sweeter with a fuller mouth feel.
Cinnamon Orange Red brilliantly offsets its natural sweetness with the zest of orange peel and cinnamon spiciness. The bonus is the gorgeous smell that wafts through the house while it brews.
Ingredients: Honeybush, cinnamon, orange peels, natural flavoring.
Origin: Multiple origin blend.
Caffeine: CAFFEINE-FREE
---
Lavenderberry
Like a rich and silky dessert in a cup, this luscious rooibos is a full-bodied and soothing blend of fresh lavender flowers and dried raspberries. Strawberry undertones sweeten the deal while aromatic vanilla lends notes of warm pound cake.
Rooibos tea comes from South Africa, and its digestive properties and caffeine-free nature make it an excellent choice in lieu of dessert for tea lovers of all ages.
Ingredients: Rooibos, lavender flowers, freeze dried raspberries, and flavoring.
Origin: Multiple Origin Blend
Caffeine: CAFFEINE-FREE
---
Earl Grey Lavender
Here we have a welcomingly different twist on a classic. With citrusy bergamot pressed from real fruit and flowers, and the intoxicating fragrance of organic lavender blossoms, the Earl Grey Lavender is an elegant wake-me-up tea in the morning.
One of our most popular teas!

Ingredients: Organic black tea, organic lavender flowers, essential bergamot oil, natural lavender oil extract.
Origin: Multiple Origin Blend
Caffeine: MED
---
White Chocolate Peppermint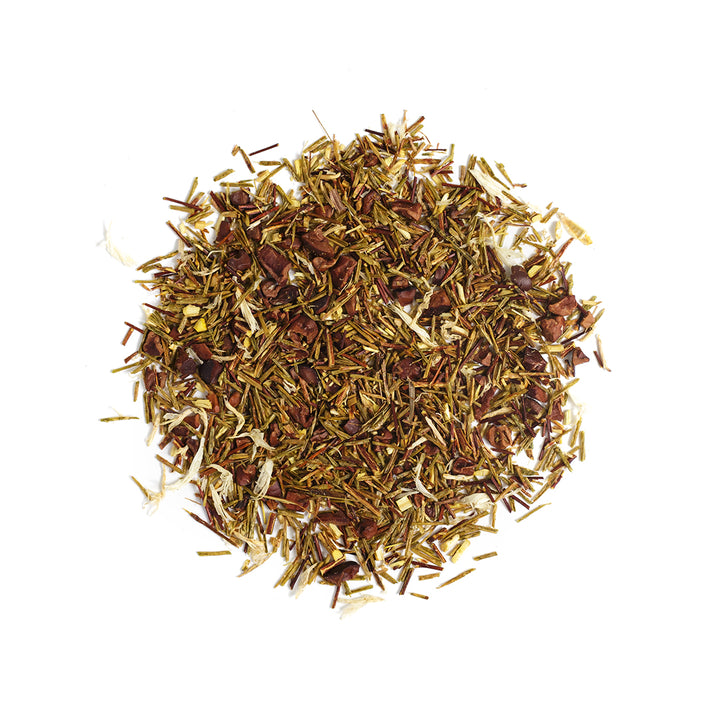 This delicious caffeine-free tea tastes like an indulgence without the guilt. Green rooibos is given the holiday treatment with organic cacao nibs and a kiss of peppermint, beautifully balanced and rich.
Try it with warm milk and perhaps your favorite piece of chocolate on the side!
Ingredients: Organic green rooibos, organic cacao nibs, white chocolate peppermint flavoring and organic white cornflower petals.
Origin: Multiple Origin Blend
Caffeine: CAFFEINE-FREE
---
Sweet Cinnamon Orange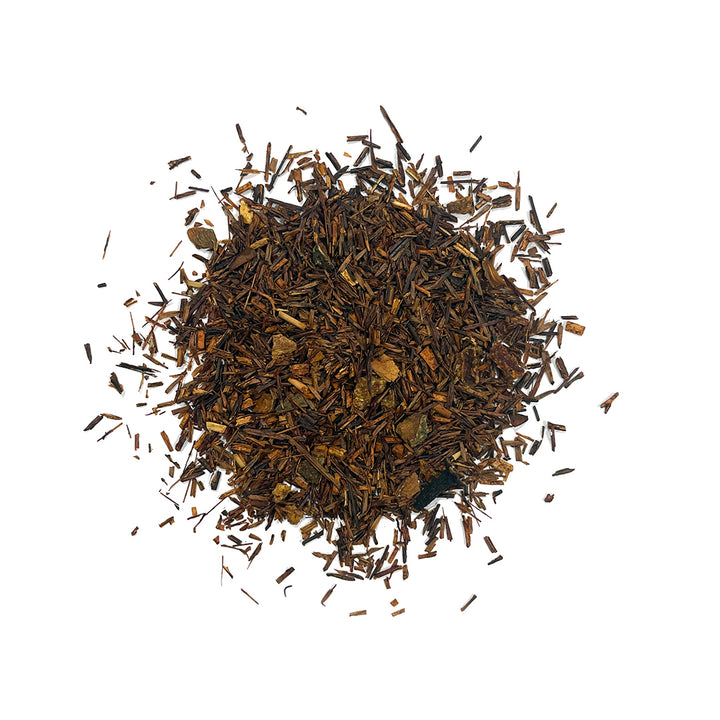 This flavored herbal blend is a delightful caffeine-free treat. It has a perfect balance of spicy and sweet, provided by the cinnamon, cloves, and natural sweet orange flavor.
A perfect sipper for any time of the day!
Ingredients: Rooibos, orange peel, cinnamon, natural flavor, clove
Origin: Multiple origin blend.
Caffeine: CAFFEINE-FREE
---
---
Additional Customization Options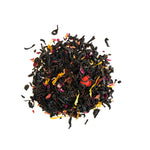 Valentine Breakfast
A lovely and intoxicating blended black beauty to mark the month of love.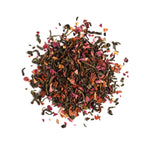 Sweet Kisses
Chinese jasmine green tea is subtly nuanced with floral rose petals & Californian freeze-dried strawberries.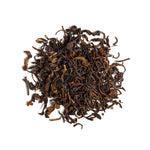 Kanchanjangha Black
Pure Nepalese black tea with notes of dark chocolate, raisins, caramel, and wild grass.
---