Happy October, tea lovers!
The weather in our neck of the woods has taken a turn for the colder, and in our opinion, there's nothing better than a hot cup of tea on a crisp fall morning.
This month we've got a few pumpkin flavored offerings to richen up your tea collection, delicious on their own or with warm milk as a decadent twist. The featured Salty Caramel Pumpkin Black is back again because of its enormous popularity, but we've also added the award-winning Pumpkin Spice Oolong as a customization option this month, which is one of our personal fav pumpkin teas. As the leaves fall and the seasons change once again, we'll be introducing some new and delicious seasonal teas in the upcoming months.

Members of our Pure Tea Box are in for a real treat this month. We've managed to get our hands on a tea that has eluded us for the past 2 years, the wonderful Yunnan Purple Buds. It is simply one of the most delicious purple teas we've ever had. (Please note this tea is only available to Pure Tea Box members, but will be available in our store toward the end of October.)

Please continue to stay safe, and know how much we appreciate your support. Here's to many more cups of comforting tea.

~ Tea Runners 
---
Customize Your October Box
Get more of the kinds of teas you love in your box by requesting customizations.
(Customization is not available to Amazon subscribers.)
All new members can customize their first box within 24 hours of placing their orders. 
---
Switch Boxes
If you would like to switch from one box to another - for next month only or for all remaining boxes - please click the button below.
All switch requests must be received before the 1st of the month.
---
Salty Caramel Pumpkin Black
Yi Mei Ren Black Tea
Imperial Sencha Rose
Honeybush
Salty Caramel Pumpkin Black
Yi Mei Ren Black Tea


Fujian Black

Blue Mountain Black
The Royal Emperor's Chai
Honeybush
Mystic Mint
Tulsi Earl Grey
SSSpicy
Yunnan Purple Buds
Houjicha
Bao Zhong Royale
Rara Willow White Tea
Salty Caramel Pumpkin Black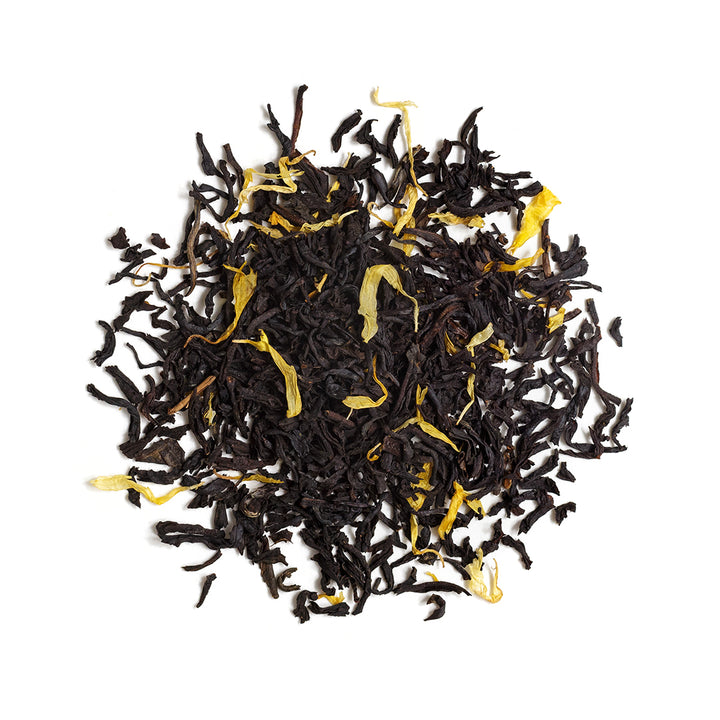 This delicious offering is a perfect accompaniment to the fall season, oozing with sweet and salty caramel goodness and savory pumpkin.
The smooth amber hued liquor has a satisfying roundness in its mouthfeel, while the addition of marigold petals brightens its finish.
Try it on its own or with warm milk to make it extra rich.
Ingredients: Black tea, marigold petals and pumpkin and salty caramel flavorings.
Origin: Multiple Origin Blend
Caffeine: MED-HIGH
---
The Royal Emperor's Chai
Global Tea Championship Winner
2018 Judge's Choice Award
This elegant and beautiful chai gets the royal treatment with the addition of rose petals and the worldly infusion of cardamom and anise. Fresh ginger and cinnamon add a welcome heat to its finish, while its body of strong Assam adds a robust caffeinated punch.
Ingredients: Assam black tea, ginger, cinnamon, cardamom, clove, black pepper, anise, fennel and rose petals.
Origin: Multiple Origin Blend
Caffeine: MED-HIGH

---
Yunnan Purple Buds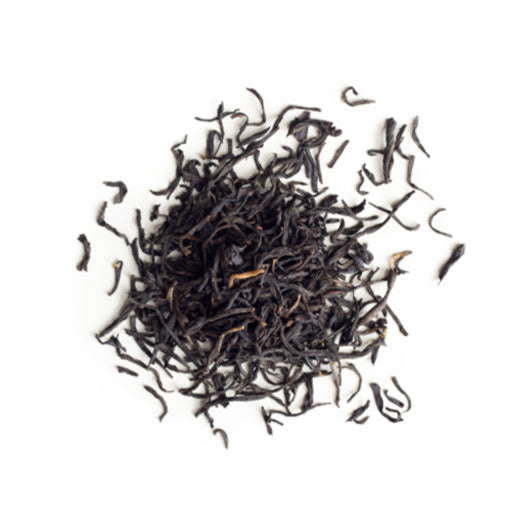 Yunnan Purple Buds is a premium lot of the rare purple leaf tea cultivar called Zi Juan ("Purple Beauty"). Zi Juan is high in anthocyanin, an antioxidant, giving the leaves their purple color.

This unique black tea, from an exceptionally well-maintained organic tea garden in Yunnan, is one of our absolute favorites. Sweet, spicy, and slightly bitter, Yunnan Purple Buds is a purple tea unlike any other.


Ingredients: Black tea
Origin: Yunnan, China
Caffeine: MED-HIGH
---
Houjicha
Although this tea brews to a dark and lovely amber hue, Houjicha is a green tea by nature.
Traditional Bancha Japanese green tea is taken through an extra roasting step to transform it into this chocolaty smooth treasure with milder levels of caffeine, which means it can also be enjoyed into the evening.
A bonus for coffee lovers will be the savory coffee bean notes on the finish.
Ingredients: Green tea.
Origin: Kagoshima prefecture, Japan
Caffeine: LOW

---
Imperial Sencha Rose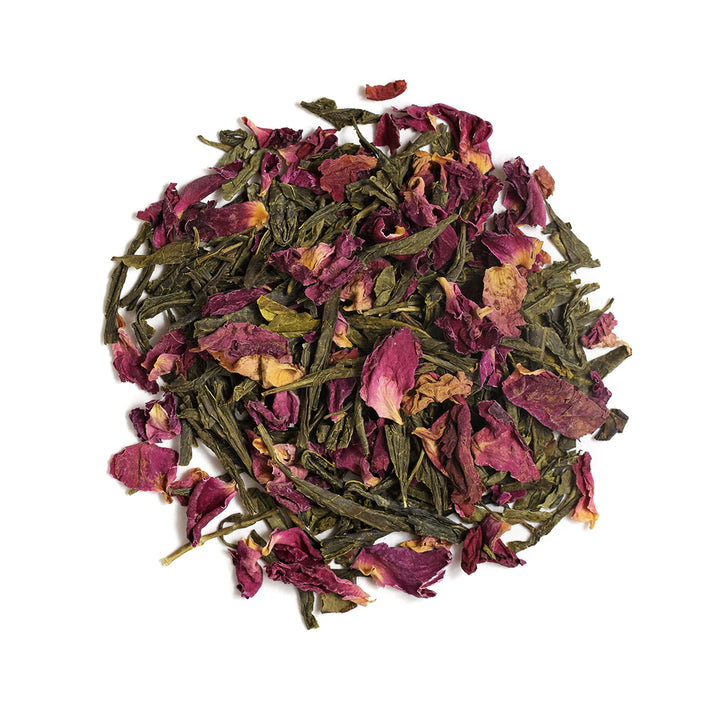 Imperial Sencha Rose is the perfect marriage of green tea and rose petals. This luxurious hand-crafted blend delivers the experience of walking through an Imperial garden full of fresh fragrant roses in bloom.

Soothing and aromatic, this delicate blend is an elegant tea for anytime of day.
Ingredients: Green tea, rose petals.
Origin: Multiple Origin Blend
Caffeine: LOW
---
Mystic Mint
This seemingly simple blend of peppermint, cardamom, and licorice root combine to form a deep and uplifting complexity to refresh your spirits.
Savor the sweet notes of basil with a slight hint of clove as you relax and digest after a meal, or as an uncaffeinated night cap to settle the body for sleep.
If you think you don't like caffeine-free teas, mystic mint may change your tune.
Ingredients: Peppermint, cardamom, licorice root, essential basil and clove leaf oils.
Origin: Multiple Origin Blend
Caffeine: CAFFEINE-FREE

---
SSSpicy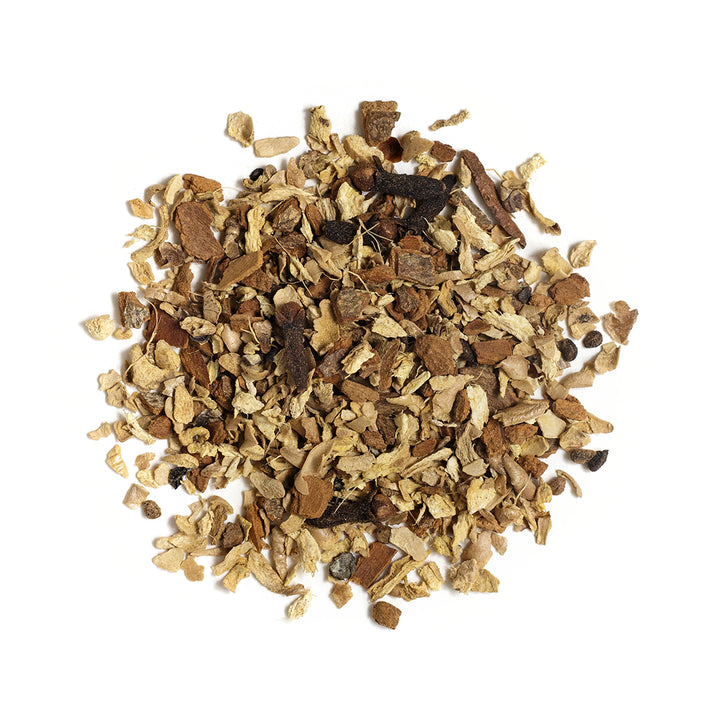 Global Tea Championship Winner
2nd Place, Unflavored Herbal Blends


Warm your tummy and heart with this extra spicy chai, a tea that enlivens and wakes up the sense without the addition of caffeine.
We love the traditional combination of ginger, cardamom, and clove with the punch of black pepper that sings on the tongue, all with a subtle sweet finish that invigorates the entire palate.
Ingredients: Black pepper, cardamom, cinnamon, clove, and ginger.
Origin: Multiple Origin Blend
Caffeine: Caffeine-Free

---
Bao Zhong Royale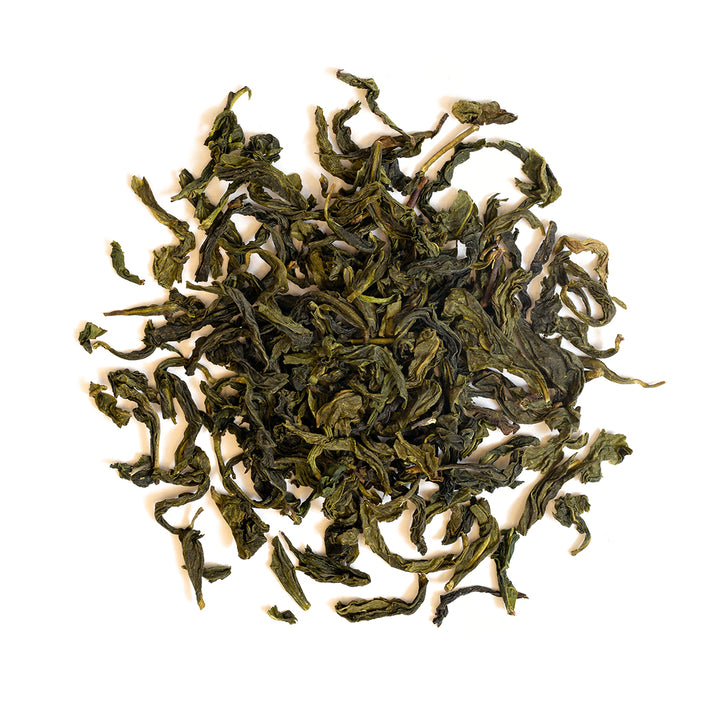 One of our favorite oolongs, this spectacular tea is lightly oxidized but still hefty on floral complexity with little to no astringency.
We love its complicated combination of roasted stone fruit, unsweetened coconut, and firewood, with a deliciously rich and buttery, creamy aftertaste.
It also withstands multiple infusions.
Ingredients: Oolong tea.
Origin: Mingjian Village, Taiwan
Caffeine: MED
---
Blue Mountain Black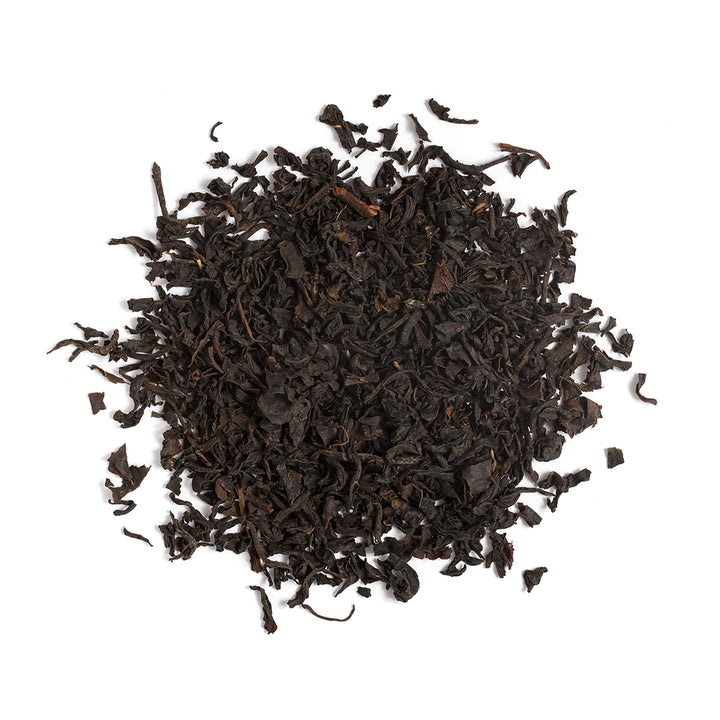 The Nilgiri tea-growing region in southern India is mostly known for producing strong, bold black teas, similar to the Ceylon black teas of neighboring Sri Lanka, but with their own unique flavors. At up to 8000 ft above sea level, it is one of the highest-elevation tea growing regions in the world, and one of the most beautiful.

Blue Mountain Black is an exquisite treat with a unique and worldly flavor profile, sure to become a favorite.
Ingredients: Black tea
Origin: Nilgiri, India
Caffeine: HIGH
---
---
Additional Customization Options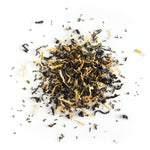 Citron Mint Black
An award-winning flavored black tea with mint and lemon. One of our favs!
Ceylon Orange Pekoe
Strong and crisp Orange Pekoe black tea from Sri Lanka.
---