Happy July!
We'd like to take a moment to share some exciting updates from Tea Runners.

This month, we're thrilled to introduce approximately 30 new teas to our lineup. These teas have undergone rigorous taste-testing by thousands of tea enthusiasts, and we're confident that you'll fall in love with them too! Look forward to a wide range of new options available in your subscription and on our website.

In addition, we're pleased to announce that we'll be offering our most popular teas in convenient pyramid bags later this year. Rest assured, the same premium loose leaf tea you know and enjoy will now be available in a hassle-free pyramid bag format.

Lastly, watch for the fresh 2023 harvest teas in your boxes soon!

Happy Sipping!
~Tea Runners
Please note the following teas are only available to Pure Tea Box members: 
Black Dragon Pearls
Imperial Mojiang Golden Bud
Vietnamese Red Oolong
Please Note
:
  Customization will no longer be available to subscriptions hosted on Cratejoy after July 2023.  If your subscription is hosted on Cratejoy, you must upgrade to our new platform to continue customizing your monthly boxes.
How to Upgrade Your Account
Not sure if you're on Cratejoy? Contact us for help. 
---
Customize Your July Box
Please Note: If you are on our new subscription platform, you should be customizing from within your account. Login here.
Customization now closed for renewals. All new members can customize their first box on checkout.
---
Switch Boxes
If you would like to switch from one box to another - for next month only or for all remaining boxes - please click the button below.
All switch requests must be received before the 1st of the month.
---
· Blue Lady Grey
· Minnesota N'Ice Tea
· Creme Brulee Oolong
· Blood Orange Herbal
· Blue Lady Grey
· Minnesota N'Ice Tea
· Wild Thai Black
· London Breakfast
· Blood Orange Herbal
· Ginger Lime Rooibos
· Dragon Fruit Rooibos
· Chamomile Lavender
· Columbian Black
· White Pearls
· Wild Thai Black
· Wild Thai Green
Blood Orange Herbal
Blood Orange Herbal is a beloved choice among tea enthusiasts, captivating their palates like no other. 
Combining light red rooibos, tangy hibiscus, orange, rose hips, sweet apple, and rose petals, this blend delivers an explosion of Blood Orange flavor.
Subduing the empowering rooibos and astringent orange, it offers a creamy, sweet orange candy experience with a mouth-watering zestiness.
Prepare to indulge what is sure to become a new favorite!
Ingredients: Rooibos, hibiscus flowers, rose hips, safflower petals, orange peel pieces, dried apple pieces, all natural flavors.
Origin: Multiple Origin Blend
Caffeine: CAFFEINE-FREE
---
Blue Lady Grey
Indulge in the luxury of Blue Lady Grey, a tea that exudes sophistication and beauty. This exquisite blend harmoniously combines bergamot and calming lavender, enhanced by a subtle touch of vanilla.
Its graceful character is accompanied by a perfectly balanced caffeine profile, sourced from robust Indian Black tea. With each sip, from the first to the last, you'll experience a seamless and velvety texture.
If you're a fan of Earl Grey tea, prepare to discover your new favorite in Blue Lady Grey!
Ingredients: South Indian black tea, all natural flavors, lavender flowers.
Origin: Multiple Origin Blend
Caffeine: HIGH

---
Chamomile Lavender
For herbal tea enthusiasts, the timeless blend of chamomile and lavender flowers is a delightful choice. When these two ingredients unite, they create a harmonious fusion of chamomile's gentle essence and lavender's invigorating touch, resulting in a truly exceptional herbal tea.
This exquisite brew is ideally savored steaming hot, and perhaps with a touch of honey to mellow the invigorating notes.
Ingredients: Chamomile and lavender flowers.
Origin: Multiple Origin Blend
Caffeine: CAFFEINE-FREE

---
Columbian Black
While Colombia is more famous for its coffee production, the country also cultivates tea in certain regions, primarily in the high-altitude areas of the Andes Mountains.
Colombian black teas are renowned for their distinct characteristics and flavors, offering tea enthusiasts an opportunity to explore new tastes and support emerging tea industries.
This medium to full-bodied organic black tea possesses a smooth and mellow profile, accompanied by sweet malty notes.
Ingredients: Black tea
Origin: Columbia
Caffeine: HIGH
---
Creme Brulee Oolong
Once this exceptionally luxurious oolong blend brews to perfection, it presents a gentle earthy and velvety infusion with subtle hints of caramel. It is balanced gracefully with just a whisper of cinnamon spice.
This particular oolong is crafted using low-caffeine tea, making it an ideal choice for a post-dinner indulgence that won't disturb your sleep. For those seeking a fuller flavor experience, a touch of milk can be added to enhance the tea's profile.
Ingredients: Oolong tea, cinnamon chips, all natural flavor, jasmine flowers.
Origin: Multiple Origin Blend
Caffeine: LOW
---
Dragon Fruit Rooibos
This refreshing fruity tropical treat is packed with energizing rooibos and tart lemon peel, with the sweetness of apple and strawberry to delight the palate. Steeping to a ruby red hue, this tea is a well-balanced and delightful cup for any time of day.

Ingredients: Green Rooibos, apple pieces, mango pieces (mangoes and sugar), hibiscus flowers, orange peel, natural dragon fruit flavoring, strawberry pieces, lemon peel, malva flowers, and orange blossoms
Origin: Multiple Origin Blend
Caffeine: CAFFEINE-FREE
---
Ginger Lime Rooibos
This delightful caffeine-free blend of ginger and lime is perfect for evening sipping.
Fragrant lemongrass and Australian lemon myrtle lend citrusy complexity to this spirited rooibos blend.
One of our favs!
Ingredients: Green rooibos, ginger, lemongrass, lemon myrtle, licorice root, essential lime and tangerine oils.
Origin: Multiple Origin Blend
Caffeine: CAFFEINE-FREE

---
London Breakfast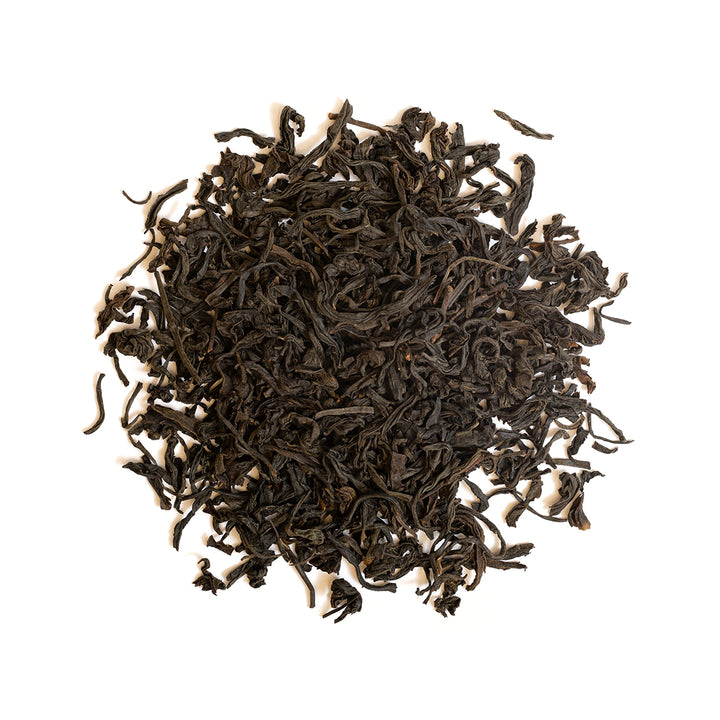 The kickstart to your day you've been waiting for, this hefty but elegant black tea is an expertly crafted blend of Assam, Keemun Black, and Sri Lankan black tea leaves. Vibrant like a traditional Assam, this modern tea swirls with an earthy depth and a well-rounded and smooth finish.
Try it with some milk for a traditional cup, but its silky enough to enjoy on its own.
Ingredients: Black tea.
Origin: India, China, and Sri Lanka
Caffeine: HIGH
---
White Pearls
White teas are picked in early spring from the youngest shoots of the plant where the mild natural sweetness of new growth is most concentrated.

These first flush peony silver needles are delicately handcrafted into the shape of tiny pearls. White pearls of this exquisite quality are in high demand and becoming exceedingly rare.

With its soft mouth feel and cotton candy sweetness, white teas reflect all of nature's goodness. A perfect daytime tea.
2023 Spring Harvest.
Ingredients: White tea
Origin: Fujian, China
Caffeine: MED
---
Wild Thai Black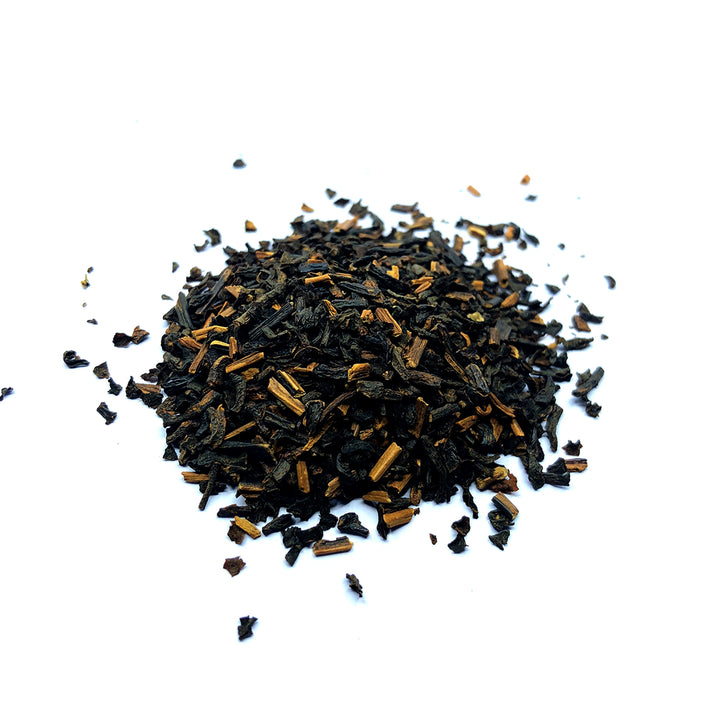 From the remote mountains of northern Thailand comes this rich and adventurous wild-grown black tea with daring flavor.
This is an old-tree, forest grown tea that brews to a vivid and lovely ruby red infusion with the aromatic notes of roasted stone fruit, graham cracker, and sour cherry.
Wild Thai Black is complex and bold, but a gorgeous addition to any tea collection.
Ingredients: Black tea.
Origin: Doi Chiang Dao, Thailand
Caffeine: HIGH

---
Wild Thai Green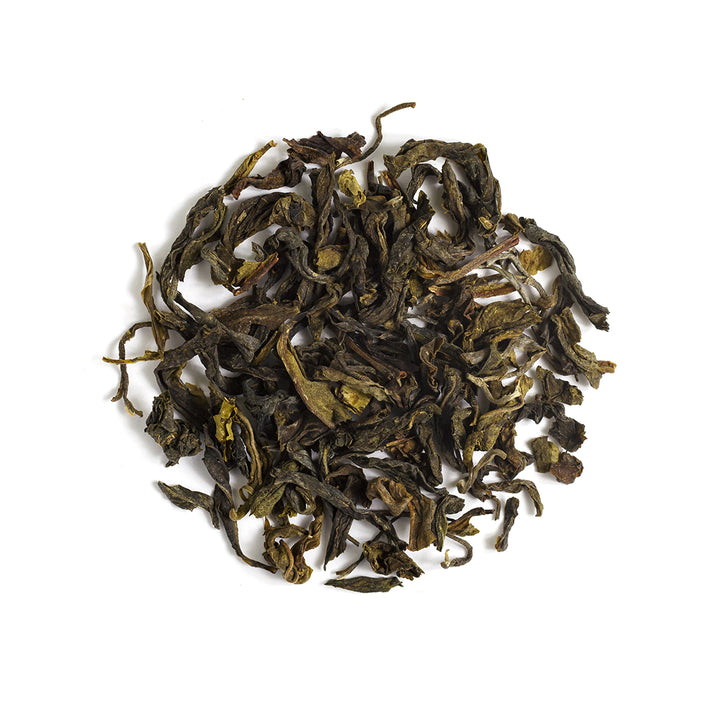 This roasted green tea from Thailand is light and lively with notes of tropical fruit, toasted hazelnut, and honey.
Its wild orchid aroma beautifully scents the room when brewed, and its strength brightens the body and lends some energy to a lethargic afternoon.
A fresh and pleasant green tea to perfectly quench the palate.
Ingredients: Green tea
Origin: Doi Chiang Dao, Thailand
Caffeine: MED

---
---
Additional Customization Options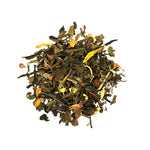 Apricot Jasmine
A harmonious blend of green and white tea, with notes of jasmine & sweet apricot.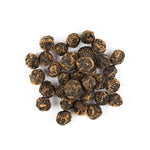 Black Dragon Pearls
High grade Yunnan black tea hand-rolled into pearls. Earthy with notes of stone fruit and dark chocolate.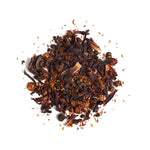 Blueberry Rooibos
A delicious caffeine-free blend of rooibos, berries, & hibiscus.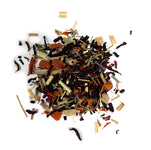 Burgundy Blast
A sweet and fruity herbal tea that brews to a bright red color.
Carrot Cake Rooibos
The name of this says it all! A decadent caffeine-free treat.
Earl Grey Lavender
A lovely twist on a classic tea: Earl Grey with organic lavender blossoms.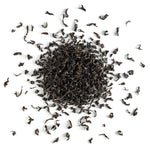 English Breakfast
A blend of high-grade assam, ceylon, and keemun black teas makes this a beloved English Breakfast.
Imperial Darjeeling Reserve
A very special award-winning first-flush Darjeeling black tea of the highest grade (SFTGFOP1). The champagne of teas!
Imperial Mojiang Golden Bud Black Tea
An exquisite pure bud pick from the Mojiang area of Simao. Malty with light notes of sugarcane.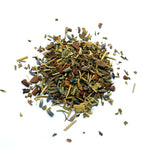 Lavender Lace
A caffeine-free treat! Lavender with cinnamon, mint and lemon.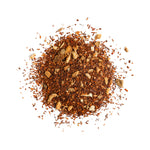 Lemon Ginger Rooibos
Naturally sweet and hearty rooibos with a twist of lemon and ginger.
Mango Raspberry Rooibos
A caffeine-free tart and tropical herbal blend. Mango and raspberry make great warm weather quencher hot or iced.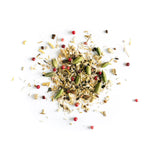 North
A sweet and spicy blend of coconut, cardamom, cinnamon, ginger, and licorice, decorated with pink peppercorns.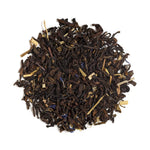 Strawberry Peach Pu-erh
An award-winning blend of pu-erh, yerba mate, oolong tea and various fruity flavors.
Tropical Coconut Oolong
Elegant Bao Zhong oolong gets an exotic and fruity boost from coconut flakes and dried pineapple.
Vietnamese Red Oolong
A high elevation medium-oxidized oolong with the gentle sweetness of honey & toasted rice.
Wu Liang Hong Mao Feng Black Tea
A aromatic and woodsy mao feng tea from the Wu Liang Mountains.
---